It's become one of the real high points of the animation industry's annual calendar: the world premiere of Walt Disney Animation Studios' latest short at the Annecy International Animation Film Festival & Conference.
This practice actually began back in the summer of 2003 right after work on Destino had wrapped. Given that this surreal animated short -- which had originally begun production back in the 1940s as a collaboration between Salvador Dali and Disney legend John Hench -- had finally been completed by artists and animators working at Disney Paris Studios... Well, Mouse House marketers thought that there was no better place for Destino to debut than at this French film festival.
Then -- starting in 2011 -- Walt Disney Animation Studios started making a regular thing of world premiering its new shorts at Annecy. Kevin Deters and Stevie Wermers-Skelton's The Ballad of Nessie made a big splash when it was shown that summer at the fest's Screening on the Lake series. Likewise John Kahrs' Paperman sent many hearts (and paper airplanes) soaring when it held its world premiere at the 2012 edition of Annecy. And few who attended last year's debut of Get A Horse! will forget the elaborate prank that WDAS played on Annecy attendees. Which was when director Lauren MacMullan and master animator Eric Goldberg pretended that this skillful mix of CG & hand-drawn animation was a lost Mickey Mouse short.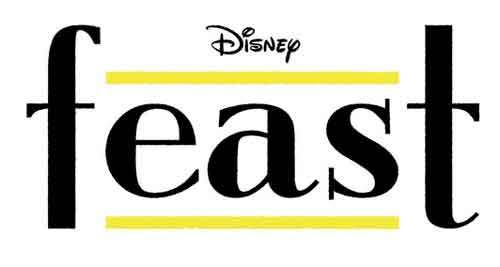 Now -- for the 2014 edition of the Annecy International Animation & Conference -- the artists at Walt Disney Animation Studios have literally prepared a Feast. Which is the title of a brand-new short from first-time director Patrick Osborne.
Osborne first came to John Kahrs' attention after he created an experimental animation test at WDAS. Consequently John recruited Patrick to come be the head of animation on that Oscar-winning short.
Mind you, another key member of the Feast production team is Jeff Turley. Jeff was the production designer on Paperman. And he and Osborne are teaming up on this new Walt Disney Animation Studios short.
"And what is Feast about?," you ask. Well, according to the blurb that Mouse House marketers released earlier today, this new animated short is "The story of one man's love life (as) seen through the eyes of his best friend and dog, Winston, and revealed bite by bite through the meals they share."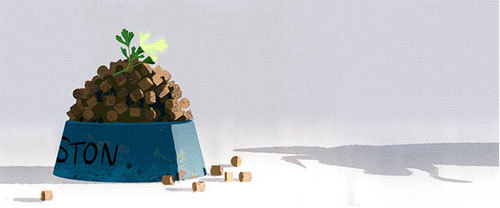 Feast will shown this fall in front of WDAS's new action-packed, big-screen adventure Big Hero 6 (which hits theaters on Nov. 7, 2014). But if you'd like to be among the first to feast your eyes on Feast ... Well, now would be a very good time to start pricing plane tickets to France.