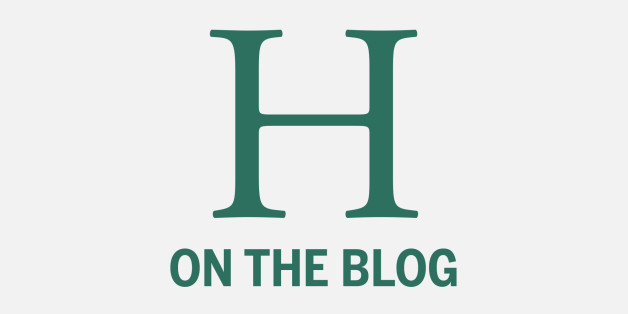 When the news of Robin Williams' untimely passing broke on Monday, a question quickly bubbled up within the Broadway community about how to properly pay tribute to this much-beloved performer.
You see, while Williams was primarily known for his work in stand-up, television and film, Robin also "trod the boards." He and Steve Martin starred in Mike Nichols' 1988 off-Broadway version of Waiting for Godot. Williams also staged his own one-man show, Robin Williams: Live on Broadway, at the Broadway Theater back in 2002. And just three years ago, this Academy Award winner made his official Broadway debut by playing the title role in Rajiv Joseph's drama Bengal Tiger at the Baghdad Zoo.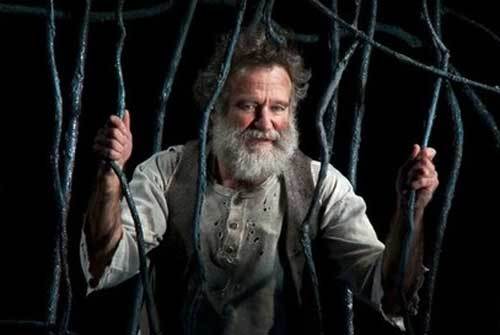 And given that Williams got his start in the business by studying at Julliard in the early 1970s ... Well, the Broadway League decided to honor Robin by having all Broadway theaters dim their marquees in his memory for one minute later this evening. This time-honored custom -- which is how the theater community acknowledges the passing of one of its greats -- will happen at 7:45 p.m. just prior to the curtain going up.
Which is admittedly a wonderful gesture. But there were also those within entertainment circles who wondered how Disney Theatrical would pay tribute to Williams. Especially given that their most recent production -- the Tony Award-winning Aladdin -- was so closely associated with this late comic genius.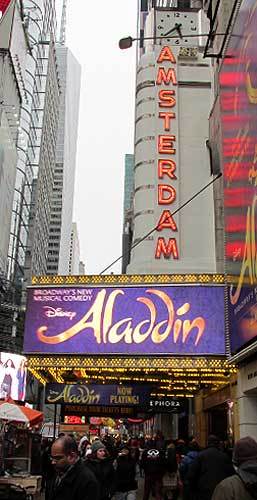 Well, the folks at Disney Theatrical weren't willing to wait 'til Wednesday night to honor Robin Williams. On Tuesday night, at the very first performance of Aladdin following this performer's passing, theatre-goers -- as they arrived at the New Amsterdam -- were handed a program with something extra stuffed inside. To be specific, it was a lyric sheet for Howard Ashman & Alan Menken's "Friend Like Me."
And after that ... The stage version of Disney Aladdin played out as it always has. But as this two-and-a-half-hour-long musical comedy extravaganza drew to a close and after the cast took their curtain calls, James Monroe Iglehart -- the Tony Award winner who plays the Genie in this acclaimed Disney Theatrical production -- stepped forward and gestured for silence.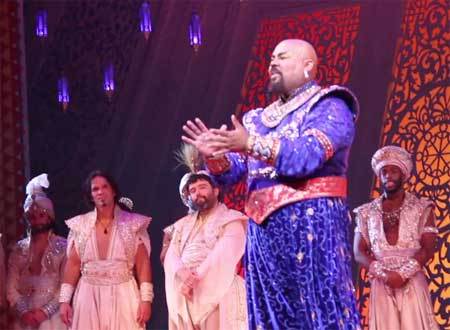 James started off by saying "... Yesterday, we lost not a great comedian but one of the greatest entertainers of all time." Then -- gesturing to a copy of that lyric sheet that Iglehart held in his hand -- he continued. "We're only going to do this once because we don't want to drag something on, because -- first and foremost -- we want to give our hearts and our thoughts and our prayers to his family. Because he's a husband and a father first and an entertainer second."
And with that ... Well, as the video below shows, James led all 1,702 people seated in the New Amsterdam in a rousing rendition of "Friend Like Me." Backed up by the other 34 cast members of Disney Aladdin, Inglehart strode across the stage, making sure that it wasn't just the people seated in the orchestra who were honoring Williams' memory by singing. James made sure the folks seated in the mezzanine, balcony and the boxes at this grand old Broadway theater helped raise the rafters in Robin's name.
There were both tears and applause as this heartfelt version of "Friend Like Me" came to a close. And as the audience came to his feet, Iglehart pointed a single finger skyward to pay tribute to a man that he admitted (in a statement that James released to the press yesterday afternoon):
"... Although I never got to meet him in person, Robin Williams has influenced my life greatly; his performance as the Genie, of course, and his entire career as a great performer and actor. I'm extremely saddened by his passing but first and foremost my heart, my thoughts and prayers go out to the Williams family. They have lost a husband and father. We as fans have lost one of the greatest entertainers ever."