It's been an interesting month for the folks at Disney Television Animation as this division of The Walt Disney Company celebrated its 30th anniversary. So there have been parties and presentations ...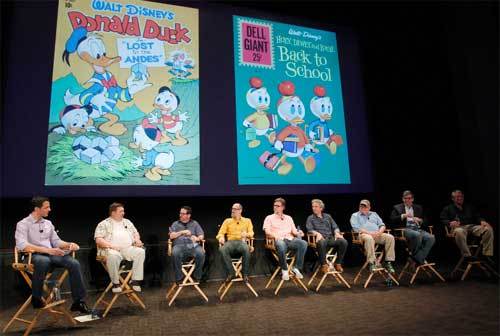 ... as the talented artists & writers who actually created many of these beloved animated series looked back on the show that started it all.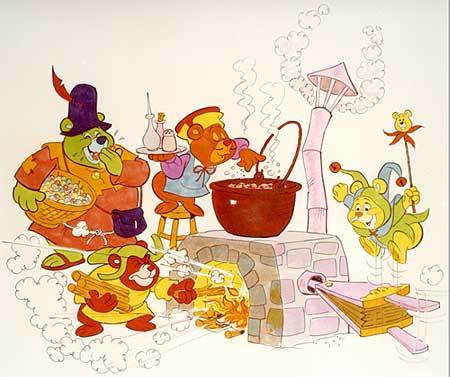 Not to mention discussing how some of DTA's cult classics ...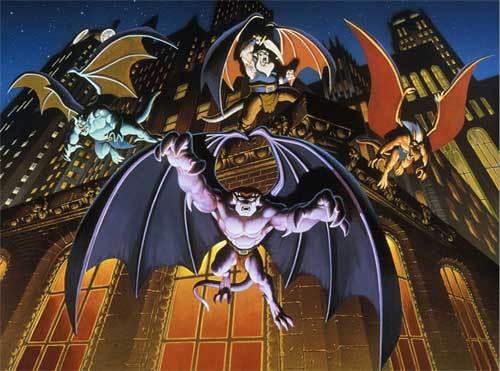 ... and fan favorites actually came into being.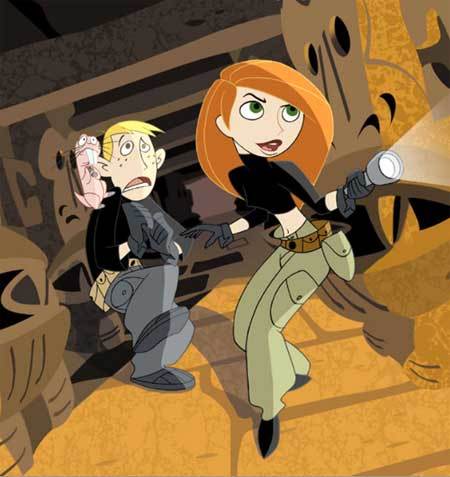 Mind you, Disney Television Animation has been on something of a roll since February of 2008. Which is when Phineas and Ferb, the Emmy Award-winning animated series began running on Disney Channel.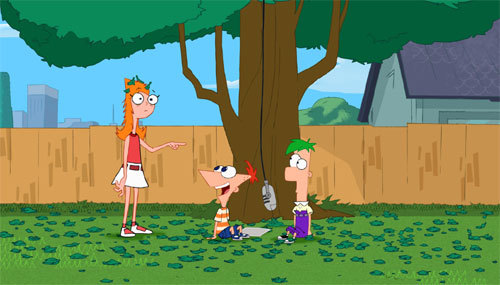 And why is that exactly? According to David Wright, Vice President of Casting for Disney Television Animation, this cable channel's winning streak began because DTA has made a conscious effort to be seen as a talent-friendly place.
"That's what our focus has become over the past few years. And that's largely through the leadership of Eric Coleman, our Senior Vice President in charge of Original Series here at DTA, and Mike Moon, who's in charge of Development here at Disney Television Animation," Wright explained during a recent sit-down interview. "Since these two guys have both worked in television animation for years, Eric & Mike understand how rare & valuable genuinely creative people are in this business. Which is why they'll go out there and actively recruit talent. Bring these people back to Disney and then partner them up with other creatives. Always giving these folks the support and the means necessary to be successful."
Take -- for example -- Paul Rudish, Executive Producer and Supervising Director behind that Emmy Award-winning series of new Mickey Mouse shorts. Mike Moon had first identified Rudish as a guy to keep an eye on nearly a quarter of a century ago.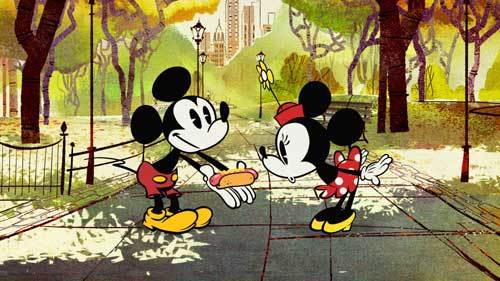 "Paul and Mike first worked together back in 1990. And because people saw all of the creative freedom that DTA gave him when he began working on those new Mickey Mouse shorts ... Well, that then makes it that much easier for Mike and I to reach out to the Alex Hirschs and the Daron Nefcys of the world, that next generation of creators that are coming up who -- when they see that someone like Craig McCracken is now making shows for Disney Television Animation -- get excited about the idea of possibly coming to work here," Eric Coleman explained.
Just to be clear here: Coleman & Moon aren't guys who like hogging the spotlight. When I talked with them earlier this year about Disney Television Animation's current hot streak, they were quick to spread the credit around. Not only talking up the important creative contributions that key people like Khaki Jones (who oversees Current Series), Lisa Salamone (DTA's Senior VP of Production) and Jay Stutler (Vice President of Music) make but also acknowledging all of the support that the President and Chief Executive Officer of Disney Channels Worldwide has given them.
"I have to give a lot of credit to Gary Marsh. When he brought us into the Company and he then talked a lot about what Mike and I believed we could be doing here, Gary supported everything that we were talking about," Coleman continued. "And while not everyone may notice how gorgeous the backgrounds on Gravity Falls are or how great the art direction on those new Mickey Mouse shorts are, the people that we're wooing to come work at Disney Television Animation do," Eric stated. "Which is why we work hard to make sure that all that quality winds up there on screen."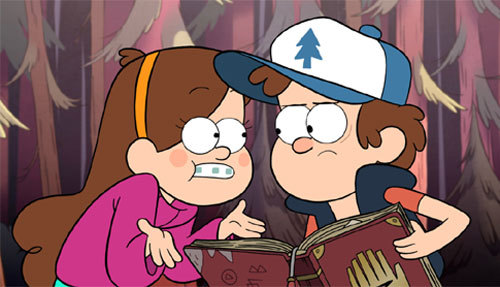 Looking ahead to 2015 now, Coleman & Co. are looking to expand DTA's horizons by producing their first-ever project based on a Disney theme park attraction. This Haunted Mansion TV special is being developed by horror genre artist and children's book illustrator Gris Grimly with the help of Phineas and Ferb vets Scott Peterson & Joshua Pruett.
"It was Mike who aggressively pursued this idea. He was the one who brought in all sorts of incredible artists and talent to work on our Haunted Mansion TV special," Eric enthused. "As you can tell from our Mickey Mouse shorts, we love doing things here that directly tie back to our Disney heritage. And while I'm really not at liberty at this time to talk about Mansion, I have to admit that I am really excited with how this TV special is looking."
Speaking of Disney heritage, Coleman & Moon have made a conscious effort to bring some balance to DTA's development slate. Trying to make sure that -- for every new series based on a classic Disney film (EX: The Lion Guard, which takes its inspiration from Walt Disney Animation Studio's 1994 smash hit, The Lion King) -- Disney Television Animation also tries to create shows that are built around brand-new characters & stories (EX: That soon-to-debut new animated series, Star vs The Forces of Evil) for Disney Channel, Disney XD and Disney Junior.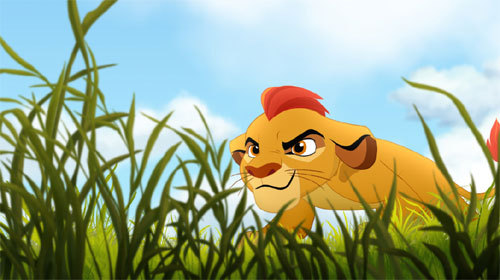 "Look, not every project that we develop here at DTA comes to fruition. But that's because we want the shows that we produce to be driven from a creative point of view. No one who works at Disney Television Animation is following some corporate strategy to monetize a particular IP and then put that show on the assembly line quickly," Coleman said. "Instead, we look for creative takes on things that feel like they can rise and hold their own with the other shows that we are already producing here and feel so great about."
"The philosophy that we follow here at DTA is simple: Great art comes from great artists," Coleman continued. "Has it been easy to get here? To be honest, no. There have been lots of rifts and long discussions and hold-hands-and-jump-into-the-future-together moments. But we've been really happy with how the success of shows like Wander Over Yonder and The 7D have allowed us to build a schedule that shifts between legacy properties, new characters, longer form & shorter form. And I can assure you that Disney Television Animation will absolutely stay the course in regards to our focus on great character, great story driven by great talent."
By the way, if you're unfamiliar with some of the newer Disney Television Animation series that were mentioned in this article, the long Thanksgiving Weekend would be an excellent time to crash on the couch and then tune in to Disney Channel, Disney XD and Disney Junior.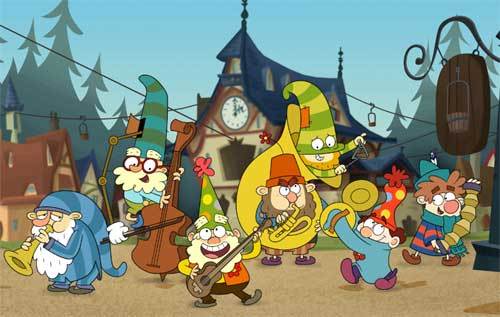 Take -- for example -- "Big Bad Sneezy," the new episode of The 7D which debuts on Sunday, November 30th at 7 p.m. ET/PT. Which is when the Seven Dwarfs meets up with the Big Bad Wolf. Who then tricks Sneezy into blowing down the houses of The Three Little Pigs.
Or -- better yet -- check out this Saturday's Gravity Falls mini-marathon on Disney XD. Which starts off with three of the most recent episodes of this acclaimed animated series" and concludes with "The Love God," a brand-new installment of the show.
And with Will Arnett helping to round out Disney Television Animation's 30th anniversary celebration by guest voicing a brand-new character on Friday's episode of Wander Over Yonder, it'll be interesting to see what top talents turn up in future DTA projects as this division of The Walt Disney Company heads into its next decade.