This past weekend, theme park fans around the globe collectively lost their minds as images of the Hatbox Ghost began to pop up online.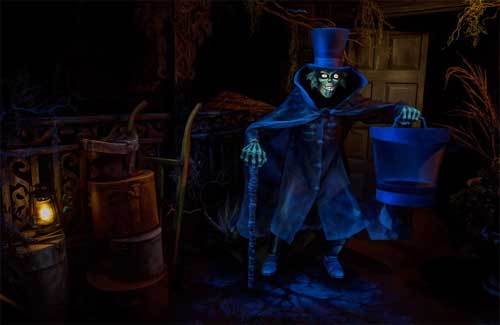 "And what's the big deal with the Hatbox Ghost?," you ask. Well, you have to understand this gruesome ghoul was originally supposed to have been one of the 999 happy haunts that Disneyland Guests would encounter whenever they visited the Haunted Mansion. But within a week of the official grand opening of this New Orleans Square E-Ticket, the Hatbox Ghost had been pulled out of the Mansion.
"That was most likely Yale Gracey's doing," Kim Irvine -- Walt Disney Imagineering Art Director for Disneyland Park -- explained during a recent phone interview. "Yale was the guy who came up with most of the Mansion's illusions. And while all of the other effects that the Imagineers had installed in this then-brand-new Disneyland attraction were performing flawlessly, the Hatbox Ghost scene just wasn't working as well as Yale had hoped it would."
"I don't know if this was because of where this figure had originally been positioned within that attraction's attic sequence or whether it was the angle that Guests saw the Hatbox Ghost from, but the head-disappearing-off-of-his-shoulders-and-then-re-appearing-inside-of-that-hatbox gag just wasn't landing the way that Yale had hoped it would," Irvine continued. "And being the perfectionist that he was, I'd imagine that Yale had the Hatbox Ghost pulled so that Disneyland visitors would then be able to talk about all of the effects inside of the Mansion that worked, rather than the one that didn't."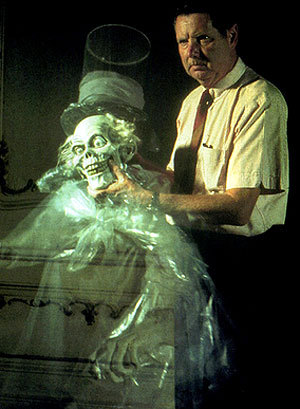 But what Gracey hadn't counted on was that -- because the Hatbox Ghost had been so prominently featured in the pre-opening publicity for Disneyland's Haunted Mansion (FYI: That's Yale himself posing with the not-quite-finished figure in the photo above) not to mention that the Hatbox Ghost wound up being mentioned on "The Story and Song of The Haunted Mansion" LP (i.e., that souvenir Disneyland Storyteller album which was sold at the theme park for years after this New Orleans Square attraction first opened to the public) -- over time, this character's legend just grew and grew.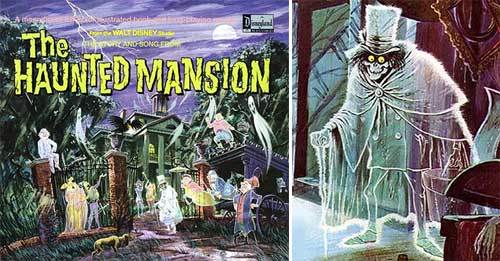 "I've given a lot of talks about Disneyland's Haunted Mansion over the years. And whenever we'd get to the question & answer portion of those sessions, I'd always get people asking about the Hatbox Ghost. They wanted to know why this character had been pulled out of the Mansion. More importantly, whether he'd ever be coming back," Kim said. "And given that interest in this Haunted Mansion character just grew & grew over the years ... Well, given that Imagineering always likes to give our Guests something new to see the very next time they ride their favorite attraction, we began seriously talking about whether there was a way that we could actually put the Hatbox Ghost back into Disneyland's Haunted Mansion."
This tradition of plussing an attraction or adding new magic to a pre-existing ride or show actually dates back to Walt's time. As the story goes, the Company's founder was lingering outside of the entrance to Disneyland's Jungle Cruise sometime in 1956 (which was just a year after The Happiest Place on Earth had first opened to the public). And Disney was eavesdropping on what the Guests had to say about what was then the signature attraction at his theme park. A mom & son approached the entrance to this Adventureland ride. The son was heard to say "Can we go on that one, please?" And the mother's reply was "No. We went on that ride the last time we were at the Park."
Well, Walt heard that remark. And by the Summer of 1957, Disneyland's Jungle Cruise has a slew of brand-new scenes. People who purchased tickets for this Adventureland attraction were now treated to a trip through a flower-filled rainforest. Not to mention being menaced by a pair of mechanical gorillas. The Jungle Cruise even wound up with an all-new climax, as its riverboats first floated past through this village that featured a war party and some dancing natives and then concluded with a comical encounter with Trader Sam, the famous head salesman for the Amazon.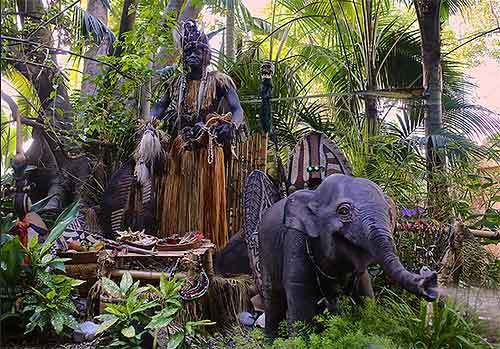 These additions to the Jungle Cruise then gave Disneyland visitors a legitimate reason to revisit this Adventureland attraction. Which is why Walt then made plussing the rides, shows and attractions at his theme park a regular practice.
"I remember when John Hench (EDITOR'S NOTE: Hench was one of the original Imagineers. In fact, one of the very first park-related assignments that Walt gave John was to come up with some futuristic attractions for Disneyland's original version of Tomorrowland) used to come down to the Park. He'd make a point of driving down from Glendale to Anaheim at least once a month. And John and I would then walk through Disneyland together as he pointed out things that could use some updating or TLC," Irvine recalled. "And during these walks, John kept saying 'You need to keep this place fresh. You need to keep these rides and shows relevant.' That was something that he had learned directly from Walt. And John was determined that this tradition would continue. Which is why he kept passing along all of this information to me."
Mind you, they don't make changes at the Disney theme parks just for change's sake. Given that the Company was founded by a storyteller, whenever the Imagineers are looking to add new magic to a pre-existing ride, show or attraction, they first try and ensure that whatever changes they're making then honor the original intent of that particular ride, show or attraction's story.
"That's why we were confident that -- when we returned the Hatbox Ghost to Disneyland's Haunted Mansion -- we were making a smart choice," Kim explained. "After all, here was a character that the fans had been asking about for years. More to the point, we now had access to technology that Yale Gracey didn't have back in the late 1960s. Which meant that the Imagineers could finally make the Hatbox Ghost effect work the way it was supposed to. So -- by now putting this character back inside the Mansion -- we weren't just randomly shoehorning something in there. We were actually honoring the original intent of Yale and all of the Imagineers who created the Haunted Mansion."
Yep, even back in Walt's day, there were tech issues, time constraints or budgetary shortfalls that prevented rides, shows or attractions that the Imagineers had designed for Disneyland from turning out the way Walt had originally hoped they would. Take -- for example -- the Abominable Snowman that lurks inside of this theme park's Matterhorn Bobsleds.
According to Jason Surrell's "The Disney Mountains: Imagineering at its Peak" (Disney Editions, September 2007), Walt had always wanted an Abominable Snowman to part of the thrills that Guests encountered as they zoomed through Disneyland's 1/100th scale version of the Matterhorn: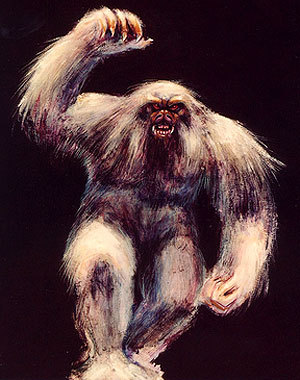 "In fact, (Disney Legend) Harriet Burns had gone a long way towards finishing a full-sized, fiberglass-and-fur-cloth mock-up of the Abominable Snowman. The original intent was for the mythical monster to haunt the Matterhorn on opening day, but there just wasn't enough time to accomplish everything Walt wanted to do by then. Walt pulled the plug when he realized the attraction was a big hit without an interior show."
It would be another 19 years before the Abominable Snowman finally took up residence inside of the Matterhorn. WDI's master sculptor Blaine Gibson was the one who came up with this creature's distinctive fang-bearing / red-eyed look while it was Dennis Mecham, an Imagineer who worked in WED's special services department, who provided the Abominable Snowman's distinctive roar.
That version of the Abominable Snowman has been in place since June of 1978. And while he's been roaring at and thrilling Disneyland visitors for nearly 37 years now, as the Happiest Place on Earth neared its 60th anniversary, Kim and her fellow Imagineers wondered: Might it now be time to add some next generation thrills to Disneyland's original thrill ride?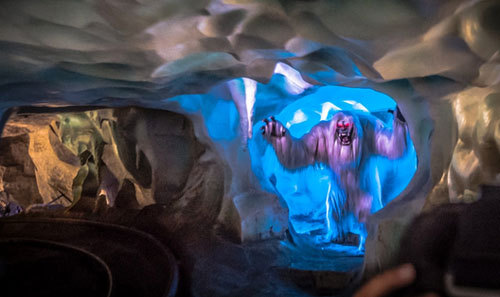 "There have been so many advances made with digital projection and sound technology over the past decade. So we were thinking that -- rather than have the Abominable Snowman remain as this sort of static, stationary figure at the very heart of the Matterhorn -- wouldn't it be cool if, while you were riding through the mountain, you now got the sense that the Abominable Snowman was running along right next to your bobsled. That you could now catch glimpses of him moving through the Matterhorn just ahead of you," Irvine enthused.
And it's this new improved, newly ferocious version of the Abominable Snowman that will be making his debut at Disneyland Park on May 22nd as the Matterhorn Bobsleds officially come back online after a five month-long rehab.
"Again, I want to stress here that the story that the Matterhorn tells is pretty much the same. The big change is, of course, with the Abominable Snowman. He's a little bit more ferocious, a little bit more exciting," Kim said. "And if you're really paying attention as you ride along in your bobsled, you may notice that -- at various points along the way -- that there are these caves where the Abominable Snowman seems to be hoarding things that he found out in the Park. That -- if you look closely -- you may be able to see items that pay tribute to rides, shows and attractions from Disneyland's past."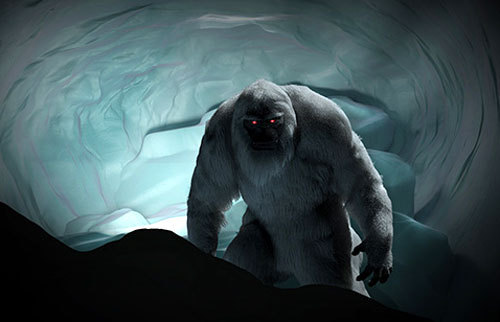 The newly reimagined Hatbox Ghost and Abominable Snowman will be just two of the pieces of new magic that Guests will discover when they return to the Happiest Place on Earth for the Disneyland Resort's Diamond Celebration. Which officially kicks off next Friday, May 22nd with a 24 hour-long party.