When it came time to find just the right voice for Papa Smurf, Raja Gosnell and Jordan Kerner were admittedly feeling a little blue. Why for? Because the casting department at Sony Pictures Animation kept coming up short.
"This was back in early 2010 when we had just begun casting the first film," Kerner -- the producer of The Smurfs and The Smurfs 2 (which was released earlier this week on Blu-ray 3D, Blu-ray, DVD and digital) recalled during a recent phone interview. "And we were genuinely struggling when it came to finding just the right performer to come voice Papa Smurf. The person we were looking for had to have a certain amount of gravitas in their voice because, of course, Papa is the leader of the Smurfs. But -- at the same time -- this voice also had to have a certain impish quality because of that humorous glint you often see in Papa's eye."
"So we were listening to a lot of different people," Gosnell -- the director of both of SPA's Smurfs films -- continued. "And as we listened to all of these tapes that David Rubin -- our casting director -- had put together, Jordan and I would stare at this still image of Papa Smurf that we had taped up on the wall. And we'd then try and imagine that voice coming out of Papa's mouth in our movie."
But then one day, David played Jordan and Raja a recording that had everything that they had been looking for. Here finally was a voice that had the sound of wisdom & life experience as well as a twinkle of fun.
"So I asked David who we were listening to. And he said Jonathan Winters," Kerner remembered. "Which kind of shocked me because -- when I was growing up -- Winters had been a family favorite. Whenever Jonathan appeared on shows like Jack Paar, my parents and I would then gather around the television and then laugh ourselves sick over his amazing improv routines. So to have not been able to initially recognize his voice when I'd been such a huge Winters fan for so long was kind of a surprise to me. But then again, given that Jonathan had this seemingly magical ability to conjure up new characters & voices out of thin air, I guess that it really shouldn't have surprised me that a performer of his stature still had the ability to surprise."
"Even so, it had been quite a while since Jonathan had last worked. He was in his 80s at this point and we didn't know if he'd even be willing or able to take on a new project at this point in his career. But even so, Jordan and I had to try. Because if we could convince Jonathan Winters to come voice Papa Smurf, that would be a huge casting coup for our production," Gosnell said. "So Jordan and I did this Skype interview with Jonathan. And he was so sweet and still so sharp. Right in the middle of that call, Jonathan just sort of went off and did all of these fantastic characters for us. And from that moment on, we knew that we had found our Papa Smurf."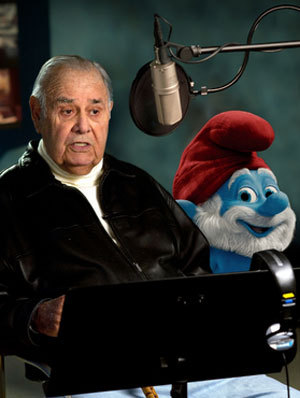 Which isn't to say that there weren't some challenges involved when it came to working with a comedy legend like Jonathan Winters. Kerner recalled with equal parts affection & frustration the many hours that he spent in a recording booth trying to rein in this improvisational genius.
"This is a guy who could hear one word -- it might have been a comment that Raj made during a recording session -- and then for the next 20 minutes, Jonathan would just take off on some wild extemporaneous comedic run. Right there in front of you, he'd improvise this bit where he was playing every single character in a World War II movie. And he had the entire room in hysterics," Jordan said. "Now as the little kid who grew up watching Jonathan Winters on television, I loved this. But as the producer of a motion picture who was paying for this studio recording time on an hourly basis, all I could think was that I was laughing my way through our production budget. So every so often, I had to put on my producer's hat and then say 'Jonathan, I love this. I love you. But could we please maybe save of this stuff for lunchtime? ' "
And given what a complete professional Winters was, Jonathan would then -- of course -- get right back to work and then give Gosnell & Kerner everything that they were looking for, and then some, when it came to voicing Papa Smurf. But in the end, what mattered more to Raja & Jordan was how frank & open this comedy legend was with them once these three got away from that recording booth.
"We'd always take Jonathan to lunch after our Smurfs recording sessions. And during those sorts of down times, it wasn't always him putting up a character. He was very open about his personal life. Very open about the darker times and some of the struggles that he'd had over the course of his career," Raja said. "And especially when we were working on the first film ... Well, Jonathan never actually came out and said these words. But it felt like -- this is me analyzing here -- he sort of felt forgotten. Like the entertainment world had kind of passed him by. Which is why he was so thrilled that we'd invited him to be part of our movie. And -- of course -- Jordan & I were just as thrilled that Jonathan had agreed to come out of semi-retirement and then come voice Papa Smurf."
Now jump ahead to the Summer of 2011 when The Smurfs is this worldwide smash hit, having grossed over a half a billion dollars worldwide. As every good producer does, Kerner would send out regular e-mails to that film's cast & crew to then keep them abreast of how well their movie was doing at the office.
"And Jonathan would always e-mail me back. Which is when it quickly became clear that he was getting this huge kick out of how successful The Smurfs was," Jordan remembered. "In fact, when we first began working on the second Smurfs movie, Jonathan actually went out of his way to tell Raja and I what a grand thing it was for a person at this point in their lives to now be part of this worldwide hit where you are the voice of the most loved character in this movie. Of course, we then had to remind Jonathan that the main reason that people loved Papa Smurf so much was the unique way that he did the voice of this character."
Speaking of The Smurfs 2 ... As production began to gear up on this live action / animated hybrid, Gosnell & Kerner began to hear from members of Winters' family that this 87 year-old's health was fading.
"So we'd sort of check in him regularly, ask how's he doing. Not so much because we were worried about our movie. But -- rather -- because Jordan and I now thought of Jonathan as a friend. More importantly, because Jonathan had already told us that he was really looking forward to working on Smurfs 2 and voicing Papa Smurf again," Raja said. "So we eventually got started on that movie. And there were a couple of times that Jonathan couldn't record. We'd hear that he was weak and that he wasn't doing very well. So we hoped for the best. But from knowing him and reading the tea leaves, we kind of sensed that the end was near."
But even so, given that Winters so obviously wanted to work on The Smurfs 2, wanted to complete recording Papa Smurf's part, Raja & Jordan journeyed to Santa Barbara and recorded his character's last few lines of dialogue in a studio close to Jonathan's home.
"He and I, we both drove out to Santa Barbara. We were nervous that we wouldn't see him again. There had been this weakness right towards the end. And we just wanted to spend some time with Jonathan because he'd done so much for us. So we went up because he really wanted to record. At that moment, we weren't really worried about recording. I mean, there were only three, four, five lines that we needed to record for the movie. But we sat with him for a long time. His daughter Lucinda was there. His caretaker was there," Kerner recalled.
"Jonathan had the most beautific look on his face that day. As if he already had a foot on the other side or that he'd seen the other side. There was something so peaceful about him. His nature then. But there was also this weakness," Gosnell said. "Even so, Jonathan wanted to work. He wanted to complete recording Papa Smurf's dialogue for this movie. So he'd say a line and then sort of go away for three minutes at a time. And then he'd circle back and you'd know that he was ready to do another take. It was kind of beautiful & kind of sad because Jordan and I both sensed that this was going to be the very last time that we were going to see him."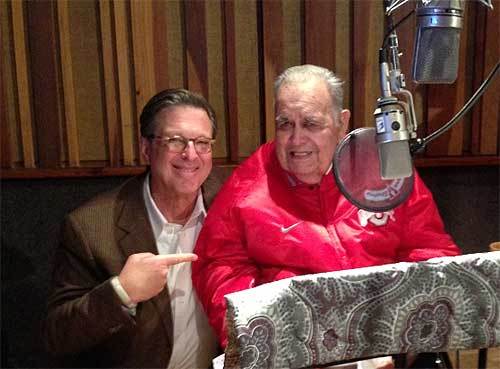 "Now you have to understand Raj and I never take photographs during a recording session with any of our actors. But that day, I took pictures of Raja with his arms around Jonathan and Raj took some of me. It was just one of those moments where you realize that here is someone who was such a gift and gave us so much on these two films. A gift of humor and a gift of humanity. And I just wanted something to remember that day by," Kerner concluded. "He was as bright as he could have been in that moment. And he gave a fantastic performance. And then we all just hugged and chatted. It was a beautiful day in Santa Barbara. And I just sat there thinking 'What a pro.' "
Jonathan Winters passed away on April 11, 2013 just a few weeks after this off-the-lot recording session. To honor their friend and all that he'd done for them personally & professionally, Gosnell & Kerner went to Sony officials and asked them to dedicate The Smurfs 2 to this comedy legend. Which studio exes immediately agreed to.
And what with Sony Pictures Animation having already announced an August 15, 2015 release date for their next Smurfs movie, what are Raja & Jordan's thoughts when it comes to recasting the voice of Papa Smurf.
"Look, there was only one Jonathan Winter. So we're not going to hire someone to come try and do a Jonathan Winters impression. That would be a huge mistake, sad for us personally and a discredit to his memory," Kerner explained. "So I'm thinking that we'll probably go the James Bond route. In that -- just as it is when Sean Connery or Daniel Craig plays 007 -- a different performer can put an entirely different spin on a character. That's what I think we'll now do with Papa Smurf. That way, in much the same way that baby boomers like myself who wax nostalgically for Sean Connery, there'll be this whole generation of Smurf fans who do the same thing for Jonathan Winter's version of Papa Smurf. Which -- given the great vocal performance he gave as this character -- I completely understand."