Robin Williams spent an awful lot of time working at the Mouse House. Few people today remember that Robin's first starring role -- the title character in 1980's Popeye -- was actually a Walt Disney Productions / Paramount Pictures co-production. Or that three of Williams' best-reviewed dramatic turns -- Adrian Cronauer in 1987's Good Morning, Vietnam, John Keating in 1989's Dead Poets Society and Sean Maguire in 1997's Good Will Hunting -- were released by Disney-owned studios.
Sure, there were other Mouse-related roles along the way -- the absent minded professor in 1997's Flubber ; Andrew, the android-who-longed-to-be-human in 1999's Bicentennial Man ; and Dan Rayburn, the put-upon Pop in 2009's Old Dogs. Not to mention the two Disney theme attractions that Williams worked on, 1989's Back to Neverland and 1992's The Timekeeper.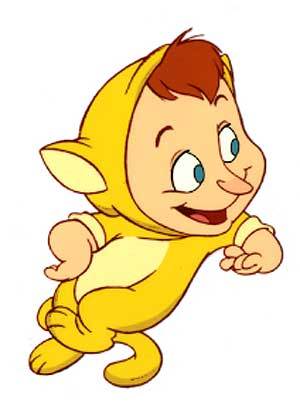 But if you were to ask members of the general public which Disney character they most closely associated with this late comic genius ... Well, it wouldn't be even close. It was Williams' hilarious & heartfelt voice work as the Genie in 1992's Aladdin and its direct-to-video sequel, 1996's Aladdin and the King of Thieves that had captured the imaginations of animation fans worldwide.
Given that Robin was a lifelong animation fan, you'd think that he'd jump at the chance to voice a character in a Walt Disney Animation Studios production. But truth be told, Williams needed a little persuading. It wasn't until Robin saw some test footage that animation master Eric Goldberg had prepared -- which took a routine from his 1979 Reality ... What a Concept album where Williams announced that "Tonight, I'd like to talk to you about schizophrenia." Only to then have the animated version of Robin grow a second head, which quickly told the first head to "Shut up! No he doesn't!" -- before he then bought into the project.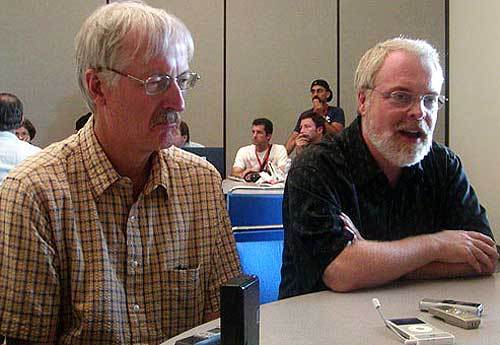 And once Williams was fully on board with Aladdin, the artists & animators at Walt Disney Animation Studios couldn't have asked for a better or more generous collaborative partner. As John Musker & Ron Clements (i.e., the directors of Aladdin) recalled earlier today:
We had the thrill and privilege of directing Robin Williams in Aladdin. We wrote the part with him in mind, but his performance, complete with his brilliant, improvised flights of fancy, took us and the character far beyond what we had imagined. Robin's genie defied space, time and physics, and so did Robin's talent. Like the genie it was immeasurable, thrilling, a cosmic explosion of wit and warmth. Robin brought magic into our lives, to his animator/other half, Eric Goldberg, and to the scores of artists who brought the genie to such vivid life on the screen. But, most of all, Robin's magic touched millions of viewers who laughed and were moved by him. We will cherish the memory of this ever-giving man who made every life he touched, including our own, better.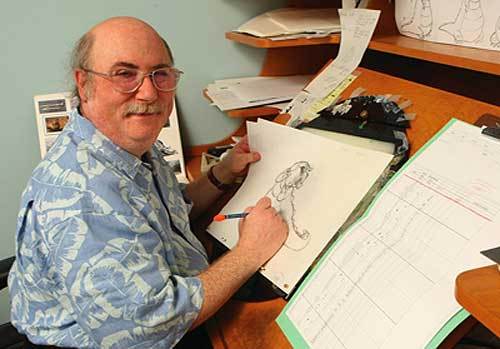 Speaking of Eric Goldberg. When reps from Walt Disney Animation Studios reached out to get this master animator's thoughts on Robin Williams' untimely passing, Eric admitted that ...
I am beyond devastated. I cannot express how influential and important Robin was, and will continue to be, to me and countless other animation artists. Robin gave those of us who worked on the Genie so much humor, inspiration and just sheer delight, that we were always spoiled for choice whenever we came back from a recording session. Like the Genie, Robin's immense talent could not be contained in the lamp. I think we all knew, as the world does now, if there was ever a person who was tailor-made for the medium of animation, it was Robin. We have lost not just a great voice, though. We have lost a warm, human, miraculous person whose numerous and amazing talents will continue to inspire people for generations upon generations.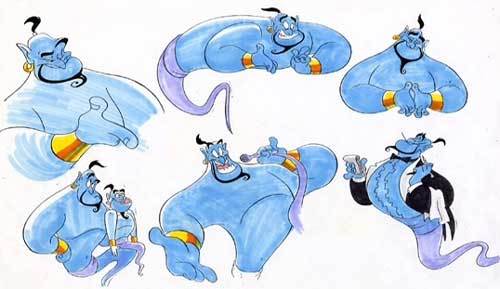 In fact, Goldberg was so determined to pay tribute to Williams that -- earlier today -- he crafted this image of the Genie from Aladdin. Which shows a starry version of this much-beloved Disney character staring down from the heavens at the lamp that once confined him.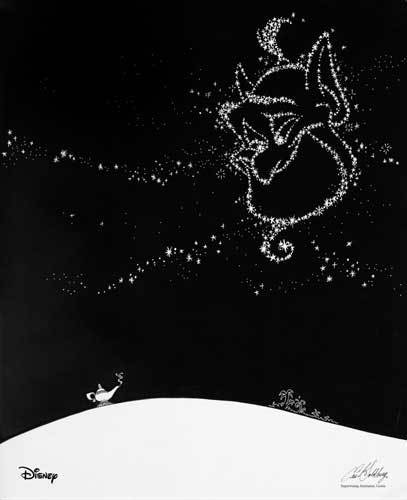 Mind you, it wasn't just Ron, John & Eric who were moved to honor Robin. Bob Iger -- the Chairman and Chief Executive Officer of The Walt Disney Company -- released this statement yesterday:
We're deeply saddened by the loss of Robin Williams, a wonderfully gifted man who touched our hearts and never failed to make us laugh. An incredible actor and a comedic genius, Robin will always be remembered for bringing some of the world's favorite characters to life, from his zany alien on ABC's Mork & Mindy to the irascible genie in Disney's Aladdin. He was a true Disney Legend, a beloved member of our family and he will be sorely missed. We join Robin's friends and fans everywhere in mourning, and offer our thoughts and condolences to his family during this difficult time.