For music fans, it's all about being able to say that they were there at the Newport Folk Festival when Dylan went electric.
For baseball fans, it's being able to say that they were at Dodger Stadium when Sandy Koufax pitched his perfect game.
But when it comes to theme park fans, what do they brag about? These folks like to say that they actually got to experience Hard Rock Park.
Six years ago this week, that ill-fated theme park opened off of U.S. 501 in Myrtle Beach. And while this 55-acre entertainment complex had several cutting-edge attractions as well as plenty of brand recognition (not to mention the direct involvement of some of the biggest names in Rock history), just six months later the place was shuttered.
"Which really was a shame. Given that this theme park had such smart design. Not to mention attractions unlike any other on this planet," Josh Young of ThemeParkUniversity explained during a recent phone. "Take -- for example -- Nights in White Satin: The Trip. Guests entered this dark ride by passing through a beaded curtain. And after they'd been issued a pair of 3D glasses, these people were then sent on a recreation of a psychedelic experience (acid trip). This multi-sensory attraction -- which coupled sights, sounds and smells with a re-orchestrated version of that iconic Moody Blues song which Justin Hayward personally put together -- was cited by many in the themed entertainment industry as the best ride of 2008."
"In addition to Nights, there was also a steel roller coaster blaring Whole Lotta Love from 32 on-board speakers in a train shaped like an actual Led Zeppelin," Young continued. "Next door was Maximum RPM where guests hopped aboard British convertible sports cars where instead of going up a traditional inclined lift hill, vehicles rotated upwards in the world's first Ferris Wheel style lift."
However, while most of the rides were one-of-a-kind, the true heart of Hard Rock Park was entertainment. This theme park featured a country music-themed ice skating spectacular, a stunt show themed to roadies setting up a concert, live bands playing in every section of the park and even their own costumed characters: The Bear Metal Family.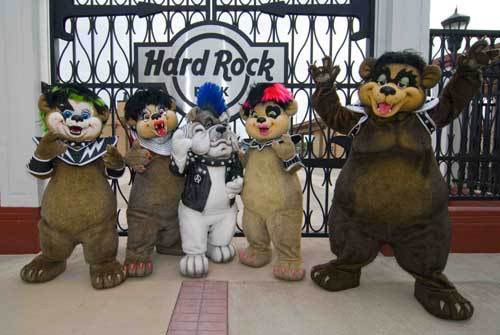 Why did a project that started out with such promise crash and burn so quickly? According to Josh, it starts with the project's mismanaged marketing.
"You remember how -- in Field of Dreams -- that mysterious voice in the cornfield whispered to Kevin Costner 'If you build it, they will come' ? Well, that's not how the theme entertainment industry works," Young stated. "When you're opening a brand-new theme park, months ahead of time, you must build awareness by buying print ads in major publications. You also need TV commercials making people aware of where your park is located. Not to mention hyping the attractions that they'll then get to experience should these people ever actually come visit your park."
"The folks behind Hard Rock Park did very little of this. Since 17 million people were already vacationing annually in the Myrtle Beach area, they figured that they didn't really need to advertise. To management's way of thinking, if they managed to persuade less than 20% of those people who were already vacationing in and around Myrtle Beach to come experience Hard Rock, their theme park would have been a financial success right from the get-go," Josh continued. "But that didn't happen. Consequently a theme park that had been designed to accommodate 20,000 - 30,000 people per day wound up having an average daily attendance of just 2,000 people. The theme park's marketing -- the fact that so few folks knew that Hard Rock Park even existed -- really got this project off to a rough start."
And the irony of this whole situation is that those who actually went to Myrtle Beach to experience Hard Rock Park wound up loving the place.
"What made the park stand toe-to-toe with the big dogs like Disney and Universal were the details." Young reminisced, "Take -- for example -- the carousel in the British Invasion section of this theme park. The first time I heard Rod Stewart's Do Ya Think I'm Sexy being played by a calliope, I laughed my ass off."
But then again, the Summer of 2008 was an awful time for the entire theme park industry. With gas prices at an all-time high (not to mention numerous ominous hints of the Global Financial Collapse that would eventually arrive that Fall), people were really watching their pennies at this point. Which is why it was probably the exact wrong time for Hard Rock Park to roll out yet another one of its innovations. Which was that every Guest 3-and-up paid the exact same price to enter this theme park.
"Now what's actually kind of funny about this whole situation is that -- because the designers of Hard Rock Park were determined to create a theme park that the whole family could enjoy together -- this place had very few attractions that had any height restrictions," Young continued. "And given that a 3 year-old could now experience just as many rides as an adult who was visiting Hard Rock Park could ... Well, that's one of the main reasons management felt justified in rolling out that everyone-3-and-up-pays-the-exact-same-admission-price policy."
In the end, it was that lethal combination -- this theme park's mismanaged marketing, the sudden spike in gas prices, tourists significantly cutting back on their vacation spending due to the pending financial collapse as well as would-be visitors balking at Hard Rock Park's one-price-for-everyone admission policy -- that ultimately did the place in. And no amount of star power (This theme park's grand opening on June 2nd featured a live concert by the Eagles and the Moody Blues) was going to turn this situation around.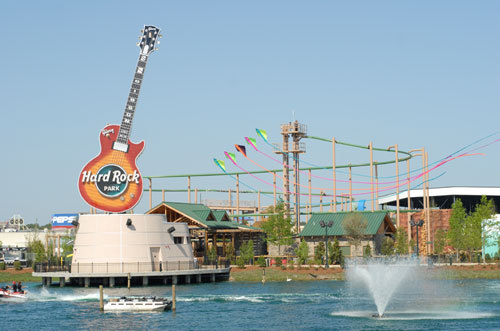 So in spite of the great reviews Hard Rock Park got (Chris Haslam of the Times of London lavishly praised this theme park for its " ... nerdy attention to detail, startling irreverence and sly wit"), by August of 2008, the handwriting was already on the wall. Even though they kept presenting this park's nightly lagoon show (a fireworks-and-laser extravaganza themed around Queen's Bohemian Rhapsody), Hard Rock managers began creeping in this theme park's closing time from 1 a.m. to 10 p.m. And soon after that, Hard Rock Park became an only-open-on-weekends operation.
Come the Fall of 2008, since its investors weren't willing to sink any more money into the property and were willing to take a write-off, Hard Rock Park management had no choice but to shutter a full month ahead of its originally-announced November 2008 seasonal closing date. After laying off most of its employees and then going over the books, HRP managers were forced to file Chapter 11.
If you're going strictly by attendance levels as well as the amount of money this theme park pulled in during its brief life span, then Hard Rock Park clearly was a failure. If -- on the other hand -- you're going by what happened in themed entertainment circles after 2008 ... Well, that's where this story gets complicated.
Long story short: In the months that followed, themed entertainment professionals beat a path to the door of Renaissance Entertainment, LLC (i.e., the Celebration, FL-based company that designed Hard Rock Park as well as riding herd on many of the rides, shows and attractions that were created expressly for this Myrtle Beach project). Specifically because they now wanted that same sort of innovative entertainment at their theme parks.
"If there was a silver lining to the financial cloud that hung over this project, it was the fact that some of our friends at Disney and Universal were able to make it out that summer to see the Park. Industry veterans I greatly respect were highly complimentary of the product," said Jon Binkowski, Hard Rock Park's Chief Creative Officer. "In fact, many of the designers, fabricators and managers of Hard Rock Park went on to work on the wildly successful Wizarding World of Harry Potter and new Disney offerings yet to be unveiled."
"We had an awesome team. Everyone agreed that if Hard Rock Park just had the capital to survive and build its business, within a few years it could thrive and be an enormous success. But, unfortunately, we did not have the 'mother ship' to help us through the tough times of 2008." Binkowski continued. "In the meantime, the property in Myrtle Beach is waiting for its time to shine again."
Speaking of which... In an especially cruel coda to the Hard Rock Park story, this long-abandoned, weed-filled theme park recently was featured in an episode of Revolution (playing -- what else? -- but a long-abandoned, weed-filled theme park). And the number of people who watched this particular installment of that NBC nighttime drama was probably 100 times the number of people who actually visited Hard Rock Park during the six months it was open to the public back in 2008.