Salon (gathering), noun: a gathering of people of social or intellectual distinction to discuss ideas and appreciate art.

International art expert Giovanna Federico is memorable -- flamboyant yet refined, new school on top of old school, effervescent -- and totally charming.
Her contemporary art salon, hidden in SoHo, is in the loft where she lives with her surgeon husband. There, she brings emerging visual artists from around the world to present and discuss their works with carefully vetted New Yorkers.
gfSpace is located in SoHo, New York City

"Developing true relationships in my own home with artists and guests, I am able to take a more personal approach to the arts and my global artists," says Giovanna. She is nothing if not intensely personal.
An art salon was once a gathering in a private home belonging to a Parisian aristocrat. Discretely chosen artists would promote their art, mingling with guests, discussing literature art, music, politics. Giovanna has recreated this European institution in her glamorous industrial loft.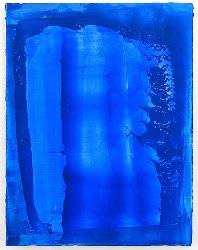 James Sprouse
Giovanna's elegant and intimate monthly receptions feature three artists judiciously picked from a group of emerging and established fashion, textile, and jewelry designers, sculptors, painters, photographers, architects -- even filmmakers -- from all over the globe.
Her salon provides the artists with an opportunity to present, discuss, and interact with their work. "The artists are presented as a triptych showing three contrasting artistic mediums that exist not in isolation but in dialogue with one another," Giovanna explains.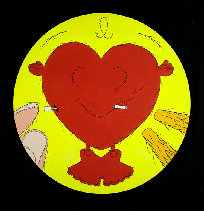 Andrew Chin
"I represent several contemporary artists -- displaying many forms -- sculpture, performance, canvas, mixed media. My criteria is based entirely on my own taste. "Appreciating the rich and fantastic diversity of all high quality artistic media collectively lifts our common psyche -- our souls -- to a higher level."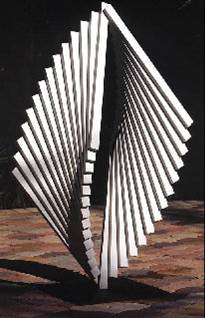 Emanuele Viscuso
Giovanna enjoys enormous support from her artists, and she receives profound emotional responses from her guests. Typically, seventy people attend her gatherings, where she serves white wine, cheese, and dried fruit -- very simple.
"I embrace different cultures, different colors, as long as what they are doing is meaningful to me." The gfSpace artists come from Asia, Europe, Latin America, and North America.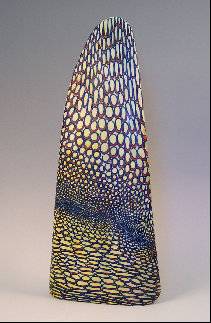 Wynne Noble
"New York City has many galleries and did not need another. I was interested instead in developing a new formula: intimate, with potential collectors in a cozier, more familiar atmosphere," Giovanna muses.
"Over the years I have received press from SoHo to Tokyo, developed a rather large mailing list, and built a well-received presence on the web and on FaceBook. New Yorkers seem to embrace the idea of a salon.
"I love to deal with younger collectors because they are so exciting." The salon keeper smiles. "I live surrounded by meaningful and beautiful people, professional, creative people in media, and the arts -- people who enjoy a certain type of lifestyle. I want to share all this with those I know."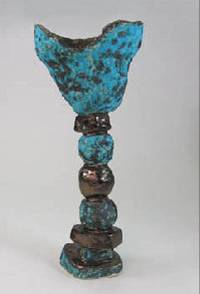 Barbara Baxter
Giovanna believes art should be available and accessible to a wide public. With fewer expenses than galleries, her collection is priced from $2 million down to as little as $200. There is room for everyone. "The core of my salon are two dozen serious, young collectors," she confides.
Artists represented by gfSpace include Steve Alpert, Barbara Baxter, Michael Boyd, Andrew Chin, Devon Driscoll, Katrin Grotepass, Caspar Henselmann, Rebecca Koven, Jurg Lanzerein, Janis Lewin, Wynne Noble, Jon Paul Rodriguez, James Sprouse, Emanuele Viscuso, Charles J. Hecht, and Lianjie Zheng.
"All of my pieces come with a certificate of authenticity, signed by the artist, guaranteeing that the piece is one of a kind or at times part of a very limited edition," she promises.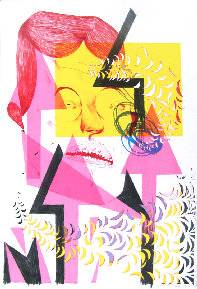 Jon Paul Rodriguez
Giovanna is not only a socialite. She has a Ph.D. in Political Science, and a Masters Degree in Art History and Management, both achieved in Milan at the University Cattolica.
"Being Italian, I grew up speaking art, surrounded by art. It is in our blood and psyche. Living in America has made me more broad-minded. My salon -- my art -- surrounds me, it is my life. It represents being open minded."
The salon is open on an invitation-only basis. To apply for membership, which is free, one must explain one's passions and priorities directly to Giovanna. She may be reached at info@gfSpace.net.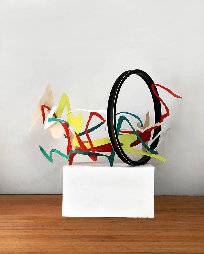 Caspar Henselmann
"A painting may match the couch," she scolds, "but it should be chosen because it elevates your consciousness. It must speak to our heart and lift your mind."
Although gfSpace is one of the first salons in New York City operating as a private gallery, it won't be the last. Giovanna Federico is a Thought Leader in the world of modern art.
Edited by Ethel Grodzins Romm.