My foundation opened its new office across from the New York Stock Exchange last week and for me, the biggest delight was the arrival of Joanne King Herring who was in town promoting her fabulous new book, Diamonds and Diplomacy: My Wars from the Ballroom to the Battlefield. Honestly, she did not make it into our office due to barricades connected to Occupy Wall Street, but I walked several blocks to meet her in her limo and we met in her back seat. What a woman.
You must know the story of Joanne King Herring, whether you realize it or not. She is the woman portrayed in the movie Charlie Wilson's War, played by Julia Roberts opposite Tom Hanks. She is the woman who has met with every world leader from Ronald Reagan to Anwar Sadat to Winston Churchill III. She is the woman who saw the Soviet invasion of Afghanistan for what it was and opposed it vehemently, as she opposes the Taliban today not for being Muslim but for being murderers, and she is the one who is helping re-build Afghanistan so it can survive the future on its own terms. She is a woman of extreme power.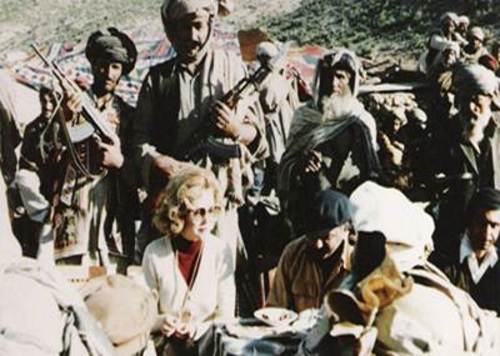 Joanne King Herring in Afghanistan with the Mujahidin. Photo courtesy of MPC.
As the former president of Pakistan, Pervez Musharraf, said:
I know Joanne Herring to be a most dynamic and inspiring personality. Her deep commitment to alleviate and assuage the sufferings of people of our region has touched me immensely. Her unique contribution to the Afghan freedom struggle in the 1980s turned the tide of the conflict. Her book is a reaffirmation of her genuinely feminine intuition towards a complex human tragedy spanning the last three decades
.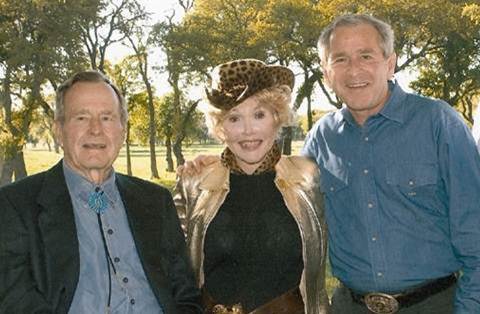 Joanne with the 41st and 43rd presidents of the United States. Photo courtesy of MPC.
Joanne's concept for development is brilliant in its simplicity: don't build a school here and there, don't create another program where it cannot be sustained or protected. Instead, focus on building one village at a time with five key elements: clean water, food, health care, schools and jobs. This holistic concept of village improvement -- where the direction and future of the population is in the hands of local leadership -- is on the mark. She calls her program, fittingly, the Marshall Plan Charities for Afghanistan Recovery (MPC).
Statistics prove that you cannot "give" a country into prosperity. It must raise itself out of poverty. Joanne believes, and I concur, that Afghani people need. She told me:
Food. We are providing soybeans to replace the poppies. This provides the needed protein and milk for the babies.

Water. We are cleaning the water, with machines, some of which cost only $2,000 apiece. Example: In the Northern Provence of Afghanistan, they had the highest death rate for children in the world. We cleaned the water and they now have a lesser death rate than Los Angeles.

Schools. The schools will provide the opportunity for the children to raise themselves into a middle class; and thus, on to create a Democracy. At night, the schools can be used to train the adults to move into the modern world.

Vocational Centers. Teach the people the skills they already have to produce products for themselves and the world market. We have 40 sewing machines going into the model village. Designers, such as Kate Spade are ready to provide the designs and patterns and market the products.

Clinics. The clinics will provide simple necessities, like shots, polio cubes ($0.50), mosquito nets ($1.50), and a much needed midwife. A doctor on a motor bike will be available three days a week. With these simple tools, the people will do the rest.
Joanne believes that non-profit organizations working together can do the job faster and better and 200 percent cheaper than the government or the military. How does she know? She has seen them doing it successfully in Afghanistan for over ten years. These NGOs are staffed by Afghans and will not leave when the U.S. pulls out. They are held accountable by their American partners. This, she adamantly feels, is the answer.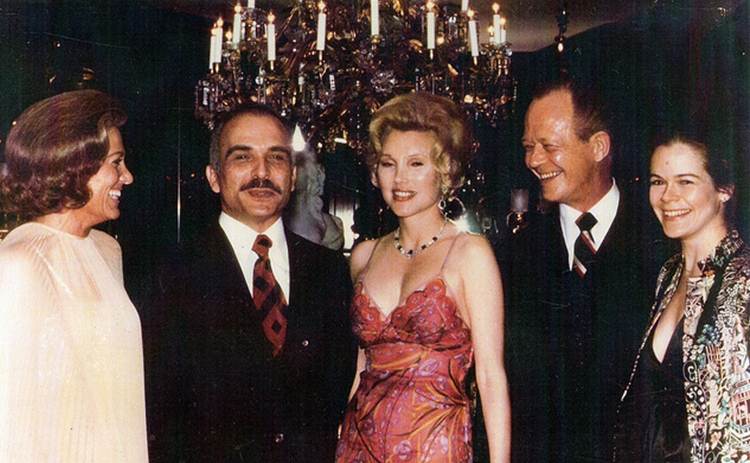 Joanne with King Hussein of Jordon. Photo courtesy of MPC.
In her book Diamonds and Diplomacy, Joanne writes rivetingly on being smuggled across the Afghan border:
We trudged. We rode in the backs of trucks and oxcarts. At dangerous checkpoints my comrades actually stuffed me into a big oil barrel and nailed down the lid. A woman -- a white Western woman -- was more dangerous contraband than heroin or weapons. Tiny snowflakes swirled around us like lacy ash. The cold wind penetrated to our bones. But I was beyond caring.

At last, our truck arrived at the warriors' desolate outpost. I was suddenly more frightened than I had ever been in my life. I thought, 'I have broken all their rules.' Here I was, a woman, face uncovered, dressed as a man, walking among men. I began to understand what I had done.

What had seemed a great adventure was suddenly a death trap. I had never experienced real war or suffering. I had led my son into this morass of danger where death was as close as a shadow.
I have been walking through villages and coordinating orphan care in the developing world since 1999. I know from experience that you can build the best orphan care program in the world, but if the community surrounding it does not rise as well, the orphans are in danger. I learned this best when several hundred Haitians tried to kill me years before the earthquake (see BBC).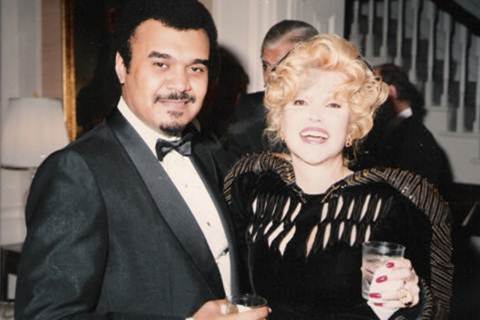 Joanne with HRH Prince Bandar bin Sultan bin Abdul-Aziz Al Saud. Photo courtesy of MPC.
I spoke to Joanne for hours after our first meeting by phone from her spacious home in Houston. This woman of faith is so spot-on it is inspiring. We both are in such agreement that NGOs should not swoop into countries and shove programs down the faces of the people. Local communicates must want support and be willing to invest in it, work to build it, learn to run it, and sustain it in the long term. Joanne and I are both adamant that programming, not administration, be the bulwark of international development, and we both chafe to see the big NGOs represented by staff who go into the office late, take long lunches, break early, and drive about in large SUV's with driver and three phones.
Our foundation has pledged to assist Joanne however we can. Our mission is to support young global leadership impacting positive social change and the NGOs that support them -- and there is no better way to do this than through Joanne's one-village-at-a-time strategy. The J. Luce Foundation is committed to identifying and supporting ("spotlighting") effective organizations and leadership displaying best practices to achieve maximum social impact with the least administrative overhead possible.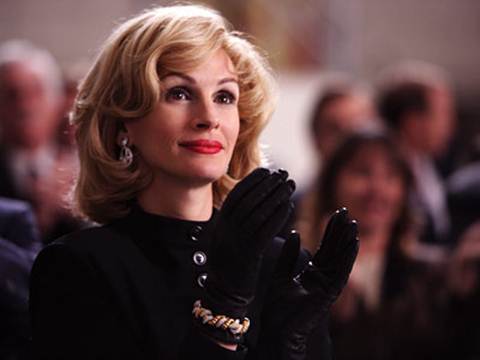 Julia Roberts played Joanne in Charlie Wilson's War, a slightly exaggerated
portrayal of her work. Photo courtesy of MPC.
Joanne tells me that The Aga Khan Foundation has just agreed to support her efforts. We have also offered to assist her Marshall Plan Charities for Afghanistan Recovery with the management, including recruitment of an Afghani physician, nurse and midwife to staff a health clinic in the village, and long-term offer a family-care model (non-institutional) of orphan care, in addition to supporting efforts to teach local women sustainable skills and create paths to global markets. The J. Luce Foundation's special projects, Orphans International Worldwide (OIWW) and International University Centers (Uni Haiti), give us special tools to add value to villages in Afghanistan.
The synergies between Joanne's vision and my own are staggering. Although I am perhaps more private in my faith, I have written about my own spiritual journey leading me to a vow of poverty (here). Joanne lives at the opposite end of the wealth spectrum, but bases her actions on faith as well. Although her strength comes from a personal relationship with Jesus, she believes in the dignity and worth of all humanity. As we say in New York, from her mouth to God's ears!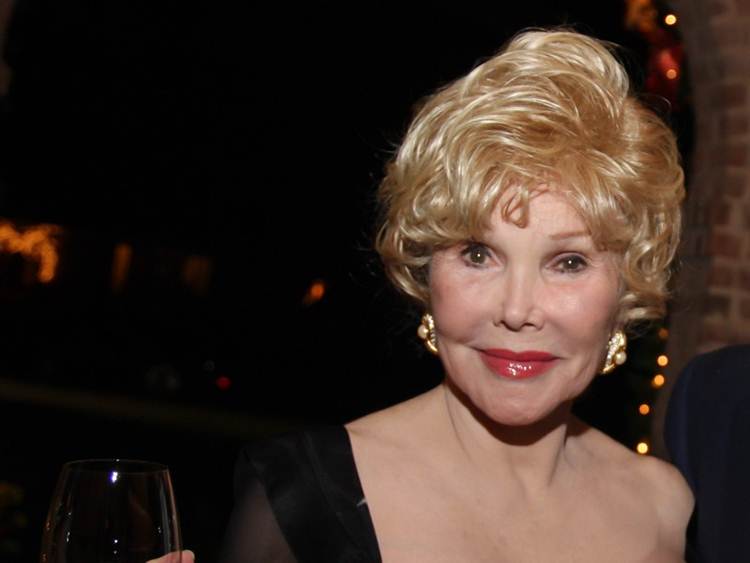 Joanne King Herring today. Photo by Priscilla Dickson courtesy of CultureMap Houston.
In my youth, I co-founded and ran for six years an organization known as Fundamentalists Anonymous (FA). We helped people shake off the chains of religious addiction -- in fact, we spoke of religious addiction for the first time on national TV -- Donahue -- and one year later the American Psychological Association held a workshop on this topic. A black-and-white, right-and-wrong mentality that accepts no gray is dangerous.
But not all religious conservatives are fanatical. Joanne King Herring represents the Republican party of Hank Luce and Larry Rockefeller -- good stewards of their environment, families and foundations. I know this world well: they wish to empower humanity, not enable it. Joanne had met my life partner John Lee before meeting me and through John wanted to meet me. It is through thought leaders and global citizens like Joanne that our world can united, one village at a time. Joanne King Herring is not only the Queen of Texas, but in my mind, the Queen of International Development.
See Stories by Jim Luce on:

Afghanistan | Children | Extremism | Film | International Development | Islam and Islamic Issues | Orphans | Peace | Philanthropy | Social Responsibility | Women's Issues
The James Jay Dudley Luce Foundation (www.lucefoundation.org) is the umbrella organization under which The International University Center Haiti (Uni Haiti) and Orphans International Worldwide (OIWW) are organized. If supporting young global leadership is important to you, subscribe to J. Luce Foundation updates here.