How are we doing on sealing our long, long border with Mexico, all 1,952 miles of it?
The Secure Fence Act of 2006 calls for 670 miles of new fencing, running along one-third of the border. As of last fall, 370 miles had been installed -- at a cost of some $5 million per mile.
How much success has our country enjoyed as a result?
We do know that there have been more than 5,000 documented deaths at the border since 1995 -- 21 times more fatalities than in the history of the Berlin Wall -- making it the deadliest land border in the world today.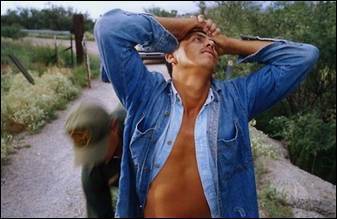 U.S. Immigration policies fail strategically, economically, and morally.
A classmate of mine calls this strategy of immigrant control wrong-headed and ineffective. Dr. Wayne Cornelius is the director of the Center for Comparative Immigration Studies at the University of California at San Diego. Wayne's findings call for a searching look at what the U.S. accomplishes with our border enforcement build-up, ongoing since 1993.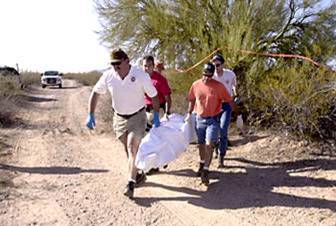 U.S.-Mexico border is the deadliest land border in the world today.
For starters, is it keeping would-be unauthorized migrants out of the country? The answer is clearly no. The probability of being caught on any given trip to the border is rising, but nearly all succeed in entering on the second or third try.
I have personally known Mexicans here in New York who have made this journey - and their tales are all horrific. In 2000 an estimated 275,000-300,000 Mexicans -- mainly from the state of Puebla -- were living in our five boroughs. No one knows how many of them are documented.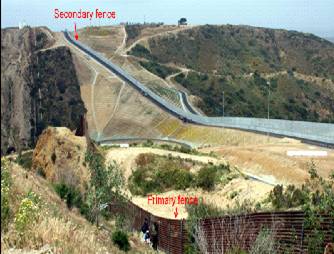 Urbanized border areas are double- or triple-fenced.
Photo: Maria Teresa Fernandez
Are border controls discouraging Mexican migrants without documents from going to the border and trying their luck? The numbers depend not on the fences, but on the current U.S. economic crisis.
Would-be migrants are pragmatically asking themselves, "Does it make sense to pay a coyote (people-smuggler) thousands of dollars and risk my life in the desert or the mountains if I may not have a job once I get to the U.S.? Maybe it's better to wait until the U.S. economy improves."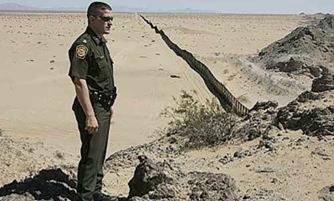 What is driving decisions to postpone migration today is not fences, not border enforcement, nor Immigration raids in the U.S. It is the lack of jobs in the States.
This means that as soon as a sustained U.S. economic recovery returns, the flow of unauthorized migrants will quickly rebound, as it has after every recession in recent decades.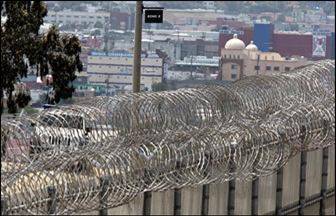 Razor-sharp concertina wire has been added
between San Diego and Tijuana.
An eye opener: Wayne and his research team also found that U.S. Immigration enforcement away from the border area does not scare undocumented workers to return to Mexico. There is not yet enough enforcement activity to induce most employers who use this kind of labor to stop hiring.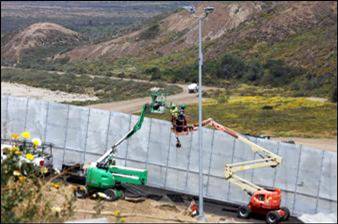 Latest section of fencing on the San Diego-Tijuana border.
Photo: Maria Teresa Fernandez.
More than three out of five undocumented migrants interviewed by Wayne and his team in early 2009 reported that their U.S. employer probably actually knew, or knew for sure, that they were unauthorized to work in the U.S. But they were still hired.
Wayne's research shows that experiencing a workplace raid -- or having a relative or friend who had been caught by Immigration -- does not discourage most Mexicans from migrating again. There is no deterrence caused by Immigration raids.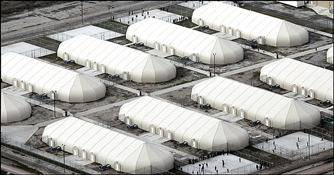 Immigrant detention center in south Texas, operated by
Corrections Corporation of America (CCA).
Wayne's interviews with more than 4,000 Mexican migrants and potential migrants to the U.S. since 2005 suggest that a reallocation of immigration enforcement resources would be far more effective.
Wayne concludes that funding could be better used to investigate and sanction U.S. employers who habitually hire undocumented migrants. This would not only be cheaper, but more humane.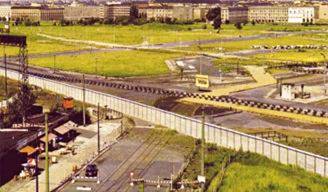 Berlin Wall: 239 deaths in crossing attempts, over 28 years.
There is plenty of money for fencing solutions. At least $6.7 billion has been earmarked for SBInet -- the "virtual" fencing of the U.S.-Mexico border -- a project led by the Boeing Corporation.
The plan: 1,800 high-tech towers equipped with advanced radar systems, video surveillance cameras, and ground sensors to detect movement and sound. Homeland Security officials promise to install the virtual fence along nearly the entire border within five years.
I have thought for years that assisting Mexicans to cross into our country would be the moral equivalent of working in the Underground Railroad 150 years ago, helping blacks move up into the North where they could survive.
Creating alternatives to migration in Mexico would clearly have the strongest and most durable impact on unauthorized flows. How could the U.S. help Mexico's own economy improve so that there would be jobs to hold people there?
Because of his groundbreaking work on U.S. Immigration policy, Wayne will be awarded the Distinguished Alumni Award from The College of Wooster in June.
I wish Obama's immigration team would attend so that Washington could grasp how misguided and ineffective U.S. Immigration policy is. Here are some solutions.
Edited by Ethel Grodzins Romm.