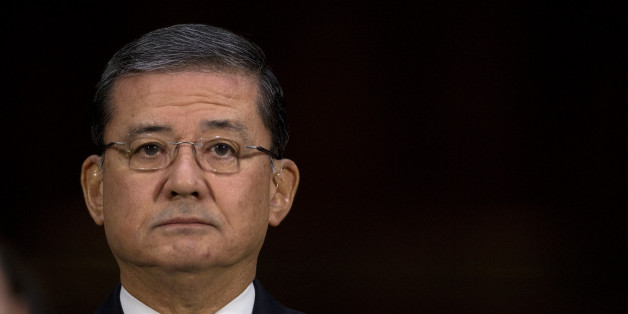 In my last column, I suggested that if allegations of purposeful misdirection and malfeasance with respect to patient scheduling and the alleged creation of secret appointment lists at the Department of Veterans Affairs were found to be true, then the ultimate responsibility for those acts would fall on the shoulders of the department's leadership, to include Secretary Eric Shinseki. That conclusion, however, does not give license to assume that the secretary is any less an honorable man, that he is not devoted to the care of his fellow veterans or that the corruption of what is supposed to be a noble institution can somehow be laid directly at his feet beyond his role as the department's singular leader.

In my five years working for Secretary Shinseki as one of his speechwriters -- as in my previous seven years at VA in a similar capacity for Shinseki's three predecessors, Anthony Principi, James Nicholson and James Peake -- I was confident that Secretary Shinseki was, and continues to be, totally focused on meeting President Lincoln's 1865 promise to care for those who have borne the battle, a promise that extends to the families of our veterans. The backstory to Shinseki's injuries in Vietnam, his determined recovery after losing part of his foot to a landmine and his subsequent journey through a strenuous recovery to achieve the pinnacle of Army leadership as chief-of-staff, is a story of courage, devotion to duty, and an inspiration to all who served under his many commands. Of his commitment to veterans, there cannot be any doubt, and I believe Eric Shinseki is as frustrated with his current command as any veteran, veteran spouse or family member, Member of Congress or the President could possibly be.
But leading an army of soldiers who are trained to respond to the strict and linear military discipline necessary to survive and succeed as a cohesive fighting force under dire combat conditions is not the same as leading a department largely composed of civilians who have lives outside their work, and for whom military discipline is, at best, tolerated, and, at worst, ineffectual in execution. To lay the matrix of 20th century military expectations over two-thirds of VA's workforce is simply not a sound business practice to impose on a workforce unfamiliar with -- and generally resistant to -- that model of behavior.
The problem VA faces begins not in the hospitals, clinics or benefits offices; the problem begins with the nation's expectation -- nurtured over many decades -- that somehow veterans are the best leaders of a veteran-centric service.
Although other veterans -- notably General Omar Bradley in the 1950s -- led earlier iterations of what is today the Department of Veterans Affairs, there is no hard-and-fast rule that VA leadership requires previous military service; it has become the practice, yes, but it is not necessarily sine qua non to the mission of guiding the third-largest federal department. I completely understand the public relations value and the legislation influencing significance of having a multi-starred, combat-decorated veteran in the top spot at VA, but I don't believe that rank hath its privilege when it comes to the daily operations of the vast complex of VA facilities and services. Times are changing, and VA must change with the times.

What VA needs today is a leader who understands the dynamics of, and has a positive track record in, a large service network that can respond quickly -- with agility and accountability -- to myriad needs of several million consumers. That is, at the heart, what VA is supposed to do. A veteran who is seeking medical services is a consumer of health care; a veteran filing for benefits is a consumer of financial care, be it disability benefits, a home loan or college tuition. How those various forms of care are delivered is of principal importance. For veterans and families of veterans, a system of care and benefits should be transparent, timely and efficient in its delivery, and the leader of such a system must have a track record of running a 21st century, technology-forward, consumer-oriented organization. That has not been, generally speaking, the background of those previously chosen to lead the VA.
There may be a "feel-good" factor for a president to nominate a notable military leader to the post of VA secretary; it seems like the logical thing to do. But it is a limiting criterion that has outlived its time and usefulness as a qualification for office. Should a VA secretary have a military background? It would be a plus on the resume, but it should not be the defining factor toward selection.

When Eric Shinseki led the Army as chief of staff, he was leading a very specialized organization that consumed many things: food, arms, ammunition, clothing, information, housing, education, family services, natural resources in the form of vast acreages of land and, of course, health care. The soldier in the equation was a force-fed consumer with limited choices, and those choices were selected by folks higher up the command chain: This is the uniform you will wear, this is where you will live, this is what you will do every day of your service. The old saying, "If the Army wanted you to have a life, it would have issued you one," is not far from the reality.

Veterans, on the other hand, proud as they may be of their service, re-enter the civilian world as fully-enfranchised citizens with a surfeit of choices around them and companies that respond to their consumer needs with almost lightning speed. Want a book overnight? Amazon. Want a package delivered tomorrow? FedEx. Like that song? Download it. Need insurance advice right now? USAA. Need to do your banking at midnight? Go online. The military veteran of the 21st century was born into an era of on-demand services made possible by technologies and consumer-satisfaction strategies that raise veterans' expectations for government services to levels simply unattainable by current VA systems and organizational culture. If VA is to ever meet those expectations, its 84-year-old model must change, and for that change to occur, a new leadership paradigm must emerge.
Secretary Shinseki is not the problem. The model he is accustomed to running is the problem. The management model that constrains veterans in their quest for timely, efficient and quality care is moldering in its sheltered past. That outmoded model must be discarded and a relevant model of veteran health care and benefits delivery management -- a model led by a new generation of leadership comfortable with the latest corporate tools and techniques -- must take the stage. America's veterans earned the right to the very best our country can offer; achieving that goal requires a hard reboot, starting at the top.