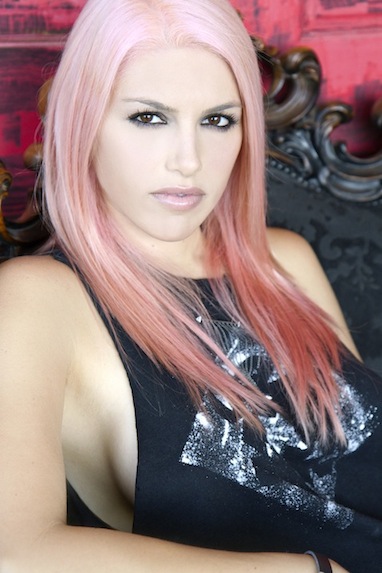 Have you ever had that dream in which you walk into a meeting and suddenly you realize you're cold because you're not wearing any pants? I have, and it is a recurring dream, showing up about once a month in my sleep schedule. Being naked in public might be a stressful nightmare for some, but for others stripping down is all fun and games.
Season 3 of Showtime's The Real L Word followed a group of lesbians as they navigated sex, relationships and binge drinking on both coasts. Arguably the hottest of those hotties is Lauren Bedford Russell, a leggy femme with long, pink hair. More than once Lauren appeared in only her skivvies for an international television audience. She looks great naked.
While the cameras caught a lot of drama and a budding relationship with her co-star, musician Kyomi McCloskey, the producers did not highlight Lauren's entrepreneurial pursuits. Lauren is a jewelry designer whose brand, Lyon, has become popular with the young Hollywood crowd. Kelly Osborne recently flaunted some black diamond rings from Lyon on the pages of the glitzy fashion rag Lovecat.
Just before the holiday I chatted with Lauren about sex, love and all things shiny.
Jincey: I've seen you naked. You look super sexy, by the way. What was it like to share that intimate part of your life on TV? Did you feel vulnerable?
Lauren: There is no way to really describe being filmed in these areas. It is very strange and surreal. I am a really open person, though, so I didn't feel vulnerable; it was a really freeing time in my life.
Jincey: My mom was not at all happy when I told her I was leaving the practice of law to produce porn. How did your parents feel about your nudity?
Lauren: My parents are supportive and awesome. As a whole they really enjoyed the show. Now that it is over, they just want to know when the next season will be!
Jincey: How has your life changed since the show?
Lauren: My life has changed in a lot of ways. The biggest change is within me and my purpose in life. I am much more focused on helping others as a huge priority in life. Before, charity work was just a part, with my line of bracelets, and now it is a focus. Another way life has changed is that I have a more stable and fulfilling love in my life, a partner who is supportive and who makes life better -- in all areas.
Jincey: You're talking about your girlfriend, Kyomi, whom you met while filming, right? So you two are still dating?
Lauren: Yes, we've been together ever since the show. I was really surprised, and I never expected to meet my girlfriend on TV.
Jincey: For your fine jewelry collection, Lyon, I noticed that you sell some really fancy diamond rings. Have you and Kyomi thought about getting married?
Lauren: We've talked about it. We're just taking things slow right now.
Jincey: What would you do if Kyomi bought you a hideously ugly engagement ring?
Lauren: That's hilarious! She knows my taste, so I doubt she'd do that. But, if she did buy me an ugly ring, I'd probably just stack it with some other rings to make it more interesting, you know?
Jincey: That's a really good idea, actually! Luckily my mom is a diamond dealer, so my wife picked out a beautiful rock for me when we got engaged. Where do you find inspiration for your work?
Lauren: I am really inspired by fashion and architecture. I feel the pulse of what is going on in style and what sort of jewelry I would want to wear. I really want my line to feel wearable by both men and women.
Jincey: I seems like your jewelry is all over the place in the press. Who are some of your celebrity fans?
Lauren: We get a lot of calls from stylists to use the jewelry in fashion editorial spreads. I also developed a line of charity bracelets to support marriage equality, and those have been a big hit. They start at $95, and we've had tons of celebs wear them, like Perez Hilton, Adam Lambert and Karina Smirnoff from Dancing With the Stars.
Jincey: I saw that you have one custom ring that sells for $19,000. Will you give it to me? Only kidding! Do you have plans for any lower-priced pieces?
Lauren: You're so funny. Up next for Lyon is a really cool, more casual and affordable collection of silver jewelry. I'm designing some signet rings, equality necklaces and more. I am really excited to get this new jewelry out there for 2013.
* * * * *
Thanks to Lauren for her interview. I love fellow lesbian entrepreneurs! I'm also looking forward to seeing more of her scantily clad body if Showtime renews her show for a fourth season.
Next I'm going to write about sex and spirituality. As always, our conversations continue in the comment section below, or, if you have questions, you can tweet at me @juicyjincey or reach out to me at Facebook.com/JinceyLumpkin.