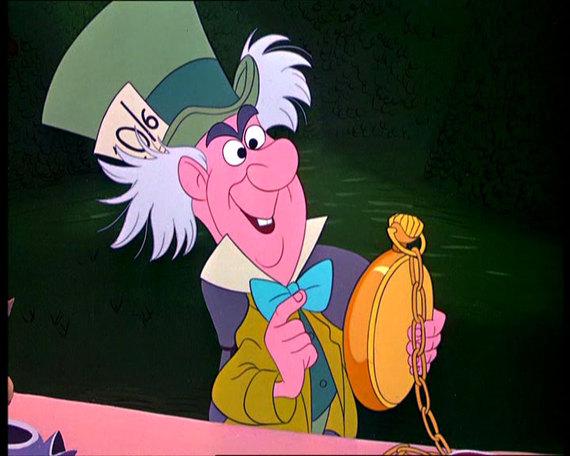 Time goes by so quickly that we sometimes feel our lives are out of control, and there's nothing we can do about it. Things we care about most aren't getting enough attention (if any), and life can become frustrating and sad.
There are things that have to be done, and we have no choice but to do them. And by the time we're finished doing them, we're too tired to think of doing anything else. Gradually we become cynical about our dreams. There's no hope for us, and we feel that aspirations such as these don't stand a chance.
Make time for myself to read, learn to meditate, get really fit
Write the book I've been talking about for years
Heal the estrangement with my brother
Go through all my stuff and give what I'm not using to someone who needs it
Have my life matter -- find more fulfillment in my work
Sort out our money problems and find a way to take that European vacation
The longer we put them on hold, the more the memories of our failures cause us to lower our sights and lessen our opinion of ourselves. While in parts of our lives we may be strong and capable, we seem to lose potency in the face of the concerns that bring us the most pain.
Only you can know the impact this issue has on you, but I can imagine because I've been here many times. One of my favorite quotes is from Ralph Waldo Emerson, and it's been a source of inspiration for a long, long time.
To be yourself in a world that is constantly trying
to make you something else is the greatest achievement.
His words give me the strength to be sufficiently diligent and disciplined to keep doing what matters most to me -- in spite of all there is to do that doesn't appear on my wish list. Here's what I've learned and what we've taught clients for decades. When I stick to the following practice, I'm filled with a sense of happiness and well-being.
How to Reach Your Dreams No Matter How Busy You Are
The practice is called Gold Time Management because the time you spend on this type of activity pays off at least tenfold over the time you invest in other types of activities -- the everyday stuff that has to be done. Allow this practice to train you how to be yourself, as Emerson says, and trust that the rest will get done somehow. It always does.
Gold Time activities are important to us, but not urgent. We can put off forever our big ambitions like getting fit, writing the book, giving away stuff we don't need, and learning to meditate, can't we? Actions like writing the report, checking email, getting groceries, going to meetings, and answering our voicemail are urgent, by the look of things. On the other hand, Gold Time is any activity in which you're reaching for your dreams.
The model below shows ways to spend our time from the most valuable (upper right hand corner) to actions that truthfully don't ever need to be done (lower right hand corner).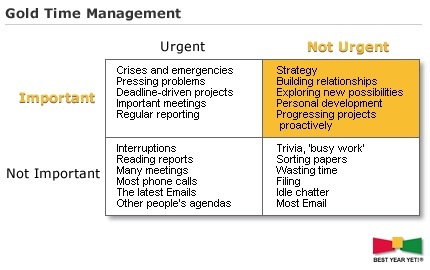 I complete a plan for each day that includes some Gold Time activities, and I do best when I follow a little motto I have for myself: Do the tough stuff first! I use a form with places to enter actions in each category. (I've provided a downloadable PDF of the daily plan form at the end of this article.)
Here are some examples of my recent Gold Time activities:
Meditate
Go for a walk
Do outline for next blog
Post re: my current blog
Write to my agent about next book
Send family reunion reminder
There are also places to note other kinds of activities you want or need to do today. Although I don't always succeed, my aim is to do one Gold Time activity, then one or two urgent activities, and then go back to complete another Gold Time activity. Most of my biggest achievements have come from sticking with this practice.
Yes, you can reach your dreams -- just take it a day at a time.
No matter whether you're a stay-at-home parent, entrepreneur, manager, business owner, student or whatever your vocation, this discipline will work for you.
One final word. If you believe that practicing Gold Time would help you reach your dreams, you're right. But doing so is up to you.
As Goethe said,
Things which matter most must never be at the mercy
of things which matter least.
Your life is in your hands. If you don't reach for your dreams, who will? And I say, please do, because you deserve nothing less.
Double-click on the image below to view and print your Daily Gold Time Plan form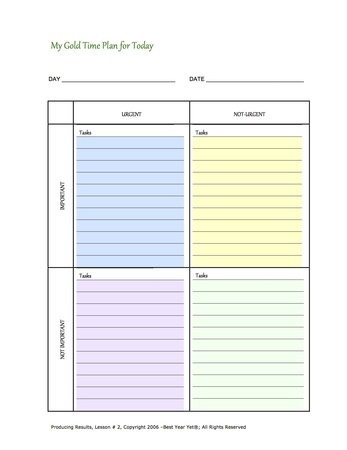 Be in touch if you have questions about making a plan for your day, or perhaps want to share a success you achieved from using Gold Time. Either scroll to the bottom to the Comments section or contact me directly at jinny@bestyearyet.com.

For more by Jinny Ditzler, click here.
For more on GPS for the Soul, click here.
For more about Best Year Yet, click here.
P.S. If you want to make your Best Year Yet plan: