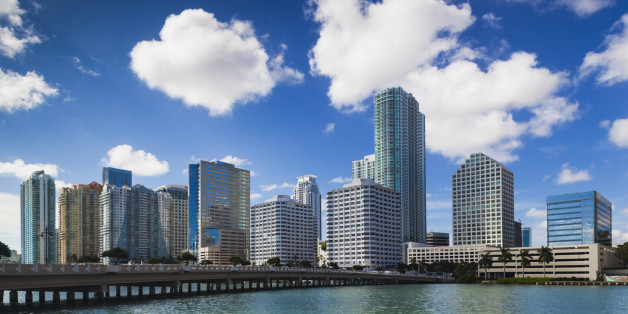 Art Basel is really weird.
It kinda starts with this, at least for most locals.
Art Basel is not Art Basel.
Art Basel is technically the world's largest art exposition held at the Miami Beach convention center. It launched in Miami in 2002. The actual Art Basel is a gathering of the most prominent art galleries from all around the world. It attracts tens of thousands of collectors, gallerists, artists, hangars on, reprobates, freaks, entitled New Yorkers, slimy Europeans, and lovers of art in general, whatever that means. That's Art Basel.
But Art Basel is not Art Basel. Art Basel is just a small component and maybe the worst and most boring part of Art Basel. Art Basel really is this HUGE radio wave of satellite Art Fairs and pop-up events and Wynwood events and street art happening live in Wynwood and parties in Wynwood and on the beach. Collectively, it all adds up to probably the most progressive event in the U.S. and arguably the world. It's definitely cool, but it also definitely gets overwhelming to a point where most locals just want our city and roads back so we rally and cry: Go The F*ck To Sleep Art Basel. When we can't drive to the beach because the causeway's backed up we rally and cry: Go The F*ck To Sleep Art Basel. When Miley Cirus comes to Miami and Dons Disco Ball Nipple Pasties After Art Basel Miami Concert it's time to rally and say: Go The F*ck To Sleep Art Basel. When Usher comes to Art Basel and Charges His Phone Inside a Woman's Vagina it's time to rally and say: Go The F*ck To Sleep Art Basel.
Here's the thing. We love Art Basel, we do. But most people in Miami are kind of / sort of already over Art Basel before it even begins. Again, here's the thing, it begins for us before it actually begins, if that makes sense. I've been going to Art Basel events since last Wednesday, hanging out with street artists at the JDD Middle School Project. We're painting the Middle School in Wynwood to raise money for art and music teachers.
It's actually pretty awesome. They (they being the best street artists in the world) have already painted 50 murals, I'm like 99% sure I can break this news, it's the biggest art project EVER painted on a public institution in the world. It's literally a HUGE museum on a Middle School. You should check it out.
But we've been there like 15 hour days, and then we go out because the artists come in town a lot earlier than the collectors and gallerists, so we're tired and our attitude is basically: Go The F*ck To Sleep Art Basel. My inbox is bombarded with invites from publicists to go to events and sometimes I go. And I'm there, and I'm looking around, and I realize, at the end of the day, the parties are basically just a bunch of people standing around and drinking, mostly too cool to dance, and this is looking at the free scotch as being half-empty, but you'll see people looking at each other, like, is he famous? Who is this guy? Who is he connected to? Oh. Mr. Brainwash. Oh, he's so hot right now. And when sh*t turns into that it's just time to say: Go The F*ck To Sleep Art Basel. At the end of the day, this is our city, not yours.
So enjoy the bacchanal, it's good times.
We're with you one-hundred percent!
Enjoy Miami, it's beautiful. But understand, it's not yours, it's ours.
And most of us down here are already like: Go The F*ck To Sleep Art Basel...
Still, we'll see you out there tomorrow...