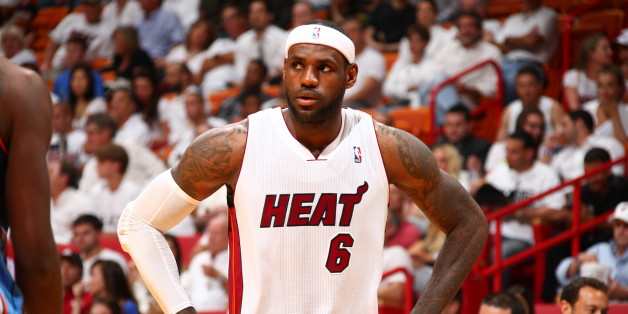 Pheww. Omg!
We just witnessed the best first round of the NBA playoffs ever:
5 Game 7's (would've been 6 if not for Damian Lillard), 8 overtime games, 12 4-point plays, buzzer beaters, last second blocks, crazy miracle shots, dunks, blocks -- it's just been nuts. Now we journey into Round 2 without a single day off.
The Miami Heat will have eight days off before they play Game One this Tuesday in Downtown Miami (don't you hate when the national media says they're going to South Beach). The Heat play in Downtown, not South Beach, and for the record:
Miami is not South Beach.
We were a Paul Pierce block away from playing the Raptors in Round 2, but alas, Brooklyn came through and so it begins... the one team that we didn't want to play, the only team who swept us this year, our Achilles heel, our kryptonite, the city that loves to look down on Miami. All that Brooklyn has Miami's number talk is garbage.
We're rested, not rusted. They're creaky and freaky, not sneaky.
Here are two strong arguments why we ain't worried about Brooklyn.
LeBron James and the anomaly of our season series with the Nets.
Very soon the NBA will announce Kevin Durant the MVP. It is not unfair to argue this will motivate LeBron even more to show the association he's its true MVP.
Furthermore, if you look at the four games we lost to the Nets this year, and these are not excuses, they were all basketball anomalies; furthermore, they were just freaky.
11-1-2013: BKN 101-MIA 100
Miami's third game of the season. We tend to start a little slow. We were on the road and lost by one to a Brooklyn team loaded with new talent, pumped up to play the world champs. Also, it was a little awkward because LeBron didn't talk to the press due to comments he made about Pierce and Garnett leaving the Celtics. Just a freaky game and a one-point loss on the road isn't concern to worry. Before they beat us that night, we beat them 13 regular season games in a row, dating back 4/12 years.
1-10-2014: BKN 104- MIA 95 (2 OT's)
Another freaky match. It was a back-to-back for us with both on the road, our 5th game in 7 days. It went to double overtime, where LeBron fouled out in the 2nd overtime; it was the first time LeBron fouled out in the regular season in 7 years. Just freaky. We were also without DWade, Rio and Battier and it was the first game where both teams wore the nickname jerseys. Weird.
3-12-14: BKN 96 - MIA 95
The least freaky game of the series. They just beat us. It was by one point, but they beat us; we didn't execute down the stretch--it was one of those games, we were in a little slump losing five out of six games, but at the end of the day, they won, although one-point is far from dominating.
4-8-14: BKN 88 -- MIA 87
This game was another anomaly and quite frankly will piss off any Heat fan if they think about it. First we were without Dwayne Wade again, one of the top-15 players in the league. But this was the game when Miles Plumlee fouled LeBron on a last second dunk the refs didn't call. Hey. It is what it is. No excuses.
Round Two is not going to be easy, we want to face the best, but don't fall into the trap that the Nets have our number. They don't. And now it's on.
And despite Paul Pierce's Truth, this one ain't going even to 7 games.