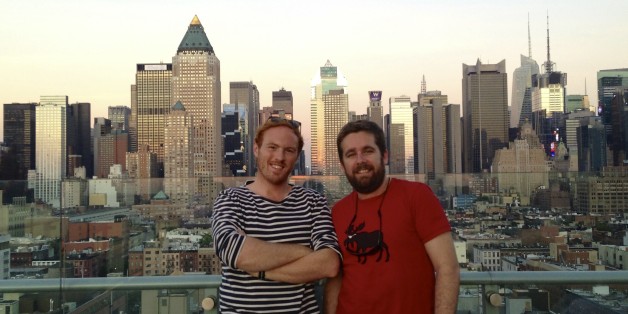 I never thought I'd be planning a shotgun wedding. Nobody's pregnant; in fact, we're two guys, so we couldn't if we tried. But after eight years together, three years of living on different continents, one U.S. work visa, six countries, and the effective death of the Defense of Marriage Act (DOMA), my Catalan partner and I are finally able to tie the knot where we met, in New York. The problem is that after all this waiting and witnessing the triumphant march toward equality, we only have three days in late October to legally marry.
Jaume and I met while studying at Columbia. I fell in love with Barcelona on a junior-year summer trip and then took up Catalan language studies during my senior year. Normally stoic Catalans are defenseless against few things, but foreigners flirting with them in their peculiar language is one of those things. He fell fast. But after graduation, visa problems quickly dashed our hopes of settling happily ever after in the U.S.
Because of an arbitrary post-9/11 cap on skilled worker visas, and a booming job market, Jaume was shut out of staying in New York even before beginning his job search. So off we went, for jobs, scholarships and lots of transatlantic flights. We have spent the last eight years together and apart, living, studying and working in London, Mexico City, D.C., Brussels, Buenos Aires, Bologna, and Bogotá.
From the moment that Jaume and I met, we knew that what we had in common would triumph over our differences. We both loved traveling, we each spoke several languages, we were interested in world affairs, and we were too fat to attract any other suitors in Chelsea. A Pittsburgh native, I've become somewhat of a Catalan nationalist, and as a Catalan he's become a fair-weather Penguins fan. We knew we'd make it through.
But we never could anticipate the legal nightmare that binational couples faced or the bizarre laws that the federal government imposes on international marriages. When DOMA fell earlier this year, it seemed as if our friends had been planning our wedding for years. But we soon found out that, even in a post-DOMA world, the government is still telling us when we can marry, even if the who is no longer in its purview.
In an ironic turn, around the same time that that key section of DOMA was declared unconstitutional, Jaume's company offered him a job in the United States, effectively transferring him on a visa that would mean fewer questions from border agents and, most importantly, a foothold here in New York and, finally, the possibility of a legitimate marriage in the eyes of the federal government.
But now we don't have the luxury of planning a wedding at all. We're under the gun. And unlike most shotgun weddings, it's not our families or the church forcing us to the altar.
Instead, it's every alien's favorite big brother, U.S. Citizen and Immigration Services (USCIS), telling us how long it takes for true love and intention to form after crossing the border. Since Jaume travels a lot for his job, mainly outside the country, this is a big problem.
This is because marriages to foreigners can be considered "suspect" if they occur within 60 days of the alien's last entry to the United States. In short, the government believes that the foreigner entered without declaring intent to immigrate, effectively a fraudulent attempt to gain a green card.
If he declares intent to remain at the border or reveals that he's planning to marry (or has already married) a U.S. citizen, he could be summarily turned away. The government, in all its mysterious ways, assumes that the American has never left the country or made long-distance phone calls, so love can be forged only after the foreigner clears customs. But after 60 days, true love is possible, and the government processes claims without suspecting ill intent.
So, for us, this means that we now have a window of exactly three days between his last entry and his next business trip abroad to not fall afoul of the 60-day rule. If we miss this opportunity, we won't be able to marry until at least the middle of next year, and if Jaume is called to travel overseas for work in the meantime, the clock resets and we're back to zero.
In the meantime, he's entirely beholden to his employer keeping him on the payroll to stay in the country. After years of waiting, it leaves us with few options but to embrace the three October days we have. My head was spinning when I had to consider this. This is after years of being advised not to marry at all because of DOMA's effects.
When I look back at eight exciting years of living in different countries, experiencing different cultures, and feeling little regret about not choosing a more traditional path, I smile and know that I would have never done it if it weren't for him. But I am tired of planning my love life around arbitrary technicalities set by Washington. And I am even more tired of explaining it to others.
After all this time, I'm thrilled to be able to finally build a life in the U.S. together without fear of separation. But after so much waiting in our relationship, having three days to get married doesn't feel like equality to me.