Coming from New Zealand - a mecca for espresso aficionados - I have developed an obsession for hunting out good coffee experiences wherever I go. So I thought I'd share my favorite independent coffee haunts in my new home of downtown Las Vegas, along with some neighborhood cultural hubs.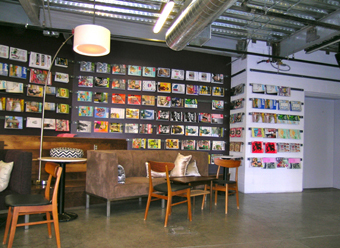 As the downtown area is experiencing revitalization, several new coffee venues have sprung up. Inspire News Café offers 'Italian-style' coffee in an intimate setting with small tables, couches and cushioned seating areas. There is a wide range of art and culture magazines on wall racks, and an in-house Espresso Book Machine where you can self-publish your own paperback novel while you're there. Connected to the café is Inspire Theatre, a 200-capacity performance venue that hosts a variety of live entertainment and film screenings.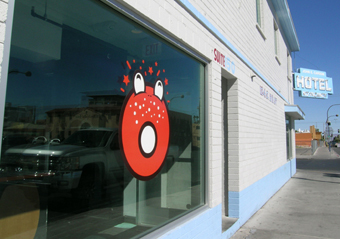 Also worth visiting further around the block is O Face Doughnuts in the revitalized John E Carson Hotel building, specializing in gourmet and vegan doughnuts and espresso. Seattle's Caffé Vita supplies the roasted beans and the training for the baristas and this dedication to professionalism is evident in the coffee.
The nearby Beat Coffeehouse and Records is now one of the more established cafés downtown. The classic wooden furniture and collection of vinyl gives the place an alternative vibe more commonly found in Seattle, WA, or Wellington, New Zealand. The Beat is the cornerstone of the Emergency Arts building (once a medical center) that is now home to an ever-changing array of small galleries, artist studios and non-profit organizations.
One block east on Fremont Street is the brand new coffee window The Black Cup Coffee Co. in the Downtown Container Park where musical entertainment often takes place in the evenings on the outdoor stage at the rear of the retail complex. The Black Cup is a great option for a late night caffeine boost, open until 11pm and later in the weekends.
Further east is the Bronze Café, situated in The Center where you can choose to enjoy your coffee amongst the Red Bird of Paradise foliage in the outdoor patio area. The café also offers a great variety of light meals, with many vegan and vegetarian options. The Center hosts frequent performance events and is home to LGBTQ support groups and health & wellness programs.
So these are my current picks of downtown venues to enjoy an outing of coffee and culture and while you are there, you can pick up the free local culture guides, Las Vegas Weekly and Vegas Seven for an up-to-date round up of arts and entertainment options.