(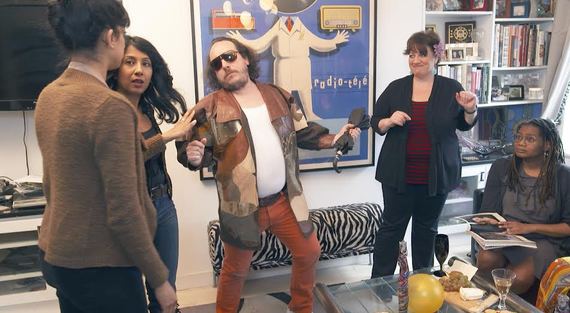 Photo by Uta Seibicke
Those with a knowledge of New York and the history of its comedy scene will recognize Shonali Bhowmik immediately due to her rock 'n' roll sensibilities, her ties to some of the most innovative comedic acts, and of course her distinctly contagious laugh. Growing up in Nashville, Tennessee, Bhowmik starting rocking out at an early age, forming the band Ultrababyfat with Michelle DuBois in Atlanta, Georgia. She has toured the country with David Cross, hosted the highly successful and legendary Variety SHAC comedy show with Andrea Rosen, Chelsea Peretti, and Heather Lawless and has constantly utilized her comedic and musical talents to support a spectrum of artists.
Adding to her roster of creative ambitions, Bhowmik has recently created the web series Shayla Hates Celebrities. With this series, Bhowmik has brought together an assortment of characters played by Katina Carrao, Eliot Glazer, and Le'Ronn McGowan, who all have their sights set on helping Shayla become as famous as Kimye and the Real Housewives. Har Mar Superstar also makes an appearance in the next episode, below. I recently met up with Bhowmik at The Richardson in Williamsburg, Brooklyn, where we talked about rock 'n' roll, the nature of celebrity, and laughter.
SIRISUK: I was really excited because Shayla tweeted me back.
BHOWMIK: I think she's new to Twitter and she's just figuring it out, but she really wants to celebrate becoming a celebrity and all the other people out there that are actually celebrities and don't know it. So you're one of those people. Totally.
SIRISUK: [laughs] Who does she like to tweet the most? Whose Twitter does she follow all the time?
BHOWMIK: You know, she just stopped following Taylor Swift.
SIRISUK: She stopped following?
BHOWMIK: Yeah, because Taylor Swift has come to New York and she's taken charge, and she's just really jealous of the fact that now all of a sudden Taylor Swift is the New York City Welcome Ambassador, and she wanted to be the Ambassador. So it's like Taylor Swift is taking her position.

SIRISUK: [laughs] I think Shayla needs to invite Taylor onto her web series. I think they need to become friends.
BHOWMIK: That is a good idea. You've seen a few of the episodes. Poor Shayla, she's really been trying to get some big names on her show and again, not to downplay the success of the guests that have already been on the show like Kenny (Leinart) whose the soundman at the Bowery Ballroom, and then there's Dane the pizza delivery guy who was really great. But really in her dream of all dreams, she would love have Taylor Swift on her show, so maybe you're right. She's just doing it all wrong.
SIRISUK: I'm kind of obsessed with Shayla. I follow her all the time and if she ever likes one of my tweets, I get really excited. So how did Shayla come to life?
BHOWMIK: So her main issue is that she's always been obsessed with not only just reality stars from the get-go. It was like pop culture, sitcom stars, talk show hosts, late night hosts. It's not movie stars per se, it's more people who are engrained in her everyday living. Those people that she sees on TV all the time, from Oprah and Ellen to old-school sitcom stars like Fresh Prince. Those people, along with all of the Real Housewives for sure, those are the height of celebrity to her. There's almost no real meaning to just working in an office and having a regular marketing job. She needs to reach out of that, and when she saw how easy it is to become a celebrity, she decided she was going on that journey. She's lucky enough to have friends that support her even though their careers are all over the place.
SIRISUK: There's a high school coach and an agent.
BHOWMIK: Right. Her literal coach was a high school coach and has become her coach, and she's the one who knows everything about style and fashion and plastic surgery. So she's so lucky that she has this community and I think that's the key. She's one of the few people in this world that actually has a community of friends that will support her in whatever journey she's decided to take and that's a beautiful thing, and that's hopefully what she's trying to celebrate and share with everyone. It's almost like she doesn't even need to be a reality star -- she's becoming famous just to become famous, for no other reason. It's not like she's really talented or special. She just has a mission and she wants to accomplish it. It's like when people jump out of airplanes just to say they've jumped out of an airplane. I think that's a part of it.
SIRISUK: It's not as if she's striving to do anything meaningful. She just wants to be known.
BHOWMIK: It doesn't have to be for a good reason. She wants people to recognize her for something. It doesn't even matter what it is, which is sort of what I'm certain most people want [laughs]. Now we have celebrity chefs, celebrity scientists, and celebrity economists. So we're sort of at a place where for some reason, I'm certain it has something to do with the ability to be online non-stop and the ability to sort of have friends without meeting people one on one, we're able to build these friendships on the internet without putting ourselves on the line. We can start celebrating people that we don't know, we don't care about really, but for some reason it gives us some sort of hope and also I think just the excitement of believing your life has some meaning because no one else's life really seems that great. Like everyone else's lives are pretty much train wrecks that you can somehow tap into yourself and be like, "Well, I'm at least better than that person." So I think Shayla doesn't care. It's like if you feel sorry for her, she doesn't care as long as you know who she is.
SIRISUK: I know you've always been involved in many different creative outlets. Comedy, writing, you're a rock and roller. What happened before Shayla? What led up to her?
BHOWMIK: You know, the sort of joke in the comedy world is that everyone has a web series, but the fact is, it's not about it being a web series, it's not about the end-all be-all getting a million views, it's really more about expressing something that I'm certain I needed to let out. As a musician I've always done that with my music, but this is something that I couldn't stop thinking about and it was how including myself, we've become really focused and obsessed with this other world. It's becoming something that's just mainstream and common and it's all about books, fashion, status, wealth, and it's always been something about our culture that we've been obsessed with. But I think at a time where the internet is at this new height, we can be in touch with anybody at any point in time. We can laugh at how dumb it's become and even that dumbness is funny, like I am entertained by the dumbness of it. I'm entertained by Dumb and Dumber [laughs].
SIRISUK: You've done music forever. How old were you when you first started playing music?
BHOWMIK: In my world the music started when I was a little kid, and I would sing and dance with my sister in the living room, and my parents would make these amazing Indian feasts for us in Nashville, Tennessee.
SIRISUK: What do you remember dancing to?
BHOWMIK: I remember Donna Summers' "Bad Girl" and not knowing what bad girls were, and dancing with my sister in the living room as little kids. My best friend growing up (Michelle DuBois) was someone who also liked to sing and dance, and we would just sing and dance together. It ended up her parents were bigwigs in the music industry in Nashville, so she had a recording studio that her dad let us play music in. His name is Tim DuBois. He ended up being the biggest producer in country music in Nashville. But at that time, he was a songwriter and because of that and because of these surroundings, we started writing music at a young age with a drum machine. We would rap. We literally would rap.
SIRISUK: Do you still have these recordings?
BHOWMIK: I totally keep looking for some of the cassette tapes. I found the ones where we're singing Duran Duran together and that kind of stuff. We made music together and we decided at a young age that we were gonna play rock and roll until we were 80 and that is a gift that will never be taken away. We got signed to a big label in New York and I remember Destiny's Child was from Atlanta at the same time, and we literally were on a label where Andy Hilfiger took us up to the headquarters of Tommy Hilfiger, gave us all these clothes and he said, "You guys can be our next rock and roll act because right now we just started working with Destiny's Child," and we saw these Atlanta girls and we were Atlanta girls. We're like "oh shit" and then they told us we all needed to wear skirts and we were like, "No. Please drop us from this label." So we gave it up.
SIRISUK: You always crack me up. I know about your rock and roll roots but when did you start combining your rock and roll with your comedy life? How did these worlds merge?
BHOWMIK: I will go out on a limb and say David Cross hates to get recognized for things that he does that are super sweet, just being a good friend, and I just remember that he was so excited to go on tour with my rock and roll band, and we became really close friends. But when I moved to New York, he embraced me and he said, "Help me produce this comedy show." It was called Tinkle and it was at Pianos. I made this whole new friendship with these awesome, talented comedians. Todd Barry was in that show, John Benjamin was in that show, and I remember doing that show and thinking, "Oh my gosh. This is the newest rock and roll thing. This is the new wave of rock and roll. It's comedy." There were all these brilliant females on the show and I feel like this story is not unique now, but at the time there were not many women on comedy shows. You would see one per every other show and it really affected me coming from this world of rock and roll where women I felt, were embraced by men. But I felt most of the male comedians were nerdier. They're not in tune with women in the same way, so they were really freaked out and I swear they will be supportive of women as an idea, but in terms of one-on-one, they're really out of their minds, completely weirded out by awesome comedian females. Things have changed, but because of that I reached out to friends. It was Andrea (Rosen), Heather (Lawless), Chelsea (Peretti), and we just decided to start a comedy show where we led the night. It wasn't about women doing comedy, it was more about us being able to perform together and create a night based on our aesthetics together.
SIRISUK: Who is someone in your life that makes you laugh all the time?
BHOWMIK: My boyfriend makes me laugh. He's an artist, he's shy, he's quiet around most people but the man is hilarious. But in general my friend Christian Felix, who is an actor I met as a paralegal. It's just an organic sensibility of wanting to celebrate and communicate with my friends and share because he makes me laugh and he was a paralegal at the law firm that we worked at. I was a contract attorney and every day we would take a break outside the real corporate world, which also made us laugh.
SIRISUK: What's great as well is that I can actually see you guys bantering because you record a live podcast with Felix at the HiFi. It's fun because you get people to come on and share their stories.
BHOWMIK: Yes, and you know that a big part of it is that even though there may be a superstar like Amy Ryan...
SIRISUK: Yes, she's amazing and she was on the show last month. And Roger Clark...
BHOWMIK: And Roger Clark, yes. So we have this amazing superstar actress who only happens to be on the show because she's a great, fantastic person like I really. We really go seeking people that are just great people and it was just a coincidence that she's also a star, and then to be able to reach out to someone who makes me laugh every day on the morning news. He goes out on a limb to do things that no one would do on news and makes us laugh - like air guitar and going free running. He did the broadcast from the New York City Halloween parade and he's just so funny talking to people. That person inspires me on a daily level. Those are the people that I hope that we can all celebrate in life. Roger needs to be on Shayla, right?
SIRISUK: And Taylor Swift. In the new Shayla episode, I've observed a shift. After the twit pics, plastic surgery talk and everything, you see Shayla look at her phone and there is a sense of vulnerability.
BHOWMIK: I'm so excited you saw that, especially because in terms of the comedy world, I feel like even my own friends in that world -- a lot of them have trouble going to that place. I think first and foremost I really wanted to share the talent of these untapped talents that are not stars and are not trying to be stars, but they are as fantastically talented as anyone else that I know in this world of art. This is where I was telling you about art, it's not results oriented, it's more about communicating and what I want to communicate and share with everyone is that vulnerable place that we all are in when we expect some rewards out of life. To become something that we haven't been, and the reality is we just have to be okay with the moment for what it is.
SIRISUK: This is the fourth episode. How many will there be?
BHOWMIK: I feel like it's an eight-episode, maybe a 12-episode season. So now we're at four and Har Mar Superstar is in this next one.
SIRISUK: He has great dance moves.
BHOWMIK: Har Mar is a star in his own right, but this is a person that I've known throughout my career in music that I met in Atlanta when he had a boombox at a show at the Star Bar and I was like, "Who is this crazy man in his underwear dancing?" I reached out to him and then over the years we both ended up being in New York, and the beauty is that we both have been doing art for this whole entire time. I had no idea what his acting credentials were, I just was like, "Will you do this?"
SIRISUK: His acting credentials [laughs].
BHOWMIK: Because it's not about that. It's not about your acting credentials, it's about trying to do something new, and I think he's on tour in Europe and he's kicking butt as Har Mar Superstar. So Shayla is on her quest. I want it to be interactive. I want to start asking questions to the audience to be involved in creating the next episodes.
SIRISUK: So, Shonali, I have to ask you this. Out of all your friends, whose laugh makes you laugh the most?
BHOWMIK: I have a few. Can I just say three?
SIRISUK: Okay.
BHOWMIK: Duane Harriet, Jen Sirisuk, Sona Bagchi [laughs]. And Michelle DuBois, let's make it four.
SIRISUK: Now we need to make it five.
BHOWMIK: The last one is Jeff Goldstein. He helped produce Shayla. He went to college with me, he went on to become a successful restaurateur, left his artistic career, become a multimillionaire at a young age and now is in a place to support artists, and that man's laugh! He believes in all these people. So really, it's Jeff Goldstein, Michelle DuBois, Duane Harriet, Jen Sirisuk, and Sona Bagchi. Hands down.
SIRISUK: High five.
BHOWMIK: That's the best question [high fives].
Shayla Hates Celebrities - Episode 4 - The Backup Dancer
During the Kimye Vogue cover cocktail party, Shayla's litte sister is not supportive of Shayla's dreams of becoming a celebrity, until a Magic Mike dancer enters the scene. Cast includes Har Mar Superstar, Sunita Mani, Katina Corrao, Shonali Bhowmik, Mia Juhng, Shalewa Sharpe, and Katie Fischer."
For more information on Shayla Hates Celebrities, please visit: http://shaylahatescelebrities.com/
Bhowmik's podcast, We Don't Even Know is taped at HiFi Bar once a month. More information can be found at: http://wedontevenknow.libsyn.com/