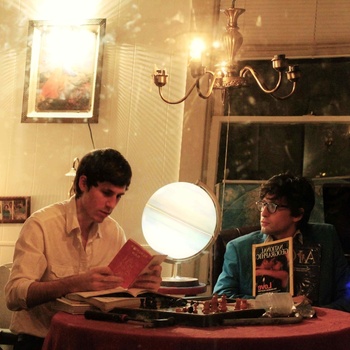 (Photo courtesy of The Colurs)
Listening to their self-titled EP, I am reminded of a scene from The Virgin Suicides which sees a group of sisters receiving a phone call, greeted by a gramophone record of Todd Rundgren's "Hello It's Me" playing from the other end of the line. Creating melodies at once catchy and charmingly nostalgic, Texas-based duo The Colurs is the project of Max Townsley and Drew Erickson, talented pop craftsmen whose EP takes you to a place of sweetly melancholic longing.
Backed by The Colurs Orchestra, consisting of string and horn players, the accompanying orchestral score lends a cinematic effect reminiscent of '60s tunes and '70s cinema. In "Where We Belong," Townsley sings "She might slip on the stone and after having fallen down, reach for the rail, another sunken battleship in the end with a purple-hearted captain for the sails." The group's storytelling skills are carried by lyrics tinged with bittersweet reflections on love and numerous matters of the heart, capturing snapshots of unfulfilled desire and the curiosities of yearning. While on tour supporting their EP, Townsley and Erickson took a breather to answer some questions.
J.L. Sirisuk: How did you both come to work together?
Max: We've been friends since high school and started recording music a few years after we met.
How was this EP born?
Drew: After going to school in Boston, I moved back to Texas. Max was living in Denton at the time, so we decided to rent a house together. We found this great old place near the university that had a large living room with high ceilings, wood floors, and great acoustics, so we decided to set up a studio there to record our music.
Max: We started writing and recording new music there and the first four songs we completed became the EP.
What's the story behind your band name?
Drew: Unfortunately, it's not much of a story. I wrote the band name 'The Colurs' down when I was in high school. Max and I both thought it fit the music we've been making, so we changed the spelling and here we are.
Who are a few inspirations to your sound?
Max: Drew and I share a lot of the same influences, but I'm particularly inspired by singers/songwriters like Milton Nascimento, Todd Rundgren and Burt Bacharach.
Drew: I grew up hearing a lot of music from the '60s and '70s in my home, particularly The Beatles, and Beach Boys. Lately, I've been listening to and studying a lot of classical music, and film scores.
You make your music in a 100-year-old house. Do you live there too?
Drew: Technically, we both live there. I'm basically the only one that sleeps there. Sometimes I feel like the groundskeeper.
Max: (laughs) It's a great old house, laid out in a way that lets us have our workspace and our own personal rooms as well.
Is the house haunted?
Max: Yes! well, maybe. There have been accounts of some hauntings by previous tenants.
Drew: I hope not! Apparently, a professor at the university used to live there, and he broke his lease due to the presence of dark or evil spirits. Personally, I think the place is charming, in an unkept, dingy, creepy sort of way. Maybe a ghost caused the linoleum floors in the kitchen to start peeling away.
What are you listening to right now?
Max: I've been jamming The 5th Dimension, Christopher Cross, Three 6 Mafia, and Carlo Gesualdo lately.
Drew: Recently I've been listening to music by Olivier Messiaen, Witold Lutoslawksi, Steven Stucky, and Igor Stravinsky.
What are you working on now? What's coming next?
Max: We are recording a full length right now. We've been writing a lot of music over the last 6 months or so and are determined to get an album done by the end of the year.

The Colurs will be performing Thursday November 29 at Hotel Cafe.
The Hotel Café
1623 Cahuenga Blvd.
Los Angeles, CA 90028
For tickets and further information visit: The Hotel Cafe
For updates and news visit The Colurs website.