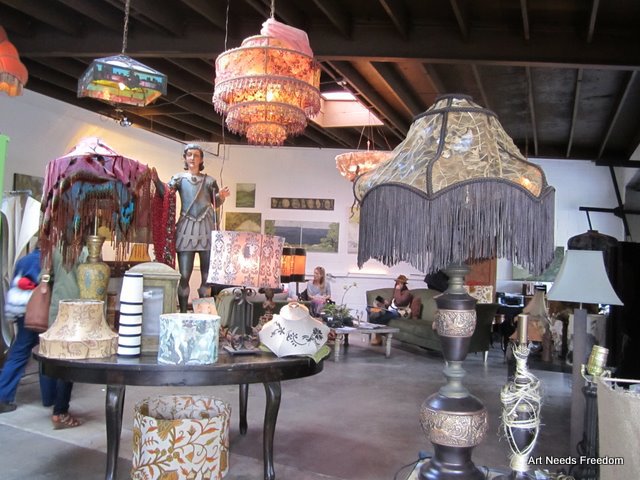 (Photo courtesy of Heather Mendoza)
The very landscape of Los Angeles requires long distances of travel, resulting in thousands or what feels like millions of hours spent trapped in automobiles. Passing through numerous communities, the sight of people walking, milling about or congregating is not very frequent. When I moved to Echo Park, I heard that the community was full of creative and artistic individuals. I occasionally spot a few, but for the most part, it seems that people are either in their cars or their homes. This Saturday May 19th, 2012 is the Echo Park PDA (public display of art) Art Walk. Over 70 venues will be participating in the day-long event, giving people the chance to interact and connect with the many interesting members of the community as Echo Park springs to life as a conduit of artistic activities. Maps designed by Shannon Losorelli will be available at the numerous participating venues, giving people the chance to map out their experience of the art walk. The event was organized by Heather Mendoza, an Echo Park resident who has poured her energy into organizing the art walk -- as a passionate and creative member of the community, she was happy to speak in greater detail about this Saturday's event and its conception.
What inspired you to organize the Echo Park Art Walk?
It all started about four years ago. I remember lying in bed at home and I heard what sounded like gun shots, later finding out that there had been a gang shooting in front of the elementary school down the street. One man was killed. That kind of stuck with me and made me feel sad. I grew up in a little neighborhood in Columbus, Ohio and where I grew up, you knew your neighbors. There were block parties and all of the families took care of each others' kids. You looked out for one another. The next thing I knew I got in touch with one of my wonderful neighbors, Jody, and we and her kids went door to door and up and down our street organizing a block party. In 2010, I decided to create a bigger event for the whole community, and I went door to door, and business to business. This was the start of the Echo Park Art Walk. I was also inspired by my travels in Europe. What I really loved as well as the wonderful appreciation for the arts was the sense of community, the sense of being a part of something and connecting to other people.
What is special about Echo Park?
I have been a resident in Los Angeles for 10 and a half years. When I first moved to Echo Park about four years ago, I was a little apprehensive. I had been living in Hollywood, and was pretty comfortable with where I was. I knew my environment, and stepping out of my comfort zone didn't thrill me. But I'm glad I did, because I've discovered that this community of Echo Park is like a hidden gem. It is wonderfully eclectic and unique, saturated with a diverse group of people, little boutiques and galleries, coffee shops and cafes and it has more to offer than what meets the eye.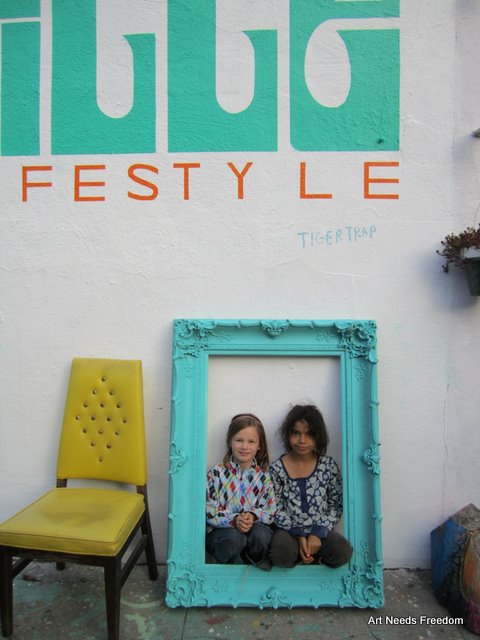 (Photo courtesy of Heather Mendoza)
You once mentioned Bogota to me and the transformation it underwent -- can you please describe this again as it's really fascinating?
I watched a series on PBS about the mayor of Bogota who transformed the city by designing great bike and walkways instead of roadways to connect the city, which led to people walking more, biking more and taking more notice of their surroundings, their neighborhood and their community. It eventually led to the city becoming safer overall as people were able to relate to each other as they would pass by each other day by day. This fascinated me, just how much things could change with a simple focus and bringing people together.
Why do you think the arts are so important to community?
I think the arts are important to education and the world. It is the expression of humanity, a culture, a community, an individual. With the art walk specifically, it is the vehicle in which to bring people together and celebrate and connect community.
Some highlights of this year's event include:
The Big Parade - 2 p.m. - meet at Elysian Heights Elementary School (NW corner of Baxter/Echo Park Avenue.)
Led by Dan Koeppel. Day 1, May 19: Join this Adventure starting at the famous Angel's Flight Stairway and finishing at the Hollywood Sign above Beachwood Canyon. See art and climb stairs, a five mile loop that includes 20 public stairways, along with visits to the neighborhood's historic art landmarks, including the former cabin residences of pioneering Echo Park artists Paul Landacre and Edward Middleton Manigault, who literally died to preserve the purity of his work. You will be able to come and go as you please, so there are options with fewer stairways and as short as one mile. Day 2, May 20: Start at the famous music Music Box Stairs -- site of the Oscar-winning Laurel & Hardy film of the same name -- in Silverlake. www.bigparadela.com
The Echo Park Time Travel Mart (826LA) - 1714 W Sunset Blvd
Creating an interactive TIMELINE ART PROJECT in the lab! 3-7 p.m. Wise Guys Events presents a time-traveling, clue-chasing, challenge-crushing afternoon to benefit the 826LA tutoring center.
Elysian Heights Elementary School - Corner of Echo Park Ave & Baxter
*Art CHalk Site! Chain Link Fence Art Gallery of Student Art Works, 2-4pm $5 Face Painting by Liz Villamarin, Food & Bake Sale and Festivities hosted by Friends of Elysian Heights Elementary School a Project of Community Partners. All proceeds go towards supporting the expansion of after school enrichment classes!
The Episcopal Church - 840 Echo Park Ave
The Congregation of St. Athanasius serving Los Angeles since 1864
10 a.m. -2 p.m. Bookstore Open
2-5 p.m. Art Walk Exhibit
4pm Community Concert
213.482.2040
www.ladiocese.org
Feeding Birds Boutique - 1825 Echo Park Ave Ste A
Official location for Echo Park Art Walk Print Tees & Totes! "Echo Park Robots" print series & crochet crafts by Tiara Robertson, "Rocking Eye" screen printed wears by Mel Baker, photography by Feeding Birds, Calbi BBQ Truck, *Art CHalk Site and LIVE MUSIC line up with Xenia Dunford, Angelo Lovato, Miles Moore & Sons of August!!!
www.feedingbirdsboutique.com
Keystone Fine Art Studios - 1755 Glendale Blvd 90026 (entrance on Aaron st. around back)
HOP to the LAST STOP! Starting at 5 p.m. Enjoy Music, Refreshments & Artworks by Melanie Mandl (Painting, sculpture, Video), Molten Metal Works (sculpture), Dean Styers (painting), Jesse Vogel (painting), Amy Musket (painting, drawing), Danny Perez (video Installation), Dallas Ryder (painting), Krista Machovina (painting), Luke Whitlatch (painting), Chris Slatoff (sculpture) and more...!!! Not to be missed!
http://keystoneartspace.com/
Maja Art - 2174 Echo Park Ave
Cultural Arts and Crafts by Artist MAJA
(in the driveway of this local artist who has been in the neighborhood for years)
Mi Alma Design Studio - 1615 Avalon St
1 Year Anniversary! Mama Pepi's homemade chips & salsa. Design workshops and an eclectic mix of art, custom lighting, water color, oil Paintings and Garden art works by Charles Marder, Hector Diaz, Crystal Hardison, Sydney Smith and Gloria Root.
5 p.m. Dance performance by Beatriz Vasquez of 3-19 Dance Art
323-669-1711
www.mialmaonline.com
Mohawk Bend - 2141 W Sunset Blvd
12 p.m. - 1 p.m. visual, multimedia, interactive art by Ger Ger http://www.gerger.com
1 p.m. -2:30 p.m. Spirit Lake http://spiritlakemovie.com
2:30 p.m. - 4 p.m. How I got Lost http://howigotlost.com
4 p.m. -5 p.m. We're Getting On http://weregettingon.com
5 p.m. -6 p.m. 5 Second Films http://5secondfilms.com
If anyone would like to participate in next year's event, they can contact Heather Mendoza directly at Heather@ArtNeedsFreedom.com
The Echo Park PDA Art Walk
Saturday May 19, 2012
12 p.m. - 6 p.m.
Location: Echo Park Ave & Sunset Blvd

http://www.artneedsfreedom.com/pda/