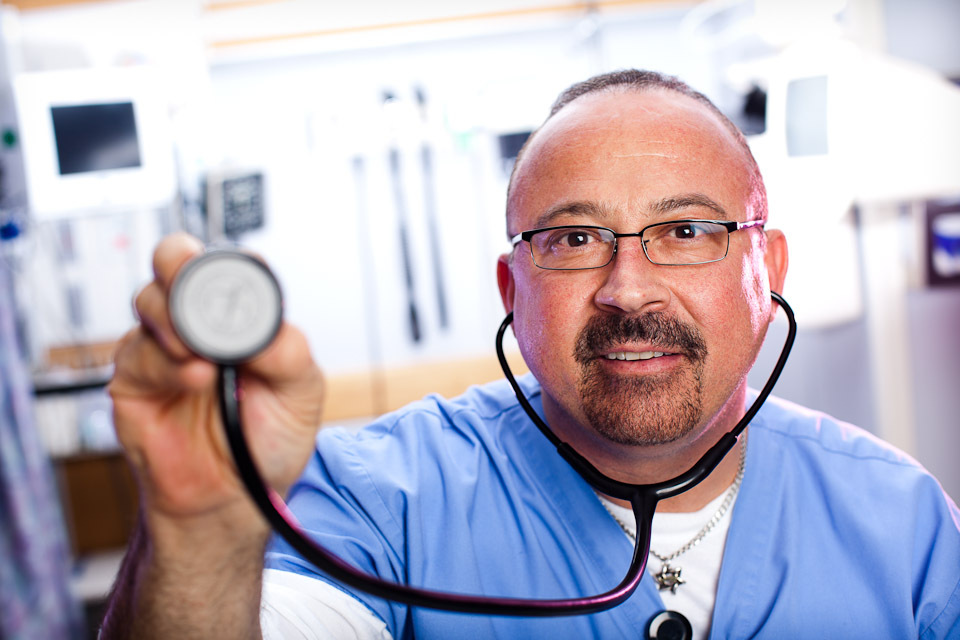 Healthcare Hero's Handbook: A new book by Dr. Frank Gabrin
Dr. Frank Gabrin is a practicing emergency physician and two-time cancer survivor who's frustrations and triumphs on both sides of the stethoscope have led him to transform his medical practice and his life with just one word: care.
In this book he shares with us what he has learned in his life-laboratory at the patient's beside and walks us through the fundamental understanding of what care really is. He then shows us what is required to generate the substance of true care which, when properly understood and applied, allows all of us to instantly create satisfaction on both sides of the stethoscope.
There is a general understanding that no one is happy with healthcare in America today. No one is talking about the fact that our providers of care, the nurses and the doctors at the bedside, are not really happy with healthcare either. Little if anything is being done for those working on the front lines, those providers of care in the trenches, those who we depend on to be there when we need care. In this increasingly challenging and highly scrutinized landscape, many bright and talented professionals are leaving the medical field feeling frustrated and disillusioned.
We are already experiencing critical shortages in both nursing and medicine and our nursing and medical school classes are not filled. In this e-book, Dr. Gabrin reveals what he has discovered to be the root of the problem of patient as well as health care provider dissatisfaction. He goes on to shatter the myths of compassion fatigue and keeping your professional distance which are at the very core of everyone's frustration with modern western medicine.
A few years ago, Dr. Gabrin was himself struggling personally and professionally with frustration, fatigue and burn out, when something happened that fundamentally expanded his perceptions about modern healthcare and changed the way he practices medicine, lives his life and cares for others. You too will find it uncanny how the solution instantly becomes obvious, and then you will see and understand for yourself what it really means to be a "provider" of care.
His personal experience combined with a scientific approach will accompany you as you learn how to generate and deliver the intangible stuff of care. Once you understand and use this five step process, it will now be possible for you to create unlimited amounts of satisfaction for yourself, your peers and your patients. You too will find new meaning and purpose in what it is you are already doing.
From his unique perspective, you will see how to use this novel approach to transform your most difficult challenges into your most rewarding experiences, right here, right now. Within these pages you will come to realize that you have the power to care, to make a difference and change (y)our world. You will be transformed into the modern hero of healthcare that your patients are so desperately wanting and needing to show up at at their bedside.
Born and raised in southwestern Pennsylvania, he earned his Bachelor of Science degree at the University of Pittsburgh, and then matriculated to the Philadelphia College of Osteopathic Medicine where he received his medical degree in 1985. After his first post-graduate year of training, we went on to serve in the United States Navy Medical Corps where he was honored with a Navy Achievement Medal.
His practice has been fundamentally clinical, but he has some experience with administration as he was the director of the Emergency Department at Millington Naval Hospital and served as Chief Resident and subsequently a resident trainer for the NEO Consortium Emergency Residency Program.
Since becoming Board Certified in the Specialty of Emergency Medicine in 1992, he gained experience with the process of teaching medicine as he has been a clinical professor of medicine for Case Western Reserve University and Ohio State University. In the '90s Dr. Gabrin served as a Flight Physician at Metro Life Flight in Cleveland, and as a volunteer physician he took care of patients in the Adult Medical and Early Intervention HIV/AIDS Program at the Cleveland Free Clinic.
In addition to his classic medical training, he has also been trained in alternative therapies and spiritual healing completing the four year curriculum and receiving certification in Professional Healing Sciences from the Barbara Brennan School of Healing in 1998. His experiences in the fields of emergency, osteopathic and spiritual medicine, along with his own personal experiences on the other side of the stethoscope as a cancer patient first in 1987, and then again ten years later in 1997, when he developed a second primary tumor of a different more malignant type requiring mutilating surgeries and intense chemotherapy have given him a unique perspective as both a patient and as a doctor.
This particular physician is very familiar with our positions on both sides of the stethoscope as receiver or giver of care and it has become blatantly clear to him that all we ever really wanted when we chose these careers was to care and be cared for.

Visit Dr. Frank Gabrin's website Clear2Care