Someday I imagine I will open a text on physical experimental theater and see this photograph.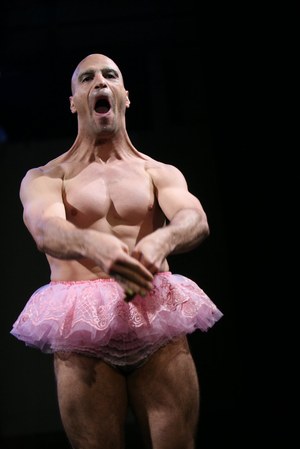 Daniel Irizarry in 'Cho H Cho"
Daniel Irizarry's passionate theater madness is palpable as a divine heart attack. I first encountered Daniel's work in The Orphans at La Mama Theater. I was struck by what I experienced, an artist who was working from the outside in, using extreme physical elements of grotesquery to create beauty and tragicomedy. (Full Disclosure: We have worked together on projects since). Daniel asks not only that our hearts and minds beat beyond their limitations, he is unafraid to offer his own on a steaming bloody platter.

JODY: Your latest project UBU is based on UBU ROI, by Alfred Jarry the father of the Theatre of the Absurd and Surrealism. Can you talk a little about the style in which your/ Adam Szymkowicz's UBU is performed?
DANIEL IRIZARRY: If you ask me what style I am using for this play I would say all and nothing. But to be more specific here's my recipe: one ounce of 'Pataphysics, two spoons of Artaud's brain, three glasses of Jarry's favorite absinthe with his gun in hand, one pound of veggie Dada meat, Three hairs of Adam Szymkowicz's mangina, a little juice of futurist nectar, one quantum physics cat on Stephen Hawkins' lap while both swimming inside a black hole and collecting data, and finally 10 pounds of Japanese porn animation. If you follow this recipe you will taste the magic of this piece. Seriously.
I'm a huge 'green' admirer of 4'11" absinthe drinker and Pataphysics inventor Alfred Jarry. He was so ahead of his time and he is without a doubt one of my favorite writers. King UBU is the role I always wanted to play and Adam Szymkowicz (UBU's playwright) made it a 'green' reality.
This project was the official birth of One-Eighth and UBU was completely conceived and developed for the soloNOVA Arts festival, 2012. After a great successful run at The New Ohio Theater (UBU, the king of the great expanding Universe, was the highest selling ticket show for the festival), One-Eighth is joining forces with terraNOVA Collective and IRT Theater to bring back to life this VIP Open House at UBU's palace.
JODY: What does presenting a play in this style, (be it surrealism, satire etc) say about the story and what theater can be?
DANIEL IRIZARRY: For me it's everything. The staging I've put together is a very personal artistic statement. This is the path theater has taken me and the way I want to continue developing and researching. The body, voice, and the emotion/feeling in one package like fire ants in water. Teatro a la Vakhtangov, a la Meyerhold, a la Stanislavski. M= A1+A2. Like I always say; All this debate about acting coming from the inside-out or the outside-in is bullshit to me. This is what I tell my students and the people I work with. Acting is a cycle. There is no magic formula. Behind, underneath, and all around UBU I've pooped and peed my little pink tutu manifesto all over the space.
I believe theater should look at life with different lenses, with a quantum physics eye. Upside down, sideways, right side up, a close up to see the pores within the nose, and/or an open shot to see how small we are, etc., That's why One-Eighth's projects are so physically and emotionally demanding. This is the theater I want to cook, smell, and drink.
I think Jarry's energy is in this play. This is the perfect world to explore these ideas and extremes. We laugh with the spoken word but we also have to listen closely to what this UBU is telling us. He represents a very cruel reality. For me UBU is all the powerful figures through history put together in one body. UBU is the biggest, cruelest, and most cowardly motherfucker of all time. This tragicomedy is atrocious, funny, and in a weird way inspiring. Adam wrote a juicy sea of words and situations for me to create and 'ejaculate' with on stage. Come see UBU and witness this wealthy and unhealthy madness.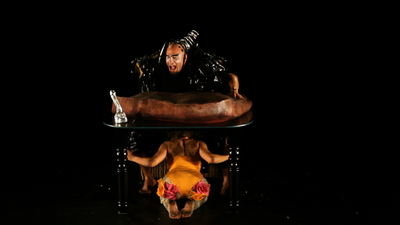 Daniel Irizarry and Laura Butler Rivera with a giant steak in UBU
JODY: Tell me about the process of working as a performer and director. You have been developing work this way for sometime, right? How long?
DANIEL IRIZARRY: Yes, I've been developing my own work for a long time now. Since high school to be honest. It's deliciously difficult. The more I do it the harder it gets. In NYC, at Columbia University I was focusing more on the actors' apparatus/process. Nowadays I don't believe that one can separate movement from acting and vice-versa. For me this is impossible and if attempted a big mistake. One of my mentors says that we are always moving in all directions but one direction is leading. We are always emotion/feeling. I believe this profoundly.
Directing came about in NYC more for a need. I was very frustrated with the concept of physical theatre/movement and psychological theater, which I was involved in and seeing in NYC. I've been researching and practicing for sometime now so the need to put these ideals together felt right, necessary, and organic. This was the main reason I founded One-Eighth with Laura Butler Rivera. She is the Assistant Director and performer for UBU, and she is my left hand (yes I said left) in everything. She is an insane, talented, crazy and sexy creature.
After Columbia University, Mabou Mines was the first theater company that gave me the space in NYC to try the ideas I was 'cooking in the brick oven'; Then, terraNOVA Collective, and undergroundzero festival, and now IRT Theater. These theater companies have given me official and professional venues to explore and present work in, in the great city of New York.
JODY: I loved your UBU costumes, set, props at soloNova. Are they returning and can you talk about working with the designers?
DANIEL IRIZARRY: Yes, this almighty UBU Mafia is back. One-Eighth's creative team for this production is truly unreal. I am so proud and honored to be collaborating with each one of them.
Sound design is by Marcelo Añez, a 4-time Grammy award winner. He is a sound beast.

Props and puppets are designed and built by the best theater puppet duo in NYC. Frankenstudio (Frankie Cordero and Ken Berman). I want to work with these two for the rest of my life or, like Buchner's Leonce says (more or less) "for at least 3,000 years. Eternity is too long. "
Original Costume Design is by Marea Judilla, a very talented artist. She is currently out of NYC traveling the world and has been replaced by Edith Raw who has been working and collaborating with Marea Judilla since she came out of her Mamas womb. Witnesses and historians say that Edith came out from the womb all dressed up in red high heels, two scissors, and with some costume sketches in hand. I am not lying. It's just a fact.
Set designer Mikiko Suzuki is directly from Japan and from the classrooms of Yale University. Mikiko is a guru and I am afraid of her. She is the best. Her dog, though, tends to bite bald people.
Our Lighting is designed by Lucrecia Briceno. Her technique is a fusion of Peruvian ceviche with M theory dance moves. Lucrecia is one of the best lighting designers in NYC. She is also a professor at NYU.
As you can see I like to brag about my team. One-Eighth will always seek for diversity. We have people from all over the world.
JODY: Your work deals very much in extremes -- physical extremes, as well as grotesqueness, beauty, volume. Can you talk a little about what it feels like to create in the way, approach the world in this way and how you get there?
DANIEL IRIZARRY: Freedom. It feels right. It makes sense.
If you ask me, I think what I'm putting on stage is extreme quantum realism. That's the way I see it. Just look around. The way politics, economics, nature, the universe, and human interaction works. It makes no sense and it makes sense. Life itself is boring most of the time like almighty Anton Chekhov used to say. Theater is a great excuse to sweat, rethink things, experiment and play. Ideas come from all sources and resources. A play, an image, a radio conversation, a sound, going to a museum, Iconography, Netflix, Youtube, ecstasy, popcorn, etc. Then the question is: How can you transform that initial inspiration into something highly theatrical, visceral and physical? That's the way I work.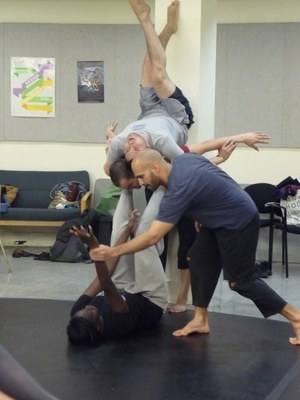 Students work in Daniel's acting 2 course at the Eugene Lang College, NYC. Reprinted from the New York Theatre Review.
JODY: You balance on the top of telephone booths using only your hip, you run up trunks of trees and do back flips, you train students internationally on a regular basis. What do you do to stay in performance shape? And is there any physical limitation you have that you would like to improve upon?
DANIEL IRIZARRY: Physical limitations? Many. I'd like to improve and always keep improving. My focus right now is dealing and working with implosion. That's my ongoing struggle to make my work better. I can explode energy pretty easily onstage, the question for me is how to implode. Tameru. Tameru (to hold back). I have to remind myself that sometimes you can reach your target with 20 percent of energy. I don't have to give 100 percent all the time. How to save energy and still be engaged and connected? It's an ongoing thing, a lifetime process. That is the beauty and tragedy of theater. Your body changes as time passes by and so do your needs, challenges, and limitations.
Recently I just came from a theater project in Cartagena, Colombia created and organized by The Windmill Factory a great great New York based multimedia company (Jon Morris is the Artistic Director) and in this process I had the opportunity to work with performers from Cirque du Soleil, Pilobolus, Fuerza Bruta, De la Guarda, etc. Doing this process was so great and healthy. Not just because of the project but because of the people involved in it. The creative and physical level was extremely high. I learned so much. It made me rethink of many things. I know my physical possibilities are just beginning to be explored.
Training-wise, I always try to follow Niky Wolcz's (a professor at Columbia University and one of my mentors) three C's rule when I teach and during any creative process. Which are: Conditioning, coordination and concentration.
I've been very lucky. Theater has taken me so many places. I've performed, taught acting, and directed in Japan, South Korea, Germany, Romania, Italy, Spain, Canary Island, Martinique, Colombia and Puerto Rico (among others). In the academia: Columbia University MFA Acting Program, The Eugene Lang College for Dramatic Arts, La MaMa Istanbul actors without Borders, etc. Nowadays I'm teaching three courses, two at New York Conservatory for Dramatic Arts, and one at Bilingual Acting Program (BAW). I really love teaching and experimenting. It's the best way to stay updated with fresh ideas, and a great way to stay in shape. If you ever take one of my classes you are going to sweat and play like crazy. Ask any of my students.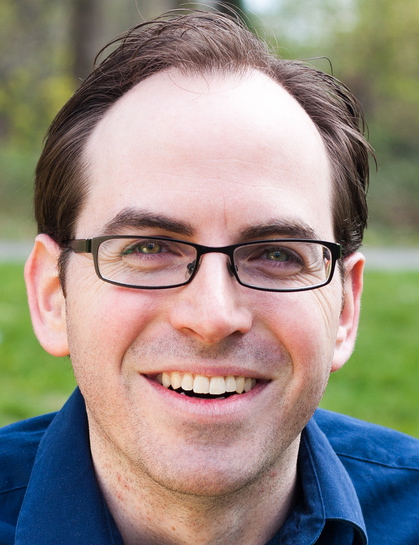 Playwright Adam Szymkowicz
JODY: What is it like working with UBU playwright Adam Szymkowicz?

DANIEL IRIZARRY: Adam and I met at Columbia University MFA program. I really like the guy as an artist and as a person. During those three very expensive MFA years (President Obama, please forgive students' loan debt now!!!) we worked together on a couple of projects and really enjoyed it.

This idea of Adam writing a show for me for the soloNOVA Arts Festival, 2012 came about by accident. After years of not seeing each other we saw our works at a theater night/event organized by Purple Rep theater (a great theater company founded by Larry Kunofsky) and we fell in love all over again or something like that. I think it was my pink tutu, don't know yet.

Antonin Artaud, futurist Filippo Tommaso Marinetti, and one of the dada founders Francis Picabia were thinkers that were eating at my brain before conceptualizing and directing 'Cho H Cho' at Mabou Mines RAP and then for the 2012 undergroundzero festival. With that momentum and thoughts in mind I met with Adam Szymkowicz. We were discussing different ideas to create a show/project and out of the blue Adam mentioned if I knew the play UBU. My eyes popped out and a big smile appeared on my face. That second, we both new this was the project. I'm a big fan of Adam's writing. I knew he understood the original play and was more than qualified to write a juicy smelly material and boy did he deliver. Adam knows my work and what I am capable of. Our agreement was very simple; I gave him complete freedom to write and he gave me complete freedom to stage and do my thing on stage.
For upcoming projects visit:
https://www.facebook.com/Daniel.Irizarry.Artist?ref=hl
more on UBU: http://www.indiegogo.com/UBU-Oneeighth