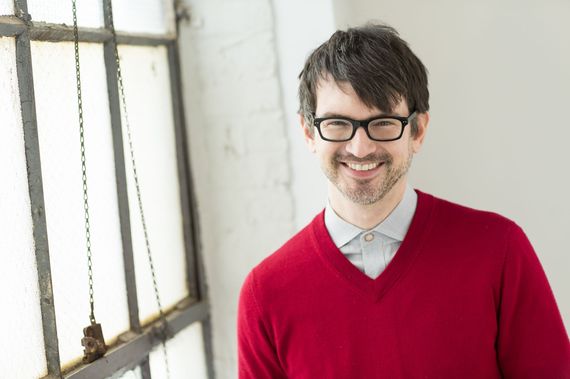 Ken Urban, playwright The Correspondent
The Correspondent Synopsis
A grieving husband hires a dying woman to deliver a message to his recently deceased wife in the afterlife. When he receives letters describing events that only his wife could know, he must determine if the correspondence is from a con artist or if his wife has returned from the grave.
Jody Christopherson: Can you talk about the process of developing your new play, The Correspondent? How long have you been working on it and where did the idea originate?
Ken Urban: I began the play in 2009, but the idea for it came earlier. I was working on another project about Terry Schiavo and during that process, someone discovered a website for an Afterlife Telegram service. You pay money to a terminally ill person who will bring a message to a deceased loved one when the person dies. I couldn't believe such a thing existed. But there it was. I couldn't stop thinking about it.
Without revealing too much, I want to dive right in and talk about abuse and victimization in the play. It seems that each character embodies both. Can you talk a bit about creating these roles?
I kept thinking about the Afterlife Telegram service: What state of mind must you be in to believe in such a thing? I realized that in a state of extreme grief, in that place of pain, you would do anything to make that pain subside. That's how I started thinking about the characters of Philip and Mirabel. For Philip, he has unfinished business with his wife who has been killed, so that is why in that moment, he decides to hire Mirabel, her woman he believes to be terminally ill. Mirabel, of course, is in her own state of need. The young man, too. To me, the opposition between victim and victimizer is always a murky place. I never want to judge my characters, but to understand them. Both Philip and Mirabel are victims of circumstance, but they do some cruel things. That feels truthful to me. The recent rash of Woody Allen accusations online strikes me as odd in that people think it is easy to determine guilt or innocence. It's a comforting thought, I suppose, that a person is either guilty or not guilty. But rarely in life is that ever true. Philip is the hero and the villain. Aren't we all?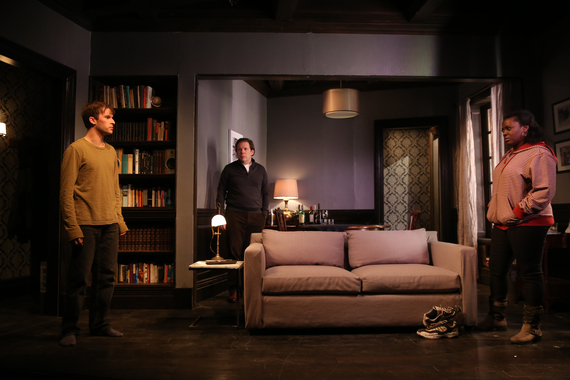 (l to r ) Jordan Geiger, Thomas Jay Ryan, Heather Alicia Simms. photo by Joan Marcus
I am a fan of hauntings. Are you (as a writer) haunted?
I am a big fan of ghost stories. Henry James's Turn of the Screw, to my mind, is impeccable. I wanted to write a ghost story for the stage. John Guare, at a recent talkback for the show, reminded me that in 1940s there were plays on Broadway about ghosts, but recently, it hasn't been seen much. I wanted to write a story about a possible haunting and try and tell a story on stage that hasn't been seen before. It's nice to feel like I've succeeded. In terms of my own life, I guess I am haunted. I had a personal experience with loss when I was child. My grandmother had a brain aneurism when I was home alone with her. I was eight. That experience never leaves you.
There is a very interesting tension between desire, love, violence and intimacy in this play. There is a line Mirabel has at the end of the play, "You weren't wrong in being kind to him." What place does love hold in the conversation about human relationships? Forgiveness? Retribution?
Love is at the heart of every human relationship that matters. To be seen, to see, to recognize another person: that is the start of everything ethical in the world. Philip does do something kind but, he is punished. But that is the risk of letting another person into your world. When it comes to the question of Philip's grief, he wants so badly to have his wife answer his question, "Do you forgive me," but ghost or no ghost, he never will. That is punishment of the highest order. That is the cruel trick of life: we live to die.
For more information on The Correspondent please visit http://www.rattlestick.org/
--
Ken Urban has been produced and developed at Summer Play Festival at The Public, Donmar Warehouse (London), TimeLine Theatre Company, Epic Theatre Ensemble, Studio 42, Theatre @ Boston Court, Williamstown Theatre Festival, Playwrights Horizons, Irish Rep, Primary Stages, kef productions, Stable Cable, and The Huntington. The Awake opened at 59E59 Theatres this past August, starring Maulik Pancholy from Weeds and 30 Rock. The New York Times named the show a Critic's Pick and it played for a sold out run. Awards include the Weissberger Playwriting Award, Huntington Theater Playwriting Fellowship, Djerassi Artist Residency, Dramatist Guild Fellowship, and MacDowell Colony Fellowships, and he is a company member of Rising Phoenix Rep. The feature film adaptation of his play The Happy Sad, with a screenplay by the author, directed by Rodney Evans, premiered at Frameline and OutFest last summer. The film screened at 15 film festivals both in the US and internationally, with theatrical releases in New York, Los Angeles, Chicago and Ann Arbor. In early 2014, the film will be available on iTunes and DVD. He also wrote a short film I Am A Big Ball of Sadness (And I Want to Throw Myself from Your Roof), which screened as part of the Manhattan Short Film Festival in over 200 venues across six continents, and was awarded the Bronze Award by the audience. His plays are published by Dramatists Play Service. He plays in the band Occurrence and their new album DECKS was released this year. Their releases are available from Insound and Bandcamp.