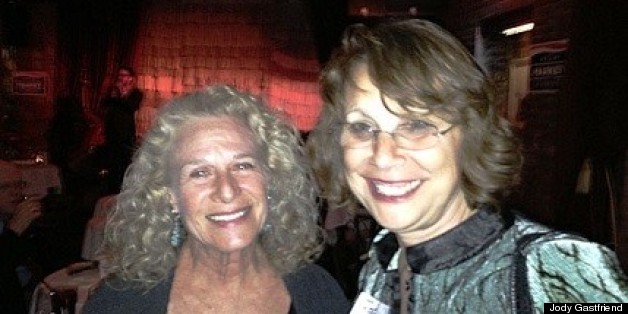 "I feel the earth move under my feet; I feel the sky tumbling down..."
When Carole King, the legendary singer/songwriter, belted out these words at a fundraiser this week, I felt myself tumbling through time. This inimitable song from Tapestry, King's 1971 best-selling album of all-time, has been emblazoned in my memory for the past forty years.

As King performed, I sang along to every word of every song. Back I was, a 16-year-old girl in a blue Indian print dress, frizzy hair and braces. I had just come home from the prom, feeling like the earth had been ripped from under my feet following a painful breakup with my first boyfriend. The music also brought me back to the night I spent with my high school friend, who at 17, learned she was pregnant and could not tell her parents. But there were also joyous images that flooded through my mind with every song King performed. That first kiss (way before the breakup) when I felt I was literally floating above the ground, intoxicated with love's first innocent arrival. Or the immense pride of learning I had been accepted via early decision to college, having harbored fears I would be spending the year working a graveyard shift at Ho Jo's (which I proudly tell my kids I did for a summer). King's music so powerfully chronicled the coming of age for a generation of women like me.
At 70, King is a force of nature, a natural woman who has woven her own life tapestry of "rich and royal hue." But like so many of us, she did not go through life unscathed. In her recent autobiography, A Natural Woman, King disclosed deeply personal struggles, the challenges of becoming a mother at 17, her desperate need for male attention and an abusive marriage. So, when I got a chance to meet my idol at a fundraiser for Ed Markey, a Massachusetts Senate hopeful, I was dumbstruck. Here she was, chatting with guests, warmly embracing the crowd, having just been named the recipient of the 2013 Library of Congress Gershwin Prize for Popular Song. (King is the fifth winner and first women in history to get the prize, in a company of notables such as Stevie Wonder, Paul McCartney and Paul Simon.)
I found myself babbling like a 15-year-old girl who just met Justin Bieber. "Oh my God!" I spouted. "I have waited my whole life to meet you! Tapestry was the first album I ever owned. You are amazing!" I felt suddenly embarrassed by the inane clichés that were flying out of my mouth. But King showed only graciousness and warmth, despite my incessant gushing. Her personal ease and lack of pretense made me feel like she could be my friend. And when she soulfully belted out, "You've Got a Friend," I felt both buoyant and grounded.
My women friends have sustained me over the years; our sorrows, joys, disappointments and day-to-day challenges so often intertwined. King's music embodies our collective journey. Our life tapestries, sometimes frayed and tattered after so much wear, are richly threaded with experience, knowledge and love. King gives voice to the bond of sisterhood. Through her expressive, poetic music, she links us to our past and propels us toward acceptance of our own aging. As I sang out loud, "You make me feel like a natural woman," I meant it. I was inspired by King's message, so eloquently expressed through song. She spoke about her concern for the environment, the tragedy of the Boston Marathon bombing and the need to help one another heal.
And for one night, transported back to the awes and angst of my own coming of age, I was reminded that I am part of a powerful cohort of women -- the mothers, daughters, sisters and wives who have traveled separate paths, but have a shared experience. A sisterhood of women, who can not only help each other muddle through life's journey, but who can use the power of a collective voice to help and heal the world.