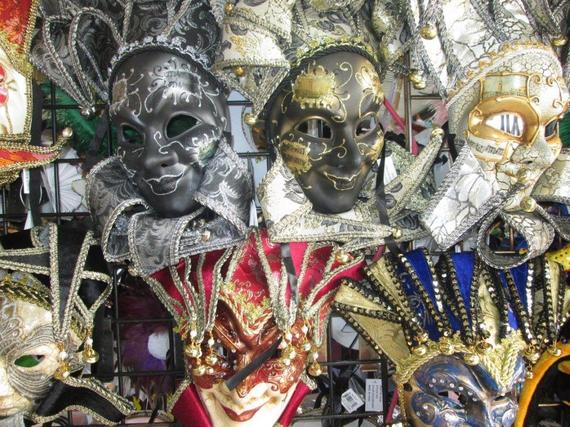 The French Quarter... Following in the footsteps of such luminaries as Mark Twain and Tennessee Williams (who liked to imbibe here), and exploring new attractions in the Crescent City is a divine pastime.
Welcome to New Orleans! My visit includes the proud traditions of Papa Noel (the Cajun Santa Claus) and the bonfires lit on the levee to help him find his way up the river. But this scintillating city showcases something for every sojourner every day of the year. A rainbow parfait of festivals, a kaleidoscope of music and a rich tapestry of cuisine reflecting cultures from around the globe make New Orleans a "must" destination for every traveler. Anytime of the year is a good time to share the legacy that makes this "gracious lady" a sizzling getaway. The oozing laissez-faire attitude permeates all the neighborhoods and activities. Pleasure is the ultimate goal and even a current day Blanche Dubois can find a cornucopia of fun in all packages. The Crescent City is culturally unique in cuisine, music, language, dance and even cocktails. It is the only city in the country to have an official drink written into legislation...Peychaud's Sazerac. And to the benefit of tourists, the city's collective obsession with food translates into gigantic options. Don't miss the classic Réveillon Dinner. Following are a few highlights from my travel diary:
DAY ONE: EXPLORE THE CITY'S RICH TRADITION OF GASTRONOMY. From Cajun to creole, New Orleans has it all. If you find yourself in the city during December, don't miss an elegant holiday tea at Windsor Court Hotel. The deja-vu grace and charm of another epoch is complete with croissants, petit fours and white glove service. Another treat is the historic Réveillon Dinner, bon marche and bon gout! Of course, no trip is complete without a stop at Café du Monde for beignets, chicory coffee and café au lait. As a port city, New Orleans is a culinary melting pot, with native Creole cuisine showcasing influences of Spain, France and Africa. The outstanding food culture reflects the access to fresh seafood, crawfish and such marvelous Cajun and Creole dishes as etouffee ("smothered" in French), jambalaya, gumbo and oysters Rockefeller. Internationally-known chefs such as John Besh, have showcased local products and ingredients.
DAY TWO: MEANDER AND EXPLORE. As a traditionalist, I cherished several rides on the St. Charles streetcar absorbing the luxurious neighborhoods and mansions of uptown. These stately homes and the leisurely ride reveal a colonial revival wedding cake home, the Robinson House and more. If you visit during Christmas, don't miss the holiday tour of historic homes. The Roosevelt Hotel lobby is another festive tour. With or without kids, the Audubon Park and Zoo brings out the child in all of us! Situated across from Tulane and Loyola, this is a state-of-the-art facility for all. The 150-year old City Park with 1,300 acres is not to be missed. Its hanging moss, gentle lagoons and ancient grove trees give this an other-worldly ambience. The holidays showcase another lovely light display in this natural majestic spot. I also recommend a trip to the New Orleans Museum of Art (NOMA), a classical Greek building housing an extensive collection, including the famous eggs by Peter Carl Faberge. For a step-back-in-time, indulge in a holiday tea at Le Salon in the Windsor Court Hotel. A rich atmosphere reminiscent of a European era, the Windsor Court Hotel offers a glimpse of another epoch. Scones, truffle egg salad, lemon curd and Devonshire cream with tartlets greet you. You may also imbibe in a trip to a notable landmark, the St. Louis Cathedral, an architectural pleasure. Cherished by locals, Aunt Sally's Pralines showcases a unique method of creating hand-poured Creole pralines. There are abundant, rich as molasses activities to do outside the French Quarter. The National World War II Museum is not to be overlooked. The "War that Changed the World" is meticulously detailed and intellectually curated, with interactive exhibits on all theaters and campaigns. The personal oral histories and intimate portrayals will pull at your heartstrings and have won the Museum international accolades. It is now a destination in and of itself.
DAY THREE: MUSIC GALORE. From zydeco to jazz, blues, R&B, or opera, New Orleans has a love affair with music which is an organic characteristic of the city's culture. Oozing in creativity with city fathers such as Satchmo, New Orleans is seldom without vibes and tunes. Festivals, parades and numerous honky-tonks flourish from tawdry Bourbon Street to the Mahalia Jackson Theater or the French Quarter. Try your hand at pub crawling to check out the local music scene. A walking tour of this rich area with its traditions, romance, and enchanting history makes this an enduring destination you'll long treasure! Don't miss the Faubourg Marigny neighborhood, just down river from the French Quarter. Formerly a plantation of a wealthy Creole man who influenced the city with his joie de vivre (enjoyment of living), this is a vibrant cultural hotspot.
WHERE TO STAY AND DINE: Bourbon Street, in the heart of the French Quarter, the Royal Sonesta Hotel showcases refinement and timeless elegance with a déjà vu ambience. European charm is highlighted with gabled windows and wrought-iron lace balconies. Cuisine is the heart and soul of New Orleans. I cherished my divine French-Creole food, with old-world charm at Antoine's Restaurant. The fifth generation family-run business has a 174-year-old legacy, and the quality and ambience is lovingly continued in the style original founder Antoine Alciatore would have admired. This is a rich tapestry, rainbow parfait of a dining experience.
You'll also enjoy the Palace Café for contemporary Creole and lively energy at the foot of the French Quarter. No visit would be complete without a Réveillon dinner, and a stop at Kingfish will provide memory insurance for years to come. Chef Greg Sonnier fuses nouveau and traditional with a remarkable flair. Perhaps the most memorable was my Cajun and Creole cooking class where even I was able to craft some handsome dishes! I recommend Langlois Culinary Crossroads in the up and coming bohemian Bywater neighborhood. Chef Amy Sins is skilled and patient and you'll long treasure your classic gastronomic experience.
Laissez les bons temps rouler!

REED'S RATINGS: ESCAPE TO SIZZLING NEW ORLEANS
** Cultural cuisine from creole to Cajun with world-renown chefs and restaurants
** High-octane music from jazz to zydeco, blues or R&B to delight every taste
** Legendary smiles, welcoming laissez-faire, hospitality and old-fashioned kindness
FOR MORE INFORMATION:
www.neworleans.com
www.neworleanscvb.com
facebook:neworleans
twitter@neworleans
www.sonesta.com/royalneworleans
tour@tourneworleans.com (Historic New Orleans tours)
www.windsorcourthotel.com
Jody Reed is formerly a writer at the White House and TV Consumer Reporter. A 15-year veteran travel writer, she is published regionally and nationally and is a member of the International Food, Wine and Travel Writers Association.