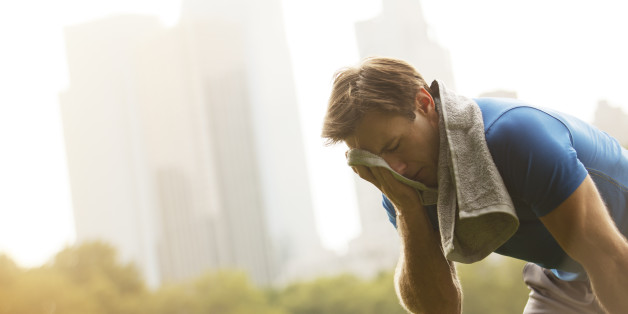 My old college cross country coach used to tell me that the most important time for training is by far the summer. Summer is where you build the strength that can pretty much take you all the way to the end of the year or even farther. As the fall cross country and marathon season is quickly approaching, runners from all across the nation are trying to build the foundation that will take them to new personal records and successes.
But those future goals come with a heavy price tag, so let's take a look at the five most difficult things about running in the summer.
The Heat
Obviously, right? The hardest part about summer is clearly the heat. There is nothing worse than knowing that a whole run is ahead of you (anywhere from one mile to 14) and you are already sweating before you leave the house. Even though you dedicatedly hydrated yourself for what seems like months in preparation for today's run, the sweltering humidity seems to be able to get to you as soon as you are five minutes in.
Summer heat in the United States is pretty much unavoidable. Sometimes the only chance people have to run is either in the early morning or afternoon as jobs, life and events can get in the way. The best way to minimize the danger is to hydrate well, wake up and get out the door as soon as the sun starts to rise or begin the run as the sun starts to set. Of course, the longer the run, the more dangerous a night run could be depending on the route you are running. If you can't make it to a local trail, try to just find the shadiest roads (as in, with tree coverage, NOT shady people) and do what you can.
Motivation
From my personal experience, summer running was easy to get motivated when everything was ahead of you in April, but the minute you started ramping up the mileage, the harder it was to get out the door. Since you have no coach around you, it's ridiculously easy to just slack and put it off for another day, but each day you don't run, the quicker you stat losing the fragile fitness that you have fought to maintain. Also, the beginning and middle of the summer for most runners is mostly focused on just distance runs and establishing some sort of aerobic foundation.
While motivation is mostly intrinsic, there are little cheats that you can do to make sure the run gets done. One, try to keep a running log; whether it's in a notebook or online, this will develop accountability, and seeing too many blank days may give you the kick in the shorts to get out the door. Websites such as Flotrack provide great online running logs, and you can even invite friends and compare runs together. Also, contacting friends can work (having someone with you definitely helps) or maybe even seeing if your local running store offers "store runs," in which employees run the local routes.
Another easy tip is to just remember that someone out there is running. If you can get your competitive juices flowing, maybe that'll just be all you need to get out the door!
Monotony
Now this can be applied to all four seasons, but for those who are training for college or even high school, summer can get boring quickly. You could be motivated and prepared for the heat as much as possible, but sometimes running the same exact runs each day can make running a lot more arduous than usual. Of course, some people are perfectly fine with having a routine, but others? Not so much.
The best and most obvious thing to do is drive to a different location and find a trail or map a route beforehand. Websites such as MilerMeter and MapMyRun exist for this purpose and hey, there's nothing like meeting up at the local high school or college and blasting out a run together.
Facilities
Let's face it, you are spoiled at school as you usually have access to a weight room, gym, track (possibly an indoor one as well) and other various facilities. When you go back home and realize that weight training is still required for the summer training block, you probably do freak out. For some, it's hard to balance running, jobs, a social life and then add a gym membership on top of that. It may not even be the wisest investment to do just that.
There are ways around this though. The easiest method is of course just deciding to pay the gym membership and becoming a regular at the local gym. But of course, sometimes that's just not economically feasible. Remember, pushups, planks, squats, ab exercises and other exercises require no training equipment whatsoever. For runners, bulk is obviously not the main goal; as tone and endurance are probably the two most key aspects of weight training.
Injuries
Unfortunately, injuries can strike no matter what and even to the most prepared runners out there. I've had tendonitis, bone bruises, stress reactions, shin splints and pulled muscles throughout my running career, and sometimes I was almost too careful before I got an injury. Usually, there's a few people on a team that come down with an injury, and it's difficult to stay motivated if you have to miss an extended period of time.
But you can limit the odds of getting an injury with a few important techniques. One, invest in a foam roller, which can really pump out lactic acid and also loosen muscle tightness that can plague runners at seemingly-random intervals. Dedicate some time after and before a run to foam roll, and you'll notice some positive changes in your running life.
Another is to at certain points throughout your training cycle (let's say for beginner runners every five runs, for medium experienced runners every 10 runs and for experienced runners every 20 runs), dedicate a day to cross training. That includes swimming, aqua jogging, cycling, elliptical and any other non-impact exercise that can limit the amount of contact you have with the ground. Don't be afraid or resistant to taking the occasional day off as well. Sometimes we all need rest from activity period to recharge our batteries, and taking a day or two off after a long training block is just what the doctor ordered.
But let's bring it to you: What are some of the difficulties you have during the summer and how do you stay motivated?