The first comic convention run by kids, for kids, to celebrate the end of "Comics Camp" brought me to tears.
I was walking around the Decatur Square with my sister and my roommates. One roommate, Kelly, is a manager for comics artists. The other, Meghan, is a professional comic book illustrator (who has a new book coming out in November with DC/Vertigo called Red Thorn, and it's GOOOOOOD. My sister Virginia is a professional photographer. And me? I'm a writer.
The reason this is important: none of us was ever told we could do what we do now, when we were kids. Not by adults, not by teachers, not by our parents and most certainly not by the other kids. In fact, back then, working in comics, being a writer, being a photographer... Those things were pipe dreams. We were told not to get our hopes up. We were actively discouraged. Getting where we are as grown-ups has been a struggle for each of us. I think that's why we're all so close; we share a bond of being ourselves in spite of everyone.
Fast-forward to today, where places like Little Shop of Stories in Decatur put on things like Maker Faires and Star Wars Days and, this particular day, the first ever Little Con of Comics -- a comic convention for kids, by kids -- to celebrate the end of their Comics Creator Camp, we simply had to go in.
Here is a store run by grown-ups, who had another group of grown-ups sign their kids up for a comics camp because they thought it was a great idea to let their kids learn how to draw, print and distribute their own comics.
I've been to literally over a hundred conventions. It was, hands down, the coolest convention I've ever been to.
---
The Little Con Of Comics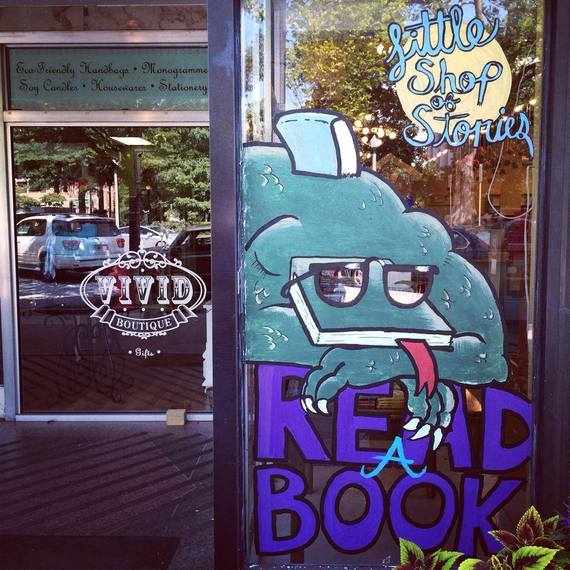 The outside of Little Shop of Stories in the Decatur City Square. I was neglectful and didn't get a photo of it myself, so I stole this one from their Facebook page (which you should like).
---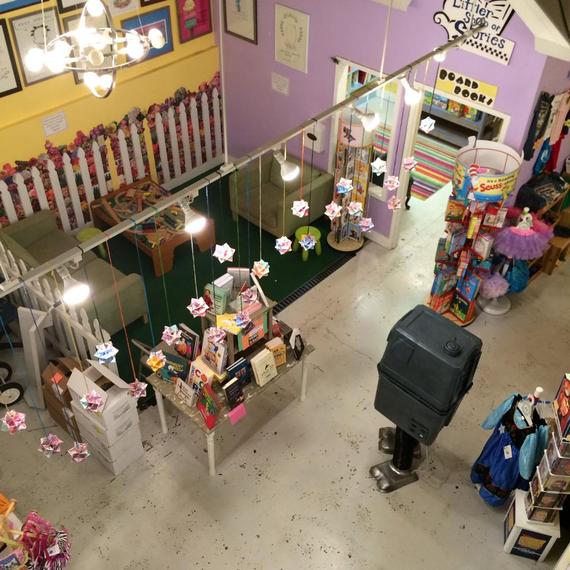 This is the view of the store from the upstairs loft, where Little Con of Comics was held. I love that there's a random droid in the store. That's what Little Shop of Stories is all about -- tiny delights that add up to an amazing experience.
---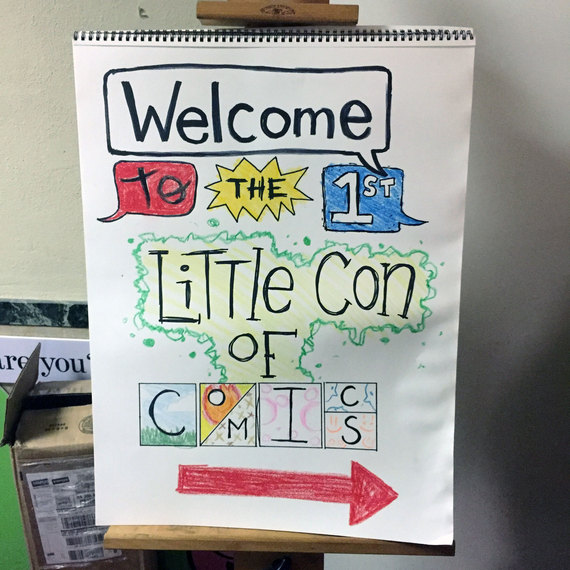 From the very start, you get the full ComicCon experience. Here's the welcome banner for Little Con of Comics. My heart was racing. I was so excited to get in and see all the artists.
---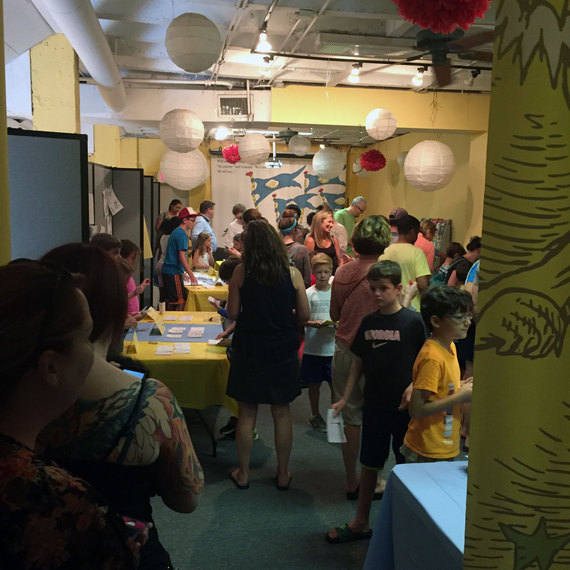 Oh my God, there they are... The artists! Kids with their own comics that they drew, published and are selling, with their own booths, signing autographs... My jaw hit the floor. Words cannot possibly explain the feeling I had when I turned the corner and saw this. You'll just have to trust me... I nearly fainted.
---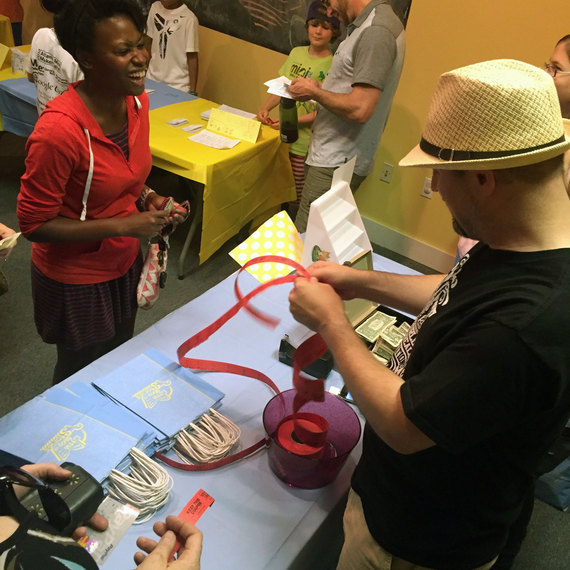 Little Con of Comics organizer Justin Colussy-Estes (link goes to his comic strip) hands out tickets for the customers who are seeking original comics from the kids. The revenue model for the kids came in the form of tickets. Visitors bought tickets at the door for a dollar each, and then traded tickets for comics, sketches and autographs. The kids could set their own price, but by and large, every one of them sold their books for one ticket each. At the end of the day, the kids turned in their tickets and got a dollar back for each one they turned in. Some kids made upwards of $50 on their comics sales!
---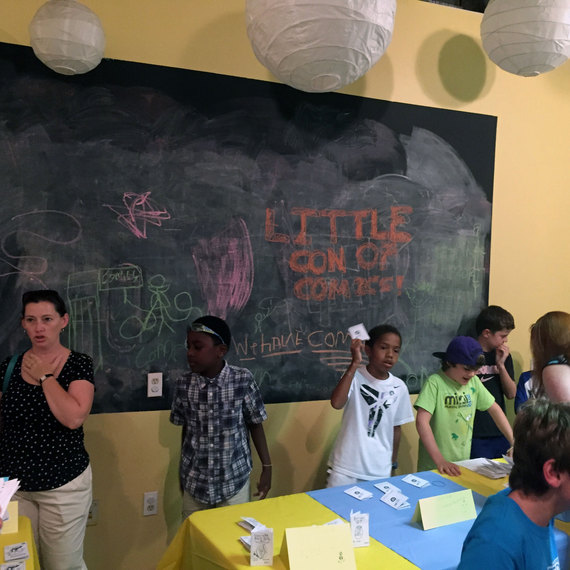 The kids had tables and booths to sell their books, which they drew and published during the week of Comics Camp. They made use of the space very well. I love the marketing sprit in this group.
---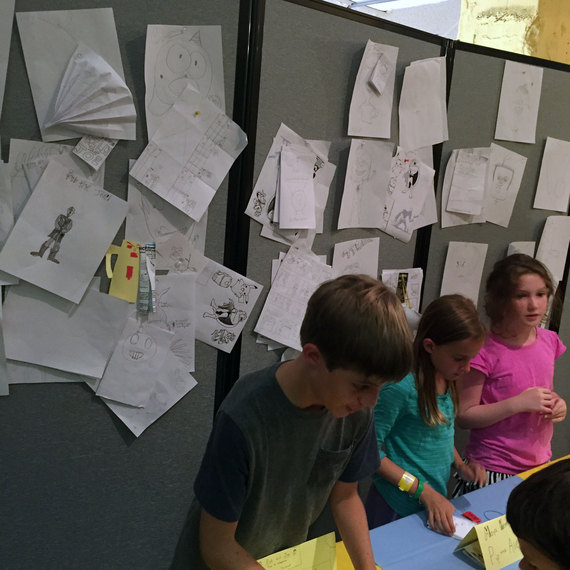 Calvin, Maya and Jane posted their original art on the walls of the partitions set up for their table. They produced a TON of work. I wish I was this productive on anything ever.
---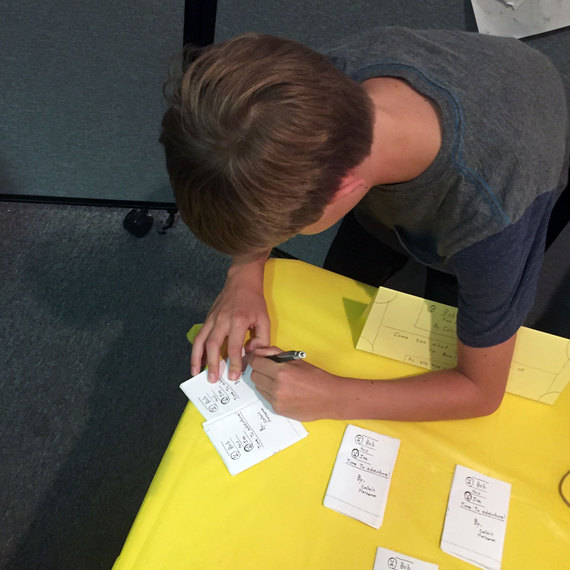 Calvin signed his book for me. I gave him an extra ticket for that.
---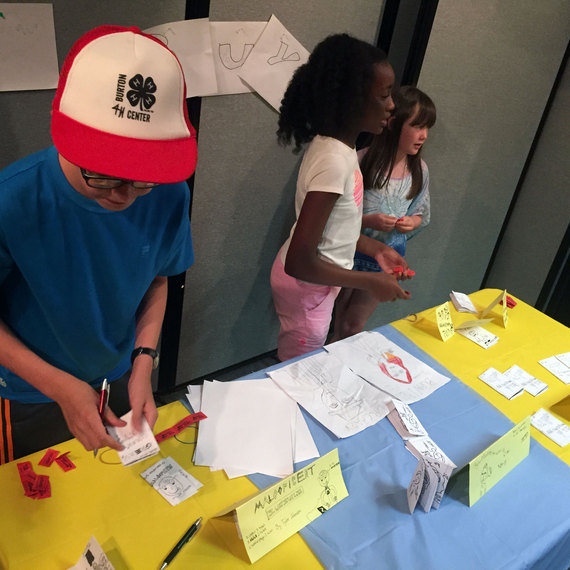 Tyler, Stacie And Flora Jane told us all about their amazing comics. We bought one each. Thankfully we got there before they sold out. In fact, every kid there sold out of comics.
---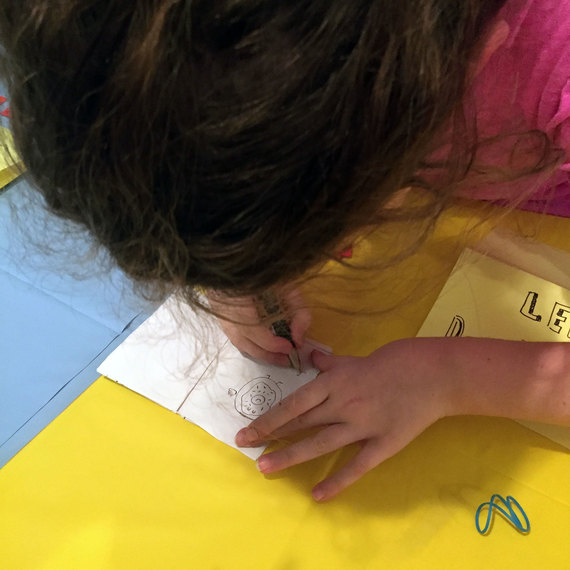 I got a custom sketch of Donut Man. Two tickets. She didn't realize her talent was worth two tickets -- she was going to give this to me for free. I'm glad that she was able to see, thanks to the efforts of Little Shop of Stories and the Little Con of Comics organizer Justin Colussy-Estes (pictured elsewhere in this article).
---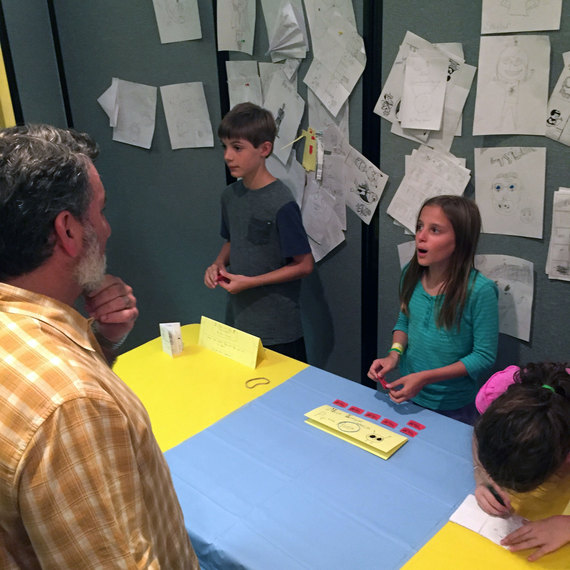 Selling and drawing. This is a true comic convention. I love it.
---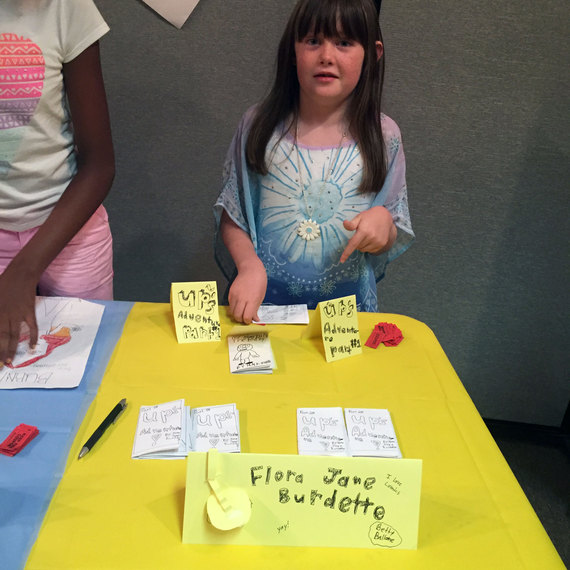 Flora Jane Tells me all about Up's Adventure, her original creator-owned title.
---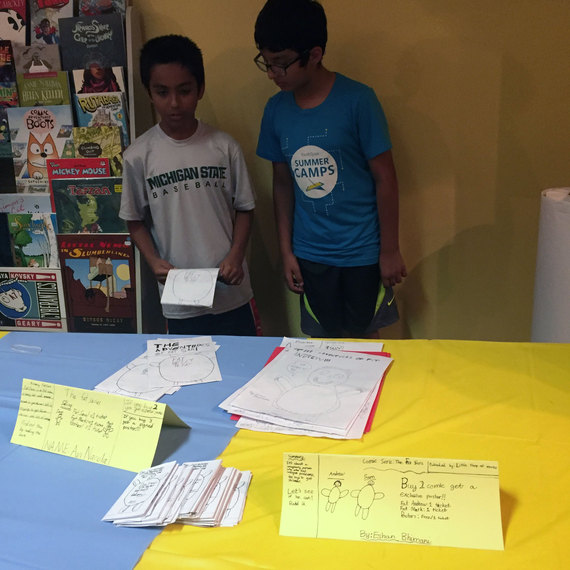 Avi and Eshan were super excited about The Adventures of Fat Sam. They even gave away free posters when you bought two comics!
---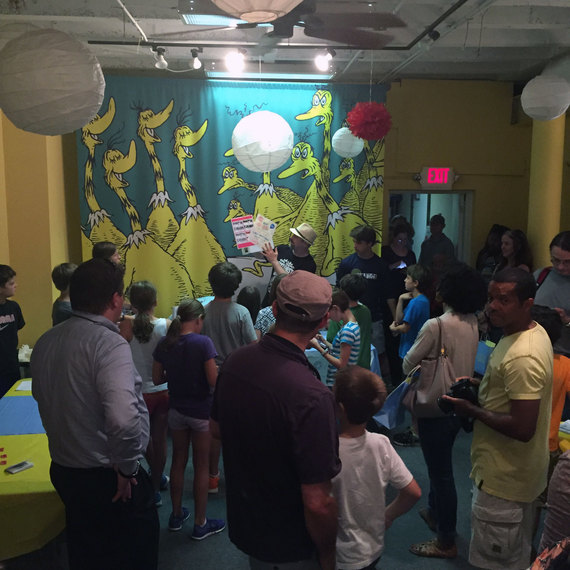 Justin Colussy-Estes (center) holds up the prizes that the kids won via ticket draws. Not only did each kid get a dollar in cash per ticket they turned in, each ticket was entered into a drawing for prizes. A very generous gift from the convention organizer Justin, who does this for free.
---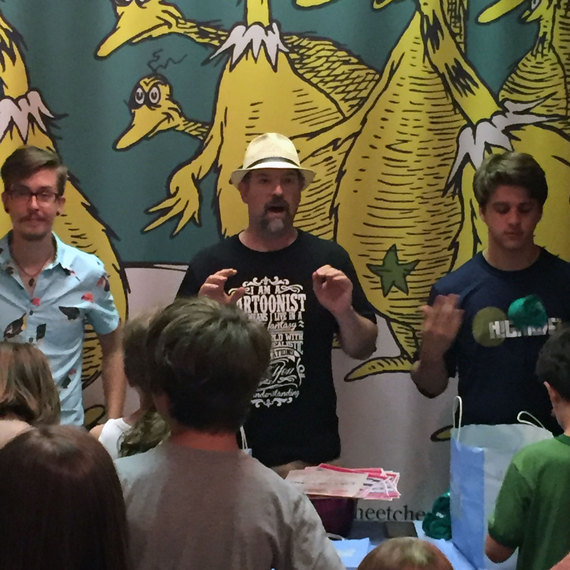 Jason Smith (left), Justin Colussy-Estes (middle), and Nick Capriola (right) explain to the kids that this was an extremely successful convention, and thanks them for their participation in Comics Creator Camp. This is the 7th Comics Camp that Little Shop of Stories has put on, and the first in-house convention. Also vital in the creation and running of the Comics Creators Camp and the Little Con of Comics were Monica Lefton, and the owners of the store Diane Capriola and Dave Shallenberger.
---
As a grown-up who was raised in an era where comics, anime, sci-fi and fantasy fandom instantly classified you as a "loser" or a "geek" (which was NOT something society liked as much back then), The Little Con of Comics warmed my heart. No, no... It melted my heart. Reduced it to magma. It made me tear up several times.
It was so fantastic to see a store embrace the arts so much that they took an additional step to show kids there's an actual business to be built around art. Justin and Little Shop of Stories have done what tens of thousands of us had to learn the hard way: they helped build the childrens' basic nature of art and culture, but gave them the early boost they need to know, without question, that this is as viable a career path as science, math, english, medicine, labor or law.
Thank you, Little Shop of Stories. Thank you, Justin. Thank you, supportive parents. And thank you, kids, for making some of the best comics I've ever read.
This article was originally posted on my blog. It's a good blog. You should read it. And if you like my writing, feel free to subscribe to my daily newsletter where I send advice and inspiration, but without the fluff and BS.