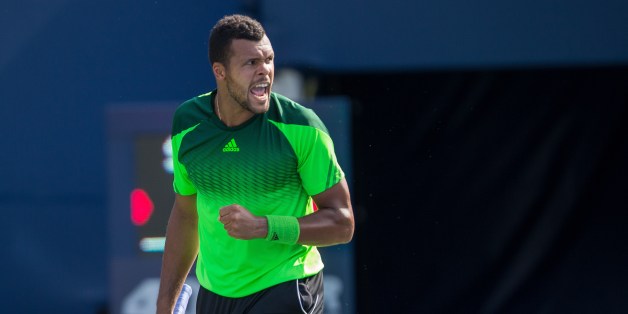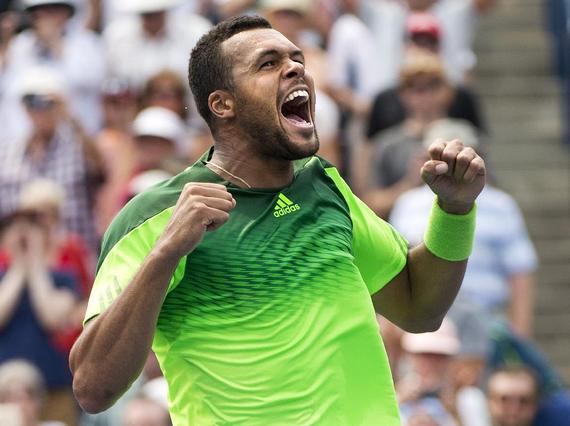 Across sports, there's a tendency to put asterisks on certain events. Things like "this wouldn't have happened if so-and-so was healthy" or "he benefited from this event or this upset" or simply "he was lucky." It's worse in some sports than others, but the overarching idea is always the same: it's how we impose reason on chaos. It's how we spend entire seasons or fortnights believing something, and then rationalize being so very wrong.
Tennis is not immune to this, as every accomplishment can be framed in a "well it could have been done bigger" context. Given the astonishing dominance of the Big 4 of Roger Federer, Rafael Nadal, Novak Djokovic and Andy Murray on the men's side, a breakthrough isn't a breakthrough until someone collects one or two of those four scalps. Those four have been so good, for so long, that they've become something other than players.
They're gatekeepers. You're not worth your salt until you've beaten one of them in a major tournament; you're not a top player until you've beaten one or more of them when the lights are brightest. All anyone can ever do is beat who's in front of him, but unless he does it in a fashion that is sufficiently star-studded, the asterisks fly.
All of which makes Jo-Wilfried Tsonga's week all the more jaw-dropping. Outside of Nadal, every member of the Big 4 rolled into Toronto for the Rogers Cup at the start of this week, and every single one fell to Tsonga. The particular pleasure of watching this was not just watching a man put together a week of some of the best tennis of his life after a prolonged slump.
Tennis players have vastly different approaches to the game. The very best players, the singular and memorable ones, have styles that can captured in a word or a phrase when they really red-line their games. Federer's footwork is so precise he looks like he glides. Nadal imbues his shots with so much spin that they seem to bite into the court. Djokovic covers his baseline with the inevitability of liquid mercury. Murray plays three-dimensional chess.
Jo-Wilfried Tsonga plays a heavy, bruising brand of tennis. His serve is thudding, his groundstrokes torqued. Whether he's winning or not, the sheer weight of his game is apparent. But what's been missing for months is his grin, the endearing way he yells "oh non!" when he realizes he's made a mistake to lose a long point, the way he'll spend an entire rally hitting two-handed backhands only to coil up and hit a one-handed pass. What had been missing was the way he draws a crowd in by wearing his heart on his sleeve.
Tsonga has always lived for the lights and, to the delight of anyone who watched, had an uncanny knack for manufacturing magic. But there were those who looked at him and wondered, at age 29, if he had any miracles left. This was the man who stormed to the 2008 Australian Open final as an unseeded player. This was the first man to come back from two sets to none down to defeat the mighty Federer in five, and do it on Wimbledon's hallowed turf. This man hadn't made a splash in a painfully long time. And, more poignantly, the smile had faded as Tsonga had spent much of 2013 battling a series of injuries set off by a freak accident during this very tournament two years ago.
But after dismissing Djokovic and battling past Murray, finding himself up against Federer with the title on the line, Tsonga did more than win 7-5, 7-6.
I could see in Federer's demeanor, in his body language, that he was frustrated. Roger Federer is the all time Grand Slam singles champion and the consensus best ever, and has earned an aura that can win him matches by itself. Time and again, while being outplayed, he's been able to keep fighting, keep competing, and wait for his opponent to falter.
Today, he had no answer for the barrage, and so he waited and hoped Tsonga would blink.
But Tsonga didn't, because he's one of the few players outside the Big 4 to have an aura of his own. An aura that his fans -- a group among which I count myself--had grown dejected waiting for. An aura that, in this match, muted even Federer's with its intensity.
When Roger Federer strikes a forehand winner, you marvel at the fluidity of his form, the precision of his placement. When Jo-Wilfried Tsonga loads up and blasts an ace, you can almost see sparks. Federer is a king; Tsonga is a power surge.
And at his best, Tsonga plays with what we saw in Toronto: a fierce, electric élan.
And he reminded us, all of us, why we watch even when the Big 4 is so dominant. When tennis, for so long on the men's side, has felt like a formality until the Big 4 reach the semifinals, Tsonga has been one of the reasons to watch from the start.
We watch to be reminded that talent and effort go hand in hand. We watch to be reminded that sometimes all you need to do is fight through the rain and wait for the lightning.
And we watch because sometimes, someone like Jo-Willy shows us that you're never too old to catch fire.