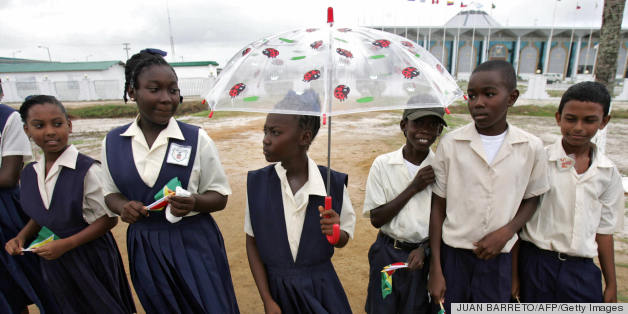 Around the world, governments, civil society groups and international organizations are once again commemorating today, May 17, as International Day Against Homophobia and Transphobia (IDAHO). May 17 is the date when, in 1990, the World Health Organization removed homosexuality from its list of mental disorders in the International Classification of Diseases, bringing a formal end to medical homophobia at the global level.
But homophobia and transphobia still persist. In Guyana, the Society Against Sexual Orientation Discrimination (SASOD) has been observing IDAHO since 2006 as part of our relentless efforts to raise awareness and rid our country of seemingly acceptable forms of discrimination based on sexual orientation and gender identity and expression.
Our thematic focus for IDAHO tends to relate to the thrust of our work at the time. Our recent work has focused on raising awareness and promoting protecting children from all forms of violence, abuse and discrimination. In December 2012, SASOD launched its Child Protection Policy to provide a framework to assist all our representatives in carrying out their duties to safeguard children's welfare and promote awareness of child protection issues in Guyana. In January this year, SASOD partnered with other local civil society groups to present a joint submission under the UN Convention on the Rights of the Child (CRC) on "Sexuality and Gender Issues Affecting Children in Guyana" to the CRC committee at its 62nd session in Geneva. Then, in March, we made a submission to the special select committee of the National Assembly considering the matter, supporting the abolition of corporal punishment in Guyana's schools.
Stemming naturally from this work, SASOD's theme for IDAHO this year is "the children are our future," part of the first line of Whitney Houston's classic hit, "The Greatest Love of All," to draw particular and urgent attention to addressing related issues regarding institutionalized violence, abuse and discrimination affecting children, which have deleterious and lasting impacts not only today but on all future generations as well.
Guyanese children also have to face commonplace forms of abuse that pervade adult society. Children who are seen to be outside gender norms are often labeled as "different" because of their real or perceived sexual orientation and/or gender identity. They often face discrimination and abuse in the school system and their communities. In schools, there is little or no support for these children. Students face discrimination and are targeted not only by their peers but sometimes by teachers, who hold intolerant views. Students have reported being harassed by their peers to SASOD, and when they approached their teachers for support, they were ones punished, instead of the offenders. Many feel that there is no recourse for them in the school system.
For instance, in 2012, an adolescent student reported experiencing continuous verbal abuse and harassment by one of his teachers, stating that at one point he could not take it anymore and retaliated by pushing her physically as a result of his frustration. When asked why he did not complain to the head teacher, he responded by saying that nothing would have been done, so he did what he felt would stop the abuse. Many instances of abuse perpetuated against children because of sexual orientation and/or gender identity at school are unreported and undocumented because there are no proper mechanisms in place to deal with these issues, much less sensitively.
Acknowledging these violations, the CRC committee expressed its concerns about discrimination against Guyanese children based on sexual orientation and/or gender identity and urged Guyana to ensure that its programs address discrimination against children because of their sexual orientation and/or gender identity. Furthermore, the committee this year published a new General Comment Number 15 on the Right of the Child to the Highest Attainable Standard of Health, which addresses issues of nondiscrimination. The committee indicated that states "have an obligation to ensure that children's health is not undermined as a result of discrimination, which is a significant factor contributing to [their] vulnerability." The committee also indicated that sexual orientation and/or gender identity are prohibited grounds of discrimination, that attention should be paid to any other forms of discrimination that could undermine children's health and that multiple forms of discrimination should be addressed.
As we commemorate IDAHO this year, we should also reflect on how homophobic and transphobic discrimination affects Guyanese children, as part of an institutionalized system and culture of violence and abuse that robs them of their innocence and dignity and damages the next generation. But we can, and we must, change that. As the special select committee of Guyana's National Assembly is currently conducting consultations on the abolition of corporal punishment in schools and will later consider discrimination based on sexual orientation and gender identity, we also need to recognize that these issues are more interconnected. The colonial shackles of violence, abuse and discrimination must be emancipated to build a free Guyana.
SASOD often works collaboratively with the International Gay and Lesbian Human Rights Commission seeking to achieve human rights for everyone everywhere. Visit IGLHRC for additional commentary by Guyanese activists at iglhrc.org/search/node/Guyana.