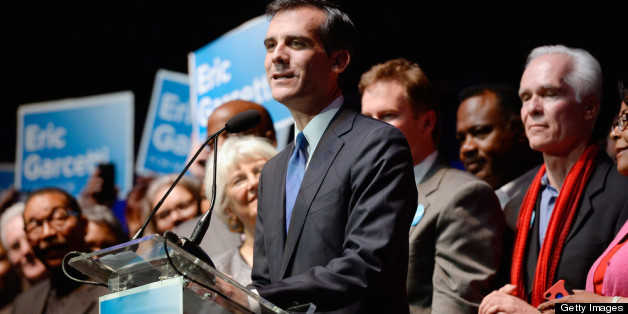 The youngest mayor in the past 100 years has been elected to lead the second largest city in the country. Some call him the "Boy Mayor of Los Angeles." He is 42 years old, lives in a hip part of town and has served the city as a Councilman for twelve years.
He has publicly endorsed the idea of ending homelessness in a city that the previous mayor had dubbed "The Homeless Capital" of America. With significant deficits in the city's budget, and public debate over city employee raises and cuts in services, the notion of ending homelessness for 23,500 Angelenos seems daunting.
So here are ten tweets that give Mayor Eric Garcetti a jump on tackling a significant social tragedy in the City of Angels:
@EricGarcetti Permanently fund the Housing Trust Fund
Your predecessor created a $100 million Housing Trust Fund back in 2002. However, the annual amount of funds distributed were predicated on whether the city budget could afford to invest in affordable housing. The only way to guarantee more affordable housing is to create a permanent source of funding.
@EricGarcetti Complement the business community's Home For Good homeless plan
With the most promising initiative to end chronic and veteran homelessness in Los Angeles in its third year, the city needs to continue to support this. It also needs to direct resources to groups that are not included in this initiative -- like prioritizing homeless families.
@EricGarcetti Keep the city involved in the national campaign to house 100,000 people
You personally participated in the 100K Homes project in the Silverlake area of Los Angeles by surveying chronically homeless people and helping them get into housing. Similar homeless initiatives should occur in each of the city's 15 council districts.
@EricGarcetti Create an intimate partnership with the County
With the County possessing resources to provide services, while the city oversees housing, it just makes sense for these two jurisdictions to work together. But mistrust (and sometimes competition) has created barriers to a true partnership. A mayor with an attitude of "Can we all just get along?" will go a long way.
@EricGarcetti Prioritize getting our veterans off the streets
With over 8,000 of our former armed service members living on our streets, it makes sense to prioritize those who have sacrificed for our country. The Veterans Administration and the city's Housing Authority have worked hard to transition them into housing. Continue to support this effort to reduce the number of days it takes for a veteran to transition from the streets to housing.
@EricGarcetti Include permanent supportive housing in Smart Growth & Transit Projects
In a car-centric city like Los Angeles, freeways have become parking lots while public transportation has ironically become popular. Developing housing closer to transportation hubs are now considered "smart." It is also smart to include permanent housing linked with services for homeless in these plans.
@EricGarcetti Create first responder teams to find & help people
Los Angeles is a sprawling metropolis with beautiful beaches, sprawling suburbs, rolling hills. Freeways, parks, urban alleys, bridges, and common space are part of this city's fabric. They are also places where people who are homeless can hide. We need to create more outreach teams of mental health, primary health, and social workers who can find and help them.
@EricGarcetti Prioritize the most hurting people into housing
Around 50,000 individuals and families with low income are in apartments subsidized by federal housing vouchers. But with limited housing resources, we need to prioritize more of these vouchers for chronic and disabled homeless people.
@EricGarcetti Help more people w/ disabilities access federal resources
A lot of people living on our streets have some sort of disability, and have no idea that the federal government provides financial assistance for them. We're talking hundreds of dollars per month that could be used for basic housing. The County already helps people who are homeless access these benefits. The city should do the same.
@EricGarcetti Lobby the federal government to distribute resources equitably
With the largest homeless population in the country, you would think this city has the biggest federal homeless and housing resources. But Los Angeles doesn't. A 1970s distribution formula diverts millions of dollars away from L.A. An updated formula, that prioritizes the number of homeless, would give this city more resources.