It's only the second official day of Fashion Week, but I've already been going seemingly non-stop for five days. The time leading up to the official start of the week is very crucial with everyone vying for just a momentary turn in the spotlight right before all hell breaks loose with the start of the show schedule. There's a lot to cover, so let's begin...
On Tuesday night, Lisa Salzer, the creative director and designer behind the industry's hottest collection of handmade jewelry, Lulu Frost, held a small fete in a penthouse above the soon to open High Line to celebrate her latest gilded offering which was inspired by a recent trip to Tulum, Mexico. Lisa shared air kisses with some of the industry's most fashionable including Amanda Hearst, IMG's Fern Mallis, Annie Churchill and Lesley M. M. Blume. Salzer's pieces are made from found vintage items not always initially associated with fine jewelry...keys, lock pads, clasps and other found treasures. Her most intriguing collection was made from numbers dating back to the 1940s procured from Plaza Hotel room doors just prior to the hotel's renovation! You just don't get any chicer than that!
I took the day off on Wednesday because Thursday was a total whirlwind which started off with a sneak peak of The American Express Skybox designed by Bravo TV's Top Design lead judge Jonathan Adler. You'll remember from last season that the uber-chic AMEX Skybox offers select VIPs and cardmembers an aerial view of the action inside the tents with commentary by fashion industry notables which this season include Harper's Bazaar editor AnaMaria Wilson, Bergdorf Goodman's Linda Fargo and designers Thakoon, Tory Burch and Philip Crangi.
Adler met me at the AMEX SkyBox to give me a personal tour of the space that he designed and a little insight on the inspiration behind it. "Because it's a viewing room, a dark space is important so that you melt away to check out the action," he said, " but my nod to the happy chic element is that I just rocked out bright orange everywhere, my favorite color, so it's like this dark room with orange everywhere which I think is the happiest." I'm gonna be the happiest later this week when I'm catching the Diane von Furstenberg show in the skybox while ordering a drink from Adler's happy orange lucite bar! J'Adore!
Right after J'Adoring with Mr. Adler, I ran downtown to check out John Bartlett's menswear presentation which this season was being shown on the second floor of his own home, a gorgeous townhouse in the West Village. Bartlett is one of the few artisans left in the menswear industry where the attention to detail and the craftsmanship of the clothes comes second to none. This collection was no different.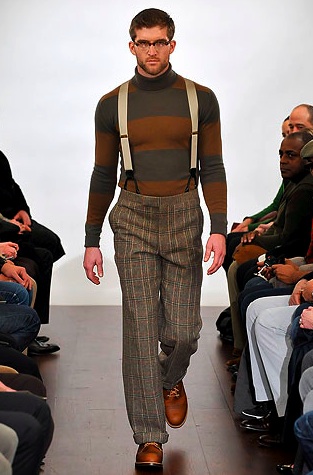 I was able to sneak backstage before the show for a private walk through the collection with Bartlett himself. "The collection is very inspired by Depression-era clothing and the 1930s," he told me. "What I did in this collection is focus on the tailoring, especially the backs and the butts, which gives it a very romantic feel."
The clothes hanging on the racks looked like a costume designer's wardrobe for a Depression-era epic film, and then seeing the clothes come down the runway brought that epic film to life. The high-waisted V-back trousers, the suspenders and the tucked in U-neck cashmere sweaters all spoke of a time when a man's sights were pointed towards the great west and his only way there was riding the rails.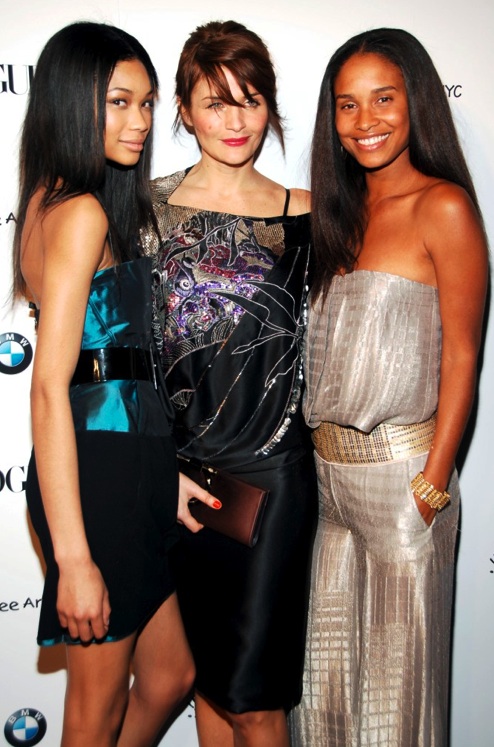 About an hour later, BMW and VOGUE were having a party hosted by Helena Christensen, Joy Bryant and Chanel Iman, so I had to stop by to say hello. Joy was working it out in sparkly jumpsuit number. I asked her who she was wearing and she bluntly said, "Missoni!" as she tapped away furiously on her Blackberry! Those who were there taking in the new BMW 7 series were Vogue Italia's Editor-in-Chief, Franca Sozzani, designer Roberto Cavalli, Michelle Monaghan, rock spouse Katie Lee Joel and fashion stylist Rachel Zoe.
From the BMW party, I hopped in a cab with Lisa Salzer and headed all the way uptown to the soon to be shuttered La Goulue for what I thought was going to be an intimate dinner hosted by the queen mother of Fashion Week herself, Brandusa Niro, Editor-in-Chief of Fashion Week Daily, the style bible of the industry, but what instead turned out to be the Oscar's of the fashion industry. When I tell you that everyone was there, I mean EVERYONE was there. Where do I start? I'm just going to start dropping names so brace yourselves....
Designers Peter Som, Vivienne Tam, Carlos Miele, Michael Bastian, Catherine Malandrino, Elise Overland, Calvin Klein menswear designer Italo Zucchelli, Dennis Basso, Naeem Khan, Vena Cava's Lisa Mayock and Sophie Buhai all dined on steak frites while supermodels Nicole Trunfio, Liya Kebede and Coco Rocha chatted with Vivica Fox. In another corner, Interview Magazine's Glenn O'Brien chatted with fashion show producer extraordinaire Alexandre de Betak about the week's lineup. "I'm doing the set for the Rodarte show on Tuesday which is going to be fantastic" I overheard him say.
Rounding out the dining room were Libertine's Cindy Greene, George Gurley wearing a clown wig (???) and Fashion Week Daily's dream team of Ashley Baker, Tangie Silva, Christopher Tennant, Adam Schneider, contributing editor Abby Gardner and Valentine Uhovski.
All this and Fashion Week hadn't even officially started yet! I'll have more to come soon...shows, parties, supermodels, running, darting, champagne, caviar, sleepless nights! It's all done in the name of fashion, and we're doing it all to bring just to you.