Though nearly every poll showed Congressman Jack Kingston poised to win the runoff for the Georgia Senate Republican primary, businessman David Perdue narrowly prevailed (50.9% to 49.1%) setting up a match of political neophytes with Michelle Nunn, the Democratic nominee.
And he did it by winning independents, moderates, young voters, and Georgians who picked Barack Obama.
The first indication was the election map. Kingston may have won the rural areas around southeast Georgia. But Perdue won the Atlanta vote, as well as some nearby suburbs, which tend to favor Democrats.
A poll by Landmark Communications (which gave Kingston a seven point lead), found the two candidates tied in Atlanta, even as Kingston led the rural areas by double-digits.
WSBTV Channel 2 in Atlanta had a political expert, Bill Crane, who picked Kingston to win, but felts that Perdue would do better
"Perdue's outsider message plays well but the core conservative base may be too much to overcome," Crane noted. "It plays better to an audience of general election voters; it plays better to a general electorate."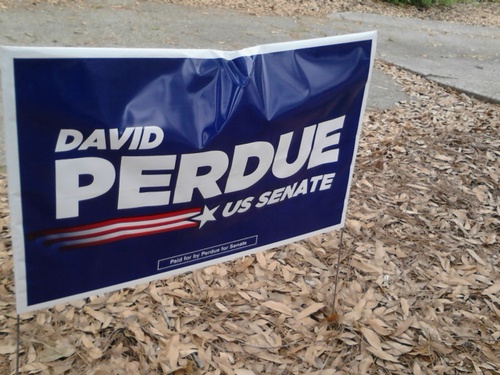 A Columbus resident sports a David Perdue sign in his front yard. Photo was taken by the author.
And that electorate may have been more moderate than predicted in a low turnout primary in Dixie.
An InsiderAdvantage poll also showed Kingston with a lead, though by a narrower margin. "Among those who identify themselves as Republicans, Kingston leads by a 53%-36% margin. Those who say they are "independent" voters give Perdue the edge by seven percentage points," wrote Matt Towery, InsiderAdvantage's CEO.
A Gravis Marketing poll conducted for the conservative publication Human Events gave Kingston a double-digit lead a month before the primary runoff.
Distinguished Professor Charles S. Bullock III did see metro Atlanta as playing a key role in the primary runoff, according to Human Events.
The most revealing result as to which groups supported which candidate came from a late May poll from the firm Public Policy Polling. Their survey revealed the following findings.
• Perdue had a 2:1 lead among voters who picked Barack Obama in 2012, while Kingston had a 12-point lead among Mitt Romney voters.
• Perdue was preferred by self-styled moderates, 53% to 30% for Kingston. Kingston led the groups touting themselves as "very conservative," (54%-30%), or "somewhat conservative" (41%-33%).
• Perdue did much better among African-Americans (68%-9%) and those listing themselves as "other" (34%-32%), than whites, which went for Kingston by an 18-point margin.
• Perdue also bested Kingston in this PPP poll among younger voters, by 17 percentage points. Kingston did much better among older voters.
• Among groups that are traditionally moderate, only women went for Kingston, but the margin was roughly similar to the poll margin. Perdue did just a bit better with men in this poll.
There are several overall implications for these findings.
• Perdue's moderate appeal could make him a more formidable candidate against Nunn in the Fall Election. Unlike Kingston's long congressional record, which would have made him an easier target, Perdue can lay claim to the "outsider" status as easily as Nunn can.
• Perdue was already running somewhat moderate ads, designed for the general election, according to Crane. You look bad if you adopt this idea and lose, but it showed that he's more prepared for the Fall 2014 Senate campaign than Kingston would have been.
• By doing well in places Nunn needs to win, the Democrats' choice will have to work a little harder around Fulton County and the surrounding counties if she wants to maintain her slight lead in the polls.
• Finally, given that every poll since the first round concluded showed Kingston winning by wide margins, the win by Perdue showed that perhaps some firms undercounted the support of these groups that Perdue won. If the GOP wants to do well in November, they shouldn't rely on such polls that overweigh Republicans and don't consider the votes that overweigh Republicans and don't consider the votes from more independent-minded voters.
John A. Tures is a professor of political science at LaGrange College in LaGrange, Ga. He can be reached at jtures@lagrange.edu.