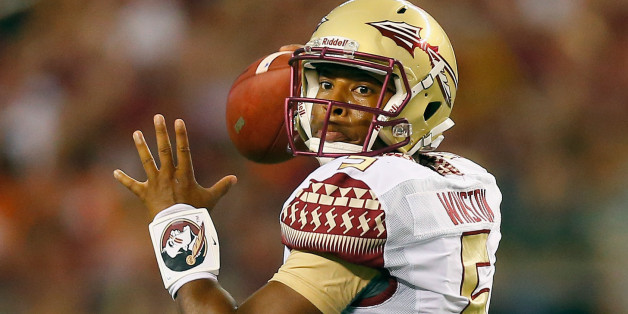 Word came to Florida State University fans that Jameis Winston did something else to embarrass the school. So therefore, I applaud FSU for suspending Winston for half of one of the most critical games of the season, even if it costs us the game against Clemson.
The latest stunt wasn't a crime, like stealing crab legs, or antics involving Burger King or BB guns. It wasn't even questionable behavior that got him in a lot of hot water before the National Championship Game, for which he eventually wasn't charged.
But it showed very poor judgment, especially in the wake of domestic violence and child abuse scandals that rocked the NFL this week, involving Ray Rice and Adrian Peterson, respectively (if I can use that term). And it wasn't uttered casually in a private setting. It was for all to hear at the FSU Student Union.
Now I'm not a Winston hater. I've written a column praising him about his words concerning the value of a college education, published in The Huffington Post. I drove down several hours to see Winston star in the game against the Citadel, being nearly perfect that night in Doak Campbell Stadium. I'd like to see FSU repeat as national champions, if they can.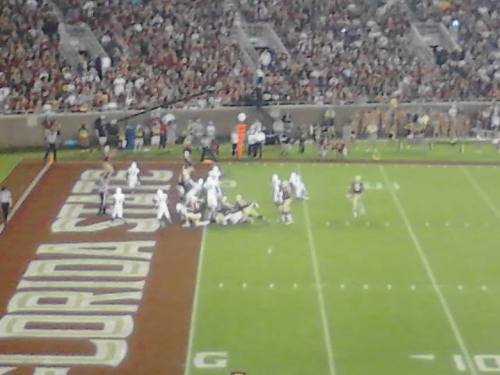 Photo is from the Florida State University-Citadel Game, September 6, 2014.
But even more than that, I'd like to see them win with pride. The team doesn't need any antics. Forever, the school will be labeled "Free Shoes University" by jealous rivals for the actions of an agent in the early 1990s, or the test cheating scandal that cost Bobby Bowden several games. Suspensions from both of those incidents were painful, and completely warranted. Even though Bowden was not ultimately responsible, he was the head of the program, and players need to realize that their actions have consequences.
FSU faced a similar decision in their 1999 season. Peter Warrick was suspended and Laveranues Coles was booted from the team for shoplifting. The action almost cost FSU the game against Clemson, and the team was lucky to prevail, the closest threat the Seminoles faced all year in their second National Championship. Warrick became a better citizen, and managed to avoid such problems in the NFL, even making it to the Super Bowl with the Seahawks.
So amen to Coach Jimbo Fisher for approving this message. Even if this costs us the game and the chance to be number one again for the rest of 2014, it would be worth it to send a message to our star quarterback that actions have consequences.
John A. Tures is a professor of political science at LaGrange College in LaGrange, Ga. He can be reached at jtures@lagrange.edu.