There is breaking news on the Chicago burger front! The previously undisputed Chicago Burger Bible champion, Small Bar, has lost its #1 title! The recently modified menu omits their elaborately perfected burger varieties, however, their singular burger offering is still elite. Although we were saddened to see Small Bar fall from the top spot, our spirits were cheered by the burgers at Byron's Hot Dogs and Mindy's Hot Chocolate, each ranking strongly on Chicago Burger Bible's list of 75+ Chicago burger joints.
Byron's Hot Dogs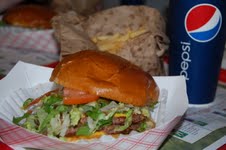 Considering the Obama's flew the Byron's staff to the White House for a cookout, we figured these guys could work the grill. Although Byron's Hot Dogs is no secret, their burgers just might be. If this was not a strictly business trip for ChicagoBurgerBible.com, we could have been swayed to order some hot dogs or sausages. Like most of their menu, the burgers were delicious and did a lot to boost our confidence in Obama's discretion and America's future.
The burgers were economical, $6.37 for a cheese burger with your choice of toppings, a big side of well constructed fries, and a soft drink. It's hard to communicate what made this burger so good, it was standard fixings executed so precisely that Seal Team 6 could have been working the kitchen. The burger had a perfect greasy-spoon flavor without dripping too much grease. The slab of cheese melted with a sizzle, and the standard hot dog toppings of peppers, tomatoes, celery salt, and onions gave it a great Chicago style burger taste. Last, the steamed buns were nothing sexy but tasted delicious and enclosed the burgers perfectly.
As I watch the news, I realize if anyone is indebted, it's us to the First Family for leading us to this joint.
Tier 2 - DAMN GOOD
Wrigleyville
$3.29-$7.14
Mindy's Hot Chocolate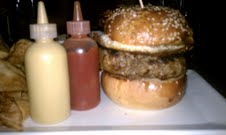 Mindy's Hot Chocolate is an interesting mix of personalities -- equal parts cafe, desert bar, trendy brunch spot and extraordinary burger slinger. This place recently started serving its burger more regularly (previously it was served only on certain days at certain, inconvenient times) and has hence legitimized itself as a destination for burger lovers. Hot Chocolate only has one burger on its menu (with or without fried egg), but one is all it needs. This thing is unreal. Bacon, cheddar, pickles come standard and you will not find yourself longing for any aiolis or foie gras -- the patty alone on a plate would probably crack our Elite list. The patty is a juicy, modestly-seasoned slab with an excellent char on the outside. Ours were perfectly prepared as ordered and kept our attention until the last bite. The garlic toasted bun is moist and complements the overall flavor without fighting for the spotlight. Go eat this burger.
We also highly recommend the roasted cauliflower gratin and ANYTHING from the desert side of the menu.
Tier 1 - ELITE
$13
Bucktown
http://www.hotchocolatechicago.com
Small Bar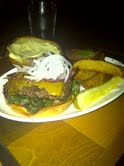 If you have not been following our site over the past few years, Small Bar has held the #1 burger ranking since our inception. Recently, we were tipped off that they have new menus at all three locations, so we investigated immediately. Although their menu has a handful of delicious items (try the cheese curds and thin cut fries), we are sorry to say the burgers have become more of an afterthought.
Our major complaint is the absence of their phenomenal combinations. There is no longer the G.C.B. garlic burger served on a garlic roll with cheese sauce and beer cheese sauce. Say goodbye to the "Hellfire" and its beer battered onion strings, pickles jalapenos, sriracha aioli, etc. Want their signature bacon blue cheese burger? Better build your own. The burgers still have phenomenal patties and a handful of good toppings, but their offerings no longer challenge the city's very best. Elite? Yes. The undisputed champion? No longer.
Tier 1 - ELITE
$10-$11
Ukranian Village / Lincoln Park / Logan Square
www.thesmallbar.com