By John Barrett and Dan Cousino

We recently feasted at "That's-A-Burger," making it the 80th Chicago burger venue reviewed by ChicagoBurgerBible.com. It easily earned our prestigious "Tier 1 - Elite" category, a feat that just eight of the city's best burgers can claim. People often ask if we're running out of respectable burgers to try, but our list only grows longer as time passes. Our 80th burger ranking among the City's best only confirms the high caliber of burgers left to be had.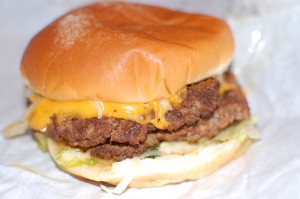 "Much like the Honey Badger, this burger may appear unassuming at first sight."
"That's-A-Burger" is a monstrous understatement. We'd rank this carry-out burger joint just ahead of Michelle Obama as the South Shore's finest product, and not even Kanye (another South Shore expat) would dispute it.
Our loyal Burger Disciples have been pushing us towards the South Side lately, and this particular trip was long overdue. That's-A-Burger is a no-frills storefront with a steady stream of regulars anxiously awaiting the little miracles that are served from behind thick bulletproof glass (which we believe is a necessary precaution to protect the invaluable secrets of their recipe).
What makes these burgers so good is the attention to the fundamentals: Quality beef (the natural flavor here is off the charts), melted cheddar and grilled onions combine for a burger of consummate authenticity. This minimalistic, loosely-formed patty (made fresh while you wait) makes us wonder how so many places get it wrong. They are a good size, but not huge (note: a burger does not have to weigh a pound to be Elite). A double will leave you sated and happy. The plain buns are moist and mold to the burger nicely, handling the package with no trouble -- even after a short car ride home.
We sampled our lady friend's turkey burger and it was the best turkey burger we've ever tasted. It is actually better than most hamburgers out there, which is not easy for guys like us to admit. The fries were Elite, too -- thin, crispy, delicious.
"That's-A-Burger" is carry-out only. The wait can be long, so we recommend calling-in your order. At just $4.25 for a burger and fries, you simply cannot find a better burger for the price in Chicago, possibly the world.
2134 East 71st Street
South Shore
$4.25+