After 70 burger reviews, it might seem surprising that the Chicago Burger Bible's hit list continues to grow. But we feel like we're just getting started, since there is a seemingly endless supply of Chicago burgers to be had. Thanks to recommendations from our loyal disciples, Lockdown Bar and Grill worked its way to the top of our hit list.
The Kuma Bear is on Lockdown; Lockdown Bar and Grill offers exceptional burgers, great variety, more bang for your buck and much shorter waits. Half off on Tuesdays doesn't hurt, either.
Here's our full review -- check out our other reviews at www.ChicagoBurgerBible.com.
Lockdown Bar & Grill
We took our first bite into these juicy patties and immediately knew we were dealing with Elite meat. We heard this Ukrainian Village burger bar was good, but we didn't expect it to be this good.
Lockdown offers a great atmosphere, featuring loud, full-length concerts every day on their multiple flat screens (their priorities are in order, too, switching over to the Bulls playoff game). If you're looking for a quiet burger joint, this is not the place.
They offer a unique variety of burgers, each featuring 10 oz. of Certified Angus, including a few with odd topping combinations (see Fat Elvis Burger -- bacon, banana, peanut butter) you'll be hard pressed to find anywhere else. Although the decision was not an easy one, we ordered the Possession of Shrooms, Electric Chair, and a build your own with white cheddar, sautéed 'shrooms, caramelized onions and avocado. The Possession of Shrooms featured goat cheese, wild mushrooms, and a slice of a big portabello mushroom. It was phenomenal. We are huge fans of mushroom burgers, and the mix of flavors and textures made this one of the finest.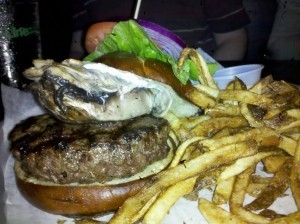 The Electric Chair was topped with blue cheese, buffalo sauce, jalapeno relish, and sautéed onion. It was only fitting that the unique combination of flavors on this Electric Chair was "well-executed," although we give the Possession of Shrooms a slight edge. All three patties we tried were big, perfectly prepared and nicely seasoned. The pretzel buns held up extremely well to the juicy beef, but did not influence the overall flavor too strongly. There was an experienced vegetarian with us today, and she gave their house-made veggie burger some serious praise (for what it's worth).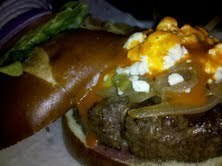 Our side dishes also did not disappoint. The fries were pretty good and they came with a delicious mayo sauce. The mac and cheese had crispy bacon bits and thick melted cheese, and... well, it was delicious. The beer list was great, Bell's Two Hearted and some other quality brews on tap and plenty of options.
Our visit to Lockdown came via a few suggestions from Burger Bible readers, so keep your suggestions coming! And for those of you saying we need to spread out our search, we're planning on it. Stay tuned.
$10-13 (half off Tuesdays)
www.lockdownbar.com
Ukrainian Village