Every year in June the Broadway community gets a little leaner, a little hungrier (and therefore a lot crabbier), and somewhere on the pigment scale between "sun-kissed" and "Oompa Loompa." No, they are not casting for the new musical, Charlie and the Vegan Carob Factory; it's simply time for Broadway Bares.
Before I go any further and describe the artistic skin-fest that is the show, let me start off by telling you why the Broadway community feels so strongly about this event. Twenty-two years ago, choreographer Jerry Mitchell started doing this benefit in conjunction with Broadway Cares/Equity Fights AIDS (BC/EFA) to help raise money and awareness to fight HIV/AIDS.
When you look back at the early '90s, you can see literally a generation of artists in the Broadway community wiped out. Many performers, designers, directors, choreographers, dressers, producers, crewmembers, ushers, and agents -- the magic makers in my field -- were gone. In a time when so many in the community were getting sick and dying, and those who were not sick were terrified of dating and physical contact, Broadway Bares was a retaliation against the debilitating fear that the HIV/AIDS epidemic was causing, a way to successfully raise funds, educate people, and celebrate life and sexuality.
I have very vivid memories of coming into the city from Long Island as a high-school student and seeing Adonises on posters all around town advertising Broadway Bares. Sultry images of dancers like Denis Jones and Sebastian La Cause really stuck with me (for a plethora of reasons!). Like many teenagers, I felt awkward and ugly. Seeing those men with their matinée-idol good looks and chiseled bodies gave me something to strive for. As time went on, I learned more about BC/EFA's mission statement, and it further fueled my burning desire to be a part of the organization.
Well, now that that's out of the way, bring on the parade of flesh! See, my husband is a lawyer, so I'm trying to be a little more "PC." I'm not too sure it's working.
The theme this year was "Happy Endings," a sexy take on all your favorite fairytales. When the director, Lee Wilkins, called me up to tell me that there was a featured part in the show that he wanted me to play, I nearly fainted. When he told me that my entrance would involve coming up through the stage floor (like Velma Kelly in Chicago), I nearly shit my pants before I fainted. Yeah, it was pretty much that kind of day.
I was thrilled and excited because I usually play the role of "non-speaking townsperson second from the left" in the shows that I do, and now I was going to be center-stage, sharing lines with Broadway's leading man, Kyle Dean Massey. Time to step it up a notch, Carroll!
Because I wanted to immerse myself in the process, I asked Lee if I could shadow him, follow him around and learn the ropes. I sat with him in technical meetings and in dance rehearsals and went with him to see props and costumes. It was overwhelming to see how many professionals, at the top of their field, were so giving and selfless. They wanted to do everything they could to put on the best show imaginable to raise money for this amazing cause. There is literally an army of magnificent people behind the scenes who give their heart and soul to this benefit and never ask for the spotlight. They are the true stars. Without them, there would be no show.
The morning of the performances, I arrived at the theater and went straight to the huge space they had set up as a dressing room for all the dancers (227, to be exact). My ridiculously sweet and talented costume team told me that I would be getting ready in the "male stars dressing room."
Um, excuse me, what?!
I made a point to remind them that I am John Carroll, not Kyle Dean Massey, and braced myself for the hideous ego impact that was about to occur. However, they assured me that it was not a colossal joke and escorted me to the dressing room that I would share with only two other people, Mr. Massey and, get this... wait for it... wait... for... it... the Lady Bunny!
Are you f-ing kidding me?!
Lady Bunny is a comedy idol of mine, not to mention a guest judge on RuPaul's Drag Race and Drag U< two of my favorite TV shows! In the female stars dressing room right next door was Miriam Shor from television's GCB and Academy Award nominee (for my all-time favorite movie, Bullets Over Broadway) Jennifer Tilly. As if that weren't enough for my very own fairytale, we had our own personal hair and makeup artists and, to top it all off, a mother-bleeping fruit plate!
Kids, last time I did this event, I was in a large room with well over 200 other sweaty, hungry dancers all fighting for the space in front of one three-speed fan. Needless to say, I called my husband and literally started to weep over my embarrassment of riches.
All throughout the evening, some of the best dancers on Broadway graced the stage. Performers like Marty Lawson, Reed Kelly, Charlie Sutton, Candice Monet McCall, Andy Mills, Brandon Rubendall, Matthew Skrincosky, Grasan Kingsberry, and Nikka Graff Lanzarone inspired me beyond words. To see these people dance is worth the price of admission alone, but to see them "drop trou," well, that's just a gift from above!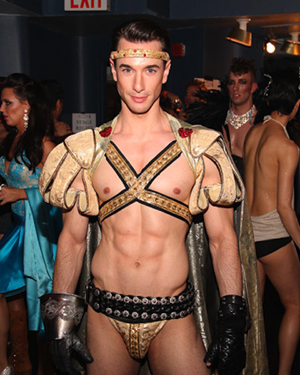 In my scene, Kyle Dean plays a boy looking for love, and I appear as his Prince Charming (I can already hear you snickering, so just stop it!). The entrance through the floor went off perfectly, though I had to reprogram every gay bone in my body not to break into "All That Jazz" on my way up. Our scene went great, as well, and though I am hearing-impaired, I do believe I heard at least two people (out of a crowd of thousands, mind you) laugh at my lines. Those two lonely souls were probably drunk and laughing at me, but I'm going to suggest otherwise.
In the finale, Kyle Dean and I got "married" onstage while Rachel Potter from Evita sang her ever-loving face off to Rihanna's "We Found Love." Lee staged an absolutely beautiful, moving number. I stood there holding hands with a man I had met only a few days before, in a faux wedding where I was about to say "I do" and kiss him in front of thousands of people. I started to get all choked up. I asked Kyle Dean if he, too, felt "something." I'm sure he felt absolute disgust toward me but was kind enough to not say anything.
Oh, and on a side note, I saw a video of "the kiss." In my memory it was very touching and very hot. In reality it looks like I was reenacting a scene from Silence of the Lambs. My apologies to the Massey family.
At the end of the show, the 200-plus performers gathered on the stage. The energy between the performers and the audience was electric. Lee came out to the roaring crowd to say his thank-yous and acknowledge the cause. I sat at the end of the runway, a "newlywed" (my real-life husband just rolled his eyes at me), and listened as Lee thanked the stars of the evening: Judith Light, Jennifer Tilly, Miriam Shor, Kyle Dean Massey, and Rachel Potter, and somehow tucked in with those well-known theater names was mine, John Carroll.
Huh, come again?!
Hearing my name in the midst of such incredible talent, in front of the Broadway community and the entire audience, was a pinch-me moment. I sat there on the stage, formerly the "non-speaking townsperson second from the left," now dressed in a bejeweled crown and jock strap. Once again I began to cry.
Now, I want you to know that I do not bring any of this up to brag. I was the kid who was bullied so badly for being gay that I was literally run out of school. I was the kid who stayed home every Friday and Saturday night, binged on deviled eggs, and watched the Golden Girls all by myself because I didn't have any friends. There were more days in my childhood when I wanted it all to end than days when I wanted it to continue. One of the few things that kept me going was the belief that my future would be better and that I would one day be on Broadway. Someone might think Broadway Bares was just a benefit, just an entrance, just a dressing room with a freaking fruit plate, and just a mention of a name. What's the big deal? The big deal is that, for me, it was all a childhood dream come true.
That evening, we raised a record-breaking $1,254,176!
Oh, and just in case you thought I was getting used to the "star treatment," I woke up the next day to the sound of birds singing and a spring in my step. I felt like the sun was shinning just for me. Later that same day, when I was hanging out with a friend, he introduced me to someone who was in the audience the night before: "This is John. He played Prince Charming in the finale." Now, I was thinking that given that there were only two people on stage in my scene, two people who were speaking to each other through microphones that amplify sound, and given that I was the one who had just risen like a phoenix through a trap door in the middle of the stage dressed in a whoreish version of royalty, I might be memorable. Well, not so much. Instead, what I got from this man was the blankest stare I have ever seen on a human being, so blank that I literally waved my hand in front of his face to see if he would blink and made the sound effect of crickets chirping. Finally, he broke his rigor-mortis-like freeze and said, "Where you were in the show? Sorry, I don't remember you."
Ah, yes, humble pie is a dish best served cold.
PHOTOS:
PHOTO GALLERY
From 'Non-Speaking Townsperson Second From Left' To A Star Of Broadway Bares: It Does Get Better!
A version of this piece originally appeared on The Advocate.