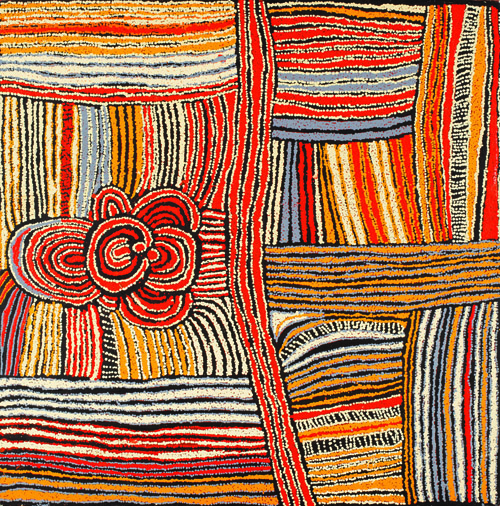 Lupul, a 2005 work of acrylic on canvas by Australian artist Walangkura Napanangka is one of the 120 works of art now on view at the Toledo Museum of Art from The Owen and Wagner Collection of Contemporary Aboriginal Australian Art (© 2013 Artist Rights Society (ARS), New York/VISCOPY, Australia)
It can be difficult work for an art critic who is trained in the "Western" tradition to write about art by "non-Western" artists. It can be even trickier when that art arises from a culture like that of post-colonial Australia, where European and indigenous Aboriginal interests yield diverse and unique aesthetic systems. Crossing Cultures, an exhibit currently on view at the Toledo Museum of Art, insists on pushing viewers outside of their critical comfort zones. The exhibit, which features works from the Owen and Wagner Collection at the Hood Museum of Art, offers Technicolor visions from contemporary artists of Aboriginal Australian descent. These pieces  mix indigenous techniques with modern and contemporary concerns to produce a thoughtful and at times visually stunning show of contemporary art.
A significant proportion of artists in this show directly engage with the history of modern and contemporary Western art. Their hybrid commentaries take the viewing experience in rich new directions, especially regarding abstract painting. In fact, so many of these paintings, which use indigenous approaches to mark-making in both traditional and contemporary media, look strikingly like Minimalist and post-Minimalist works that Western-trained critics and viewers may recognize. One of the masterpieces of this show is the work by Lily Sandover Kngwarreye. Kngwarreye applies an intricate white acrylic hatching on black-toned linen, resulting in a fractal-like fish-scale surface. This stunningly beautiful work creates a dynamic field of watery movement from the most economical gestures. Another work by Walangkura Napanangka [pictured above] looks to my eye to be in conversation with American gesture painting or even the Pattern and Decoration movement, but the work creates this impression without forfeiting either an Australian or an indigenous sense of artistic training. In still another piece--a nearly monochromatic painting of light ochre on stringybark--artist  Nyapanyapa Yunupingu seems so rigorously aware of Process Art that I wonder if he's in direct dialogue with Robert Ryman.
It's a cruel irony that Western critics so often do a terrible job of writing about work made by artists from indigenous cultures. It's ironic because the very titans of modern art--Gauguin, Picasso, Matisse--mined the artistic traditions of many indigenous cultures, from African, to Oceanic, to Native American cultures (and more). We now refer to this reductive idealization as "primitivism." These Eurocentric visions of other cultures were much more about their own exotic fantasies than substantive knowledge about different artistic heritages. Some images in this show cause me to question my own "primitivist" tendencies, images like a freshwater crocodile by Craig Koomeeta. This open mouth, sharply toothed wooden sculpture looks to my ignorant eyes like a pre-colonial artifact, and yet it was made in 2002. There are many fantastic animal sculptures in this show, but as a critic, I have to admit that I don't know what to make of them. With other works, however, I'm happy to connect my knowledge of late modern and contemporary Western art to other often virtuosic explorations of mostly paint, sculpture, and some photography. (Check out the photograph by Christian Thompson: a brilliant, lyrical work that deals with the "primitivist" dilemma I mentioned.)
The curators of this show seem quite aware of its potential difficulty for American audiences, and they do a good job of respecting the work as contemporary art and not dipping too much into an anthropological or ethnographic presentation. If you want to get a better sense of the show, however, I urge you to go see it in person. Recognize that you may have the knowledge that allows you to connect with various pieces and painterly techniques. Recognize also that you may not be able to understand all of the complex dialogues that these artists maintain in a variety of other communities and contexts. Sometimes you don't have to understand all of the background to enjoy the work. The virtuosity and pure visual spectacle of Crossing Cultures will make the trip to Toledo worth your while.
John J. Corso teaches art history at Oakland University in Rochester, Michigan. He strives to write criticism that is 'partisan, passionate, and political.'