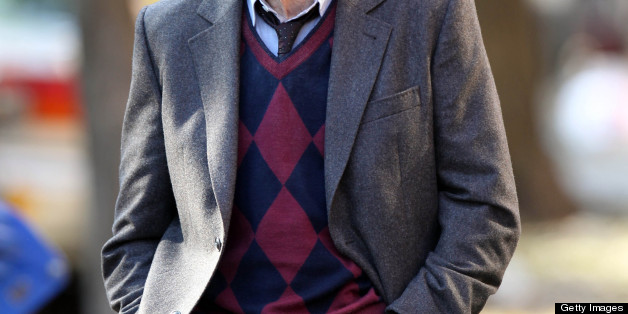 Reviewing my Huffington Post archive recently, I was reminded that my very first piece, published on the sixth anniversary of 9/11, concerned New York City movies that brought back the city of my youth, which (to age myself) was during the seventies and eighties.
A decidedly grittier town back then, it was no less exciting.
As a native New Yorker who has never really left, and never wanted to, it felt totally appropriate for New York movies to be the topic of my first entry. And now, nearly six years later, it feels ripe for revisiting.
It's a point of pride that no other city has so many good movies set in it as New York. Even a cursory Google search yields literally hundreds of titles shot here.
I challenged myself to winnow down this massive list to a manageable number of classics that I would pick to own and watch till the end of my days.
Not content with the typical top ten list, I went for 11 quintessentially New York movies I simply couldn't live without. (Just click on any title for the full review on our site.)
For those cynics who may cite the obvious character of these picks, let me reference a quote from director Robert Altman: "It's better to see a great movie again than an average one the first time. Because even though the movie hasn't changed, you have. And you'll see something new."
Words to live by. I doubt your re-screening any of these titles after a period of years would result in disappointment. Try it and see.
Of course, there are so many more New York City winners, many of them under-exposed- so please submit your own picks.
The Pride Of The Yankees (1942) -- Talk about the power of nostalgia. Sam Wood's reverential biopic on Lou Gehrig is not just a tribute to our city, our national pastime, and one of our homegrown heroes, it also celebrates New York's proud immigrant, melting-pot traditions, felt strongly to this day.
Rear Window (1954) -- Why was Hitchcock a genius? One reason: he built an immense yet intricate set on a soundstage, and then made a stunningly effective and evocative New York City film- in L.A.!
Sweet Smell Of Success (1957) -- "I love this dirty town!", says Burt Lancaster -- and so do we, in one of his signature films -- a sour, caustic tale about a twisted gossip columnist, partly modeled on the legendary Walter Winchell. Lancaster is superb, and guess what, so is Tony Curtis.
The Apartment (1960) -- Billy Wilder's bittersweet summit, with Jack Lemmon a lonely insurance man in Manhattan who falls for elevator girl Shirley MacLaine. Often categorized as a comedy, it's really a romantic drama with funny bits sprinkled throughout.
Midnight Cowboy (1969) -- Two drifters meet in a mutual attempt to survive in, then escape from, Manhattan's grimy underbelly. Hoffman is incredible as Ratso. The kind they don't make anymore, this "Cowboy" still packs a hefty wallop.
The French Connection (1971) -- Maybe the best cop movie ever, portraying one of the city's bigger drug busts back in the day. Gene Hackman won as Oscar and became a bankable star with this movie -- and it's easy to see why.
Mean Streets (1973) -- Scorsese's breakthrough about a conflicted small-time crook and his wacko, self-destructive cousin in Little Italy. Rich in emotion, immediacy, and atmosphere, this film set the pungent, propulsive Scorsese style we'd see again in movies like 1990's Goodfellas.
The Godfather, Part 2 (1974) -- Coppola managed to improve on a masterpiece with this one, which paints on a broader canvas and offers even richer period flavor. And for the price of Brando, we get a young Robert De Niro, who's equally brilliant.
Annie Hall (1977) -- Inveterate New Yorker Woody Allen's best film ever, with some hilariously dead-on insights about the bi-coastal dilemma: New York vs. Los Angeles. I'm with Woody: give me Gotham every time. This turned Diane Keaton into a star, and it's still her signature role.
Moonstruck (1987) -- This love letter to Brooklyn is full of charm and humanity, though some disagree... worth the price of admission for Vincent Gardenia and Olympia Dukakis alone. And look for an unusual early turn from Nic Cage as a mooning, eccentric baker.
As Good As It Gets (1997) -- Writer with serious Asperger's and OCD falls for a waitress at his neighborhood diner, where the management barely tolerates him. Only in New York, right? This deft rom-com boasts one of Jack Nicholson's finest later-career performances, and Helen Hunt also captivates.
Looking for good movies to watch? Top movie recommendations? For over 2,500 of the best movies on DVD, visit Best Movies by Farr
See John's videos for WNET/Reel 13
Follow John on Facebook
Add John Farr to your Google+ Circles
Follow John Farr on Twitter