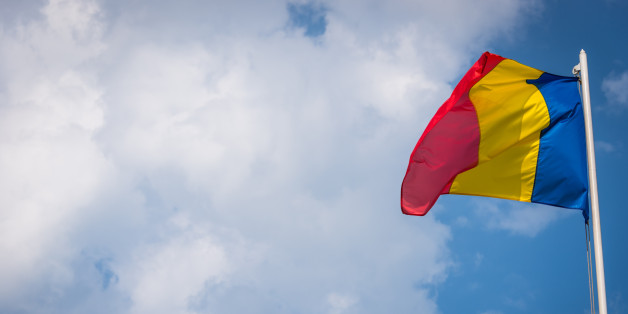 Political parties in East-Central Europe are like amoebas. They are constantly splitting apart (mitosis) and then banding together in coalitions (aggregation). For someone coming from a U.S. context of two relatively stable parties, the political scene in East-Central Europe seems hopelessly complex.
That goes double for Romania.
During the 1989 revolution in Romania, a popular front organization emerged as the chief political institution guiding the changes. The National Salvation Front (NSF) was a mix of former Communists, dissidents, and cultural figures. Several historic parties from the pre-Communist era also re-established themselves. But neither of these two main opposition parties -- the National Liberal Party (PNL) under Radu Campeanu and the combined Christian Democrat-National Peasants' Party under Ion Ratiu -- did particularly well in either the presidential or parliamentary elections of 1990 that the NSF dominated.
All of these parties split and recombined over the next 20 years at a sometimes dizzying pace and in unexpected combinations. The NSF split into two main factions, with Ion Iliescu creating what has eventually become the Social Democratic Party, now led by current Prime Minister Victor Ponta. In 2012, Ponta came to power in alliance with the same PNL founded by Campeanu. They came together against the Democratic Liberal Party (PDL), which traces its roots back to the other faction of the National Salvation Front led by Petre Roman.
And now, with presidential elections coming up in November, the frontrunner is the left-leaning Ponta. The PNL and the PDL merged over the summer to come up with a right-leaning unity candidate, Klaus Iohannis, the current mayor of the city of Sibiu.
This political genealogy is necessary for explaining the trajectory of Andrei Chiliman. When I first met him in 1990, he and Dinu Patriciu had recently formed a breakaway faction within the PNL, which they viewed as hopelessly out of touch with Romanian realities. They created the Young Liberals to appeal to a new generation interested in the ideals of liberalism.
Patriciu eventually left politics to become one of the richest men in Romania through his management of the oil company Rompetrol. His fortune whittled down by poor investments, he ended up in court on charges of embezzlement, money laundering, and associated charges. The case was still in the courts when he died this August.
Chiliman, on the other hand, stayed in politics and in the PNL. He served two terms in parliament and is currently mayor of District One in Bucharest (the city has one general mayor and six sectoral mayors).
When I met Chiliman again in May 2013, it was the day after he'd been expelled from the PNL. He'd criticized the party leader Crin Antonescu for essentially attempting a "constitutional coup d'etat" to oust Romanian President Traian Basescu the previous summer through an impeachment referendum.
"Just three or four days before the day of the referendum, the president of the PNL signed a paper with a number of NGOs saying that they would dismantle the constitution and the federal institutions necessary for preserving democracy in Romania," Chiliman told me in his office. "When I saw this paper signed -- and I quickly had a copy of the original in hand -- I publically asked the president of the party, 'Who gave you the mandate to sign this? And is this the official position of the party?' This was, in my opinion, a normal reaction to something that would eventually in the future be considered the beginning of a constitutional coup d'état. The president of the party became very furious with me, and not just angry, because he perceived that it tarnished the image of the PNL just three days before the referendum."
The referendum went against Basescu, but the vote was invalid because an insufficient number of people voted. So, Basescu remained in office.
Chiliman's beef with Antonescu was not just procedural. "I also wanted the party to stay on the Right side of the political spectrum in Romania. And unfortunately, Antonescu and the politics of the government are on the center Left or Left," he told me. "So I am now for the time being a man without a party. But I do not regret that I was expelled from the PNL for what I did. I think I did the right thing."
The "time being" lasted about a year. In June 2014, he joined the PDL. Shortly after, this party merged with the party that had expelled Chiliman, the PNL. So, in the end, Chiliman was not only a man with a party once again but the party had moved much closer to his political positions. In the bruising world of party politics in Romania, Chiliman had emerged with his position and reputation intact.
We talked about his disappointment with parliament, his accomplishments as mayor of Sector One, and the challenges of turning Bucharest into a green city.
The Interview
You mentioned that you are very happy about some of the projects here in Sector One. What would you hold up as some of your most successful achievements here?

It's difficult for me to say the most important achievement. But I'll give you an example. I have administration over secondary streets in this sector of Bucharest. In 2004 we had over 400 of these streets without water and sewage and asphalt. So my first priority was to bring all these people into the city. They lived like in a village in the 1900s! We had to make a very impressive investment just in order to bring them normal municipal utilities. Some of them were paying local taxes for more than 100 years, and they received nothing for these taxes. That was my first-term priority. It was very interesting because once we introduced these utilities, a lot of people began to sell their land because it had increased in value. Then other people came there and built new, bigger houses -- so they paid a lot more taxes to Sector One. This change brought me a bigger budget and allowed me to begin other projects and I could repair other streets. I did my best to reshape the face of this sector. And now we are awaiting another earthquake, maybe in the next 10 years.

An earthquake?

Yes. We had one in 1940 and another in 1977. The next one will come maybe in the next 10 years, but who knows when. I've had to make all the public buildings under my administration able to withstand earthquakes - all the schools, everything. This kind of building reconstruction is not something the mayor should do because it doesn't bring in votes. But we have to do it even if it's not bringing votes.
After that I've focused on creating green spaces. This is a dusty town. It's on a plain, and when winds are coming through they bring dust from outside. But there's also a lot of dust here in the city. How can you stabilize it? We've planted grass everywhere, and that's something we're still doing. But grass in a town where you have some 20 or 30 days every year over 30 degrees without rain? That means the grass will die. So we also had to bring in irrigation systems, and that's costly. So, we've invested a lot of money in things that were necessary to give people a better quality of life.

Did you also have access to EU funds for special projects?

It's very difficult to access the EU funds in Bucharest because the city has a higher level of income than other places in Romania. So we have some restrictions. But we did access EU funds for some social programs because we have maybe the most developed social and child protections system in Romania in the first district. We received a lot of new funds in cooperation with many European NGOs and universities. We also accessed some funds for developing tourism in Sector One. But there is no money for earthquake-proofing buildings, redoing the streets, or establishing sewage systems. If I had been the mayor of a little village, it might have been faster. We have a lot of schools in this district with over 120 buildings. It costs a lot to renovate these buildings and also ensure that they use less energy through modern lighting and the use of solar panels. We'll see if we will be allowed in 2014 to use new funds to carry out these projects, but I'll do it anyway, though it will take longer with my existing budget.

Given your political experiences, has your political philosophy changed in any way since 1990?
To read the rest of the interview, click here.