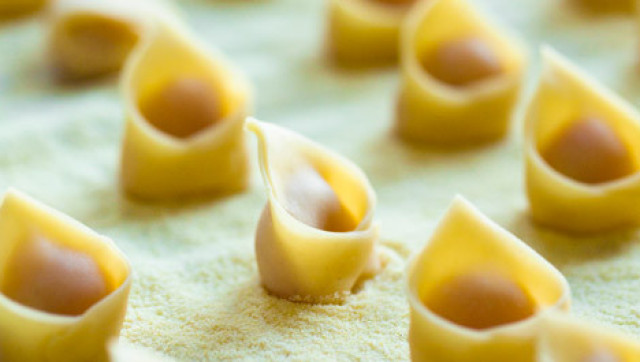 I have just been in America where I was in San Francisco for work. Eating in San Francisco was an utter pleasure and there were so many fabulous places to choose from. As I arrived, word on the street was that I had to try a new restaurant called Flour + Water, an Italian place that specializes in beautiful home made pasta. I took the advice and had one of the most rocking meals I have ever had.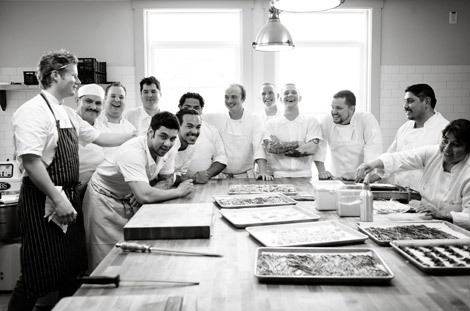 We went for dinner, sat at the bar and ordered the pasta tasting menu -- five kick ass pasta dishes, a starter and dessert. The starter was a lovely crunchy salad of rabbit wrapped in prosciutto with chestnuts, roasted squash, walnuts and pumpkin seeds. The rabbit was sweet and tender and the salad soft and crunchy all at once. I loved this Fall inspired dish!
Then came the pasta. First we had tallegio ravioli with a drizzle of aged balsamic vinegar. The pasta was a marvel and the soft salty cheese was the perfect vehicle to carry the sweet-sour flavour of the balsamic vinegar. Next we had artichoke and potato caramelle, a style of ravioli that looked like little pieces of candy. The pillowy soft, melt in the mouth caramelle was livened up with a coating of burnt butter and spicy chilli. It is hard to describe how such simple ingredients could taste so divine. But, Italian cooking is all about simplicity and they nailed this dish. This was followed by a bowl of chestnut tagliatelle with cabbage, chanterelle mushrooms and sage that was served in delicious winey sauce.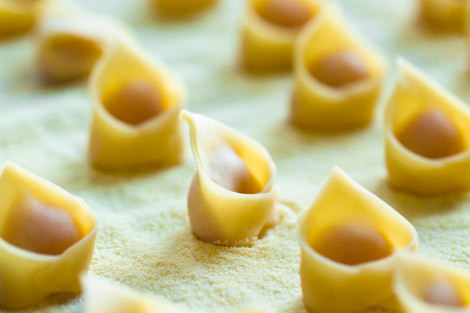 Meat pasta followed. First we had rabbit tortellini with green spigarelle and fresh chilli, which was rich, chewy and utterly divine. Finally came an awesome bowl of rigatoni with braised lamb and eggplant that was showered in herbs and cracked black pepper. The little ridges of the firm textured pasta filled up with the sauce and took on the flavors of the lamb and spices. This was my favorite dish!
The pasta tasting menu at Flour + Water was $65, with an additional $40 for wine pairing. It was a feast and one I highly recommend.
Visit the Flour + Water website.
Photography by Eric Wolfinger