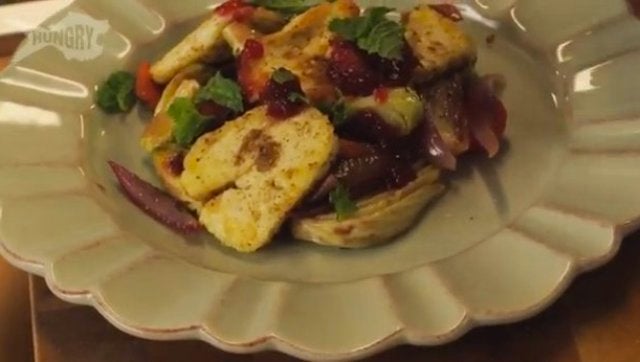 We are fast approaching the Holiday Season where the food and booze will flow. In fact, they always flow way too much and there are usually loads of leftovers to contend with.
Together with wonderful Hungry TV, I have created a fabulous Spiced Halloumi Salad with Cranberry Dressing. It uses up all your left over Cranberry sauce and any cold roasted vegetables you might have. Check out the video and let me know what you think.
Spiced Halloumi Salad with Cranberry Dressing -- Serves 2
2 tablespoons blanched, skinned almonds
2 teaspoons cumin seeds
2 teaspoons coriander seeds
8 ounces Halloumi, cut into 1/4-inch thick slices
2 tablespoons olive oil
1/3 cup cranberry sauce
1/2 lemon, juiced
1 tablespoon water
Pinch of chili powder
1 1/2 cups roasted vegetables such as carrots, red onions, fennel and brussel sprouts
8 cherry tomatoes, halved
1 sprig mint leaves, for garnish
1. In a small sautᅢᄅ pan over medium heat toast the almonds, cumin and coriander until fragrant, two to three minutes. Transfer to a spice grinder or food processor and grind into a course powder.
2. Place sliced Halloumi on a cutting board and sprinkle both sides of the cheese with the spice blend, patting it into each side.
3. Heat olive oil in a sautᅢᄅ pan over medium-low heat. Add the Halloumi and cook one to two minutes per side until the cheese is golden and softened.
4. In a small bowl whisk together the cranberry sauce, lemon juice, water and chili powder.
5. In a large bowl combine the roasted vegetables, cherry tomatoes and half of the cranberry dressing. Transfer to a serving platter and top with Halloumi cheese, the remaining dressing and garnish with mint leaves.