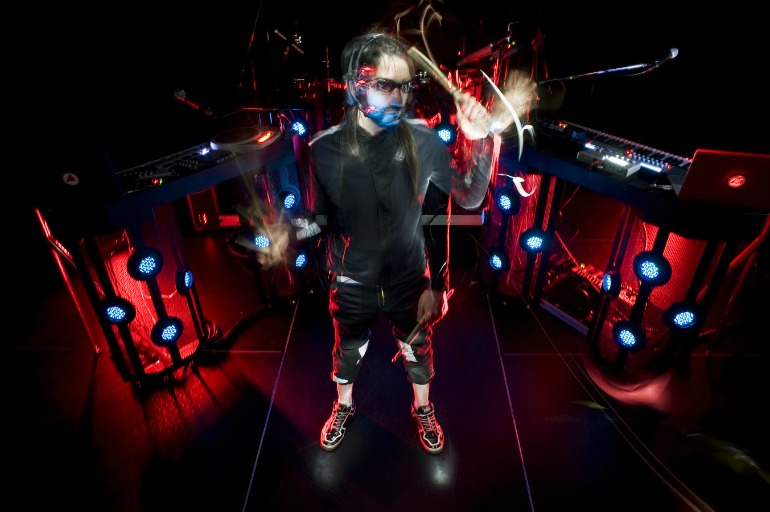 Photo by Ruddy Candillion
Anyone who's hit Miami's Wynwood Arts District knows full well that some of the fastest action takes place in the wilds on the 'hood's Western edge. It is there, just steps away from the roar of I-95, where a whole 'nother kinda racket gets made, one of sound and of vision and of some things the world has never before heard or seen, let alone been able to define.
We speak of Awarehouse, that hot spot where barrier-breaking sounds get recorded, boundary-crossing bands take to the stage, eye-widening art gets shown and an outstanding assortment of events occurs, be they on the now traditional Second Saturday of every month, or when the likes of Absolut or Ultra need a perfect place for some kinda shindig or confab. Yes, it is that action-packed.
With another weekend's Art Walk about to strut its stuff and a barrage of brand new Awarehouse-related action goin' off coincident with the mad gathering, I thought it wise to get with the chief himself, that is Dharma111, who runs Awarehouse, heads both the band organicArma and the label Acustronic, and is also the mind behind Panther Coffee's beaming, steaming Beats & Brew.
Let's begin with your label, Acustronic. What's the latest?
First off, we've finally got our new site. There are still a few kinks to get out, and a whole lotta content to add, but it's up and running -- and it looks fabulous.
It's also where you'll find news about our bands and releases, two of which are locked and loaded. The first is OHME's debut EP, Vertical Horizon, six songs of some of the most stunning sounds you've never heard. The second is Transoverload's Graviton, which is their fifth and by far most adventurous LP to date. If you've heard them before, you'll know that's saying something! We'll also be releasing a couple songs from both Tusk and organicArma right before Miami Music Week, and those will be available on the site as well as a few of the usual online outlets.
What's goin' down this Second Saturday at Awarehouse? For this month's After Artwalk we're bringing down Chicago's Midnight Conspiracy for Saturnalia, a quarterly event that combines some of the world's best EDM artists with their Miami counterparts. All of the Acustronic acts will be performing -- organicArma, Transoverload and Tusk -- and an assortment of Awarehouse Irregulars will be spinning, among them Spinnzinn, Fumes, Axl, Dume, Basti and Nymania.
Prior to that we've got an Absolut party that David Wilson of MMG put together. They're setting up some massive contraption on the grounds that'll feature DJs, in addition to the work of Miami's own Carlos Betancourt. MMG is behind Absolut's Anthem campaign, which launched here in Miami and boasts the slogan "Doing things differently leads to something exceptional", so we expect nothing less than sheer spectacle.
Beats and Brew takes place at Panther Coffee during Art Walk too, right?
Right. This will be our seventh Art Walk Edition of Beats and Brew, and, as always, it's gonna be wild. OHME will be unveiling the songs on their debut EP, which have thoroughly evolved from their original form, Mr. Feathers and Mike Sike will be spinning, and Johan Ess will be doin' something suitably siteful. With HOX's new facade as a backdrop and the night's usual madness, it will be an amazing time. I tell you, Second Saturday is my favorite day of the month -- no question.
Saturnalia with Midnight Conspiracy et al. takes place Second Saturday, March 10, 11pm at Awarehouse 550 NW 29th Street Wynwood. For more information log on here; Beats & Brew takes place at Panther Coffee 2390 NW 2nd Ave Wynwood 7pm-11pm. For more information log on here.