The following is an excerpt selected and adapted from my work in progress Riverrun.
We were in Ireland visiting my dear friend Shaun Beary who owns a beautiful rundown horse farm in County Meath. On the last day of our stay we were invited to meet Michael "J.P." Donleavy, author of The Ginger Man who Shaun has been close to for decades. When I first asked Shaun where Donleavy lived he said it was "just down the road." This in Ireland translated into a 45 minute bus ride from Enfield to Mullingar, the closest village to Donleavy's estate in County Westmeath. The bus, for some reason, had my name on it.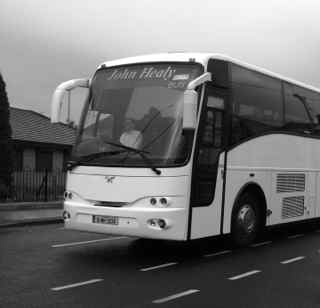 Mullingar is a long, narrow town and on that day it was raining heavily when we arrived. Shaun was determined that we acquire a copy of The Ginger Man so that the author might dedicate it to us. There were three booksellers in the village and we ran from one to the other without luck or an umbrella. Not only did they not have the work in question, not a single book by Donleavy was to be had in all of Mullingar. This too, for reasons I cannot explain, was also very Irish.
While waiting for our ride we had lunch at an Italian restaurant that was modern, clean and run by eastern Europeans. Despite its impersonal aspect akin to better airport eateries it won hands down over the nearby pubs, dark and gloomy affairs with ale soaked carpets and grease stained menus offering overcooked meats and vegetables.
I had read The Ginger Man in my 20s and retained only a vague memory of it but many people I know and trust thought highly of Donleavy's work. Googling him before we set out various websites made much of his grand house, Levington Park, on 170 acres registered with the National Inventory of Architectural Heritage, his stormy love life and penchant for isolation, his dapper country squire lifestyle, a herd of cattle he claimed to be able to speak with, and how James Joyce and his father had stayed at the house in 1901 and 1902.

Then there were the celebrity sightings, how he had driven Mick Jagger off the property with a shotgun, how Johnny Depp had visited hat in hand hoping to acquire the rights to The Ginger Man. And there were persistent entries about an odd sport Donleavy had invented Alphonse Tennis and written a book about. All of these anecdotes sketched a portrait of an appealing character we looked forward to meeting. Doing the math I realized he would now be 86 and I asked Shaun how he was holding up. He assured us the man was in fine form though sometimes subject to lapses in memory.
A BMW station wagon beaten down from years of neglect and rough terrain screeched to a sudden halt in front of the restaurant. Shaun waved cheerfully to the fellow behind the wheel and we got in. The fellow had not waved back and only offered a brief, tense smile. He made no eye contact with anyone. He was my age with an athletic frame and short, self-cut gray hair, cut perhaps with a pair of pruning shears. His forearms, like his Wellington boots and most of the vehicle, were caked with mud. Blasting from Blaupunkt speakers, at full volume, was a Bob Dylan anthology tape. When introduced he barely noted our presence. He was the famous author's prodigal son and there we were his captives, being whisked away from the dreary main street of Mullingar out into the briary wilds of County Westmeath on suicidal narrow roads. Clearly he had been cornered into driving into town to pick up two more doe-eyed fans come to sit at his father's feet to hear stories he had been probably been tuning out most of his life. This might have explained the insanely loud music that prohibited conversation. Shaun, kinder and more flexible than I, acted as if the hellish ride was the most normal thing in the world.
Arriving at the property and getting through the tall gate kept closed with a chain and padlock, the main facade of Levington Park came into view. It was impressive in the grand manner. Despite its Celtic disdain for prissified maintenance -- dead moss clung to crumbling stone lions guarding the approach, the driveway, rife with potholes, had no gravel, the gray stone of the mansion was pockmarked and morose -- the place was an aristocrat.
We found the author in a massive salon, a room easily 70 feet long, 25 feet wide and an immensely high ceiling. He was seated on a sofa in front of the hearth where a cozy fire burned. He wore a skullcap, slippers with socks and some sort of formless gray gym trousers, leagues from the tawny tweeds and impeccable flannels of yesteryear. He was paying bills, writing checks with a fountain pen, checks that were in a ledger with a lovely old-fashioned look to them. On a low bench upholstered with thinning velvet just in front of his knees rested a small round silver tray with a glass of freshly squeezed orange juice on a white lace doily.
His attention, understandably, was drawn immediately to my girlfriend. It soon became apparent my presence would be tolerated in function of hers. Though when Shaun mentioned we were both New Yorkers I saw our stock rise a notch. The son brought in a tray with tea and chocolate covered graham crackers and then disappeared as soon as his father resumed speaking. In less than a minute and unprompted Donleavy ran through all of the bullet points I had culled from the Internet; the Mick Jagger encounter, the visit from Johnny Depp, and his special talent for speaking with his livestock. It was a kind of skit, a routine, honed and polished over many years. And we played along willingly, laughing and expressing awe on cue, partly out of politeness but mostly in genuine appreciation for a well oiled skill practiced at an age when one might think it no longer necessary. It was admirable and a version of what many of us do when forced to make conversation with strangers but much more interesting. It was his way of staying in the game and the fact that we had come to him from the larger, outer world, made us ideal listeners.
When Shaun, who has a genius for putting people at ease, left to chat with the son in the kitchen, Donleavy's final tale of derring-do concluded. A sepulchral silence fell upon the three of us. Upon a piano in the distance I spied a bust of Joyce. I found myself staring at it as if my life depended on it. My girlfriend came to the rescue asking him about his childhood. It then turned out he had been brought up in the Bronx and that he had attended the Fordham Preparatory School. She and I looked at each other with some amazement. Then he boasted that he had been thrown out of Fordham Prep. Our amazement increased. She then pointed out the uncanny coincidence that this had also been my story, on both counts, except that in my case I had left the school of my own accord, that I had run away from home rather than attend my final year there, and that I too was a writer. To have come to this man's house in what for me was the middle of nowhere and hear such a tale so similar to mine sent a shiver up my spine. It inclined me to feel a kinship with him, but within an instant I sensed the similarities bothered him more than anything else. I understood. It was like I was attempting to co-opt his territory. My role that day was to have had the brilliant idea of accompanying the attractive young woman to his kingdom. And the truth was that I was more than content to simply sit and listen. When he offered to give my girlfriend a tour of the mansion, admitting it had been years since he had seen some of the upstairs rooms, it seemed like a fine idea for all concerned.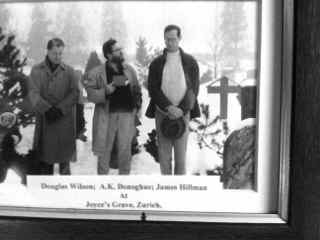 While this transpired I browsed his many bookshelves and studied framed photographs of gorgeous ex-wives and gorgeous children. One photo resting on a grand piano caught my eye, of three men, one of them the Jung specialist James Hillman, visiting Joyce's grave in Zurich. It was the strange Carl Jung who when treating Joyce's daughter Lucia for a time, had made the famous comparison between father and daughter: "She sinks helplessly through the sea of madness, while he has been granted the gift to dive down and resurface at will."
As the afternoon lengthened the five of us gathered in the huge kitchen. Now that we had passed the audition and proven ourselves literate and game Donleavy was more relaxed. By this time had loosened the son up to the extent that he asked us to stay for dinner. He even gave me a shy smile. Considering the fact we had interrupted their day I began to view them with increasing sympathy and gratitude. But we already had a dinner engagement and the moment arrived to make our farewells. Donleavy looked frail and elegant as he saw us off with great charm, insisting we return some day. And it was only as we were leaving that I allowed myself to appreciate the enormous house and its sly owner, how they both embraced grandeur and decay with stylish equanimity. I promised myself to read all that he had written. Starting from where I had, Donleavy could look back upon a life of his own making that was achieved thanks to his own literary work. It was something to aspire to.