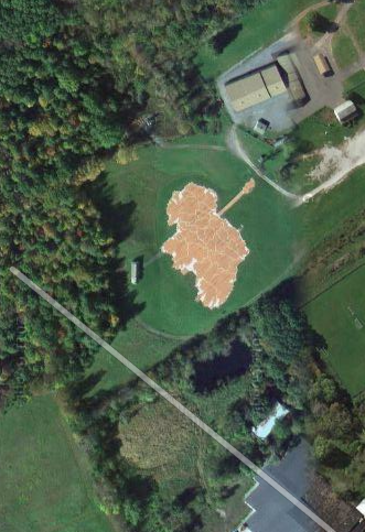 Google Maps
You know the old line about the Great Wall of China being the only manmade object visible from outer space? Now Google Maps and Google Earth are bringing the whole world into focus, right down this acre's worth of Ireland, rendered in red brick in the Irish Park in the upstate New York town of East Durham.
It's the largest county-accurate map of Ireland in the world.
The park was built in 2001 at a cost of 500,000, funded in part by New York State, Greene County and the Michael J. Quill Irish Cultural & Sports Centre, Inc. (MJQICSC.)
For $100 donation to this non-profit, you can get even a brick engraved with whatever you would like on it...
...within reason.
The Centre also has first cottage from Ireland that was taken down and exported to another country and then re-erected exactly the way it was. The interior of the Donegal cottage is furnished with the exact artifacts that would have been found in it in the 1900s. The Catskill Irish Rep Theatre even puts on performances of life in Ireland using the cottage as a stage.
MJQICSC also hosts an Irish Arts Week (July 15-21), an annual Feis, held this year on Sunday, August 25 and other events.
Speaking of maps -- the American Irish Historical Society is currently hosting "Island: Drawing Conclusions Mapping the Irish," a small exhibit that explores the history of Ireland through a series of maps, atlases, postcards, cartoons, and pamphlets spanning from the 2nd century to the 21st century. A collaboration of four collections, this exhibit uses maps to provide a window on political and cultural history of Ireland. The exhibit is on view Mon.-Fri. until July 12.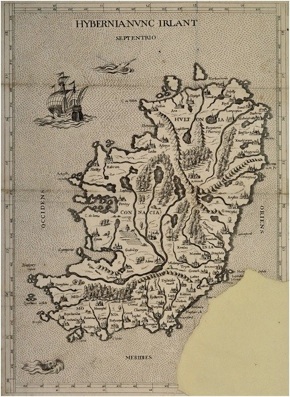 Courtesy of Jackie Clarke Collection
Maps of Ireland from the medieval to the most modern...