Street food. The best examples are perfectly portioned, regionally correct, delicious, and best when eaten by hand. And as I contemplated the hallmarks of great street food, I was standing in front of an Irish Pub's booth with of all things, a banana pudding pop. And it was so perfect that...
The second weekend of October, my fair city throws a little party and invites a few hundred thousand guests. Fall for Greenville features plenty of craft beers, great music, lots of great food, and we squeeze it all onto our Main Street for an entire weekend. The incentive for the restaurants to do something new and creative comes in the form of The Silver Spoon award. And for the last five years I've been one of seven judges with the herculean task of trying to pick a winner.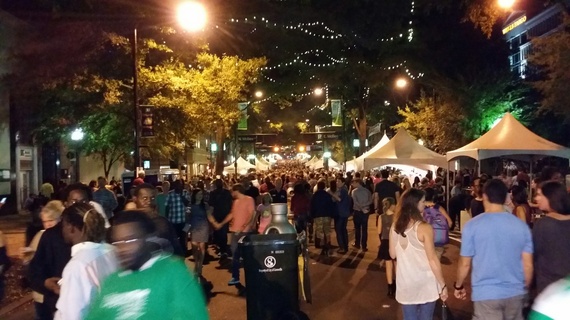 My first year I naively tried to do this by myself. The following day, a bottle of Maalox was all I consumed. Now when I do this, I enlist a willing group of friends. This year it was my cycling pals from Team Coast Busters. And we planned a morning-after ride specifically to burn off the calories. We gathered on the festival's opening evening with open minds and empty stomachs.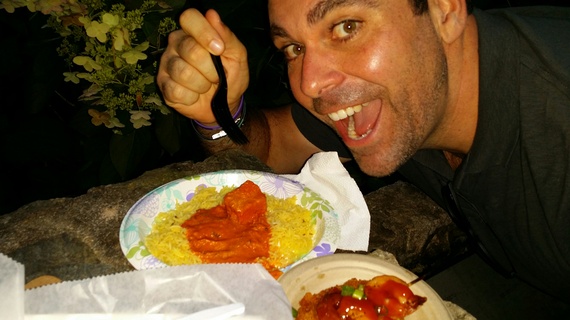 South Carolina has more interesting dishes, but none more famous, than shrimp & grits. And it's ubiquitous, often turning up in the most unlikely of locations. Naturally it shows up at Fall for Greenville. But anything served on a plate is not my idea of proper street food. Sure the grits may be studded with butter and chicken stock, and the shrimp may be from our coast, but negotiating a crowd with a flimsy paper plate of scorching hot grits is closer to culinary Russian roulette than memorable street food. One of this year's version was a fried cake topped with BBQ shrimp. And that's certainly safer in a crowd, but it wasn't anything I hadn't seen before.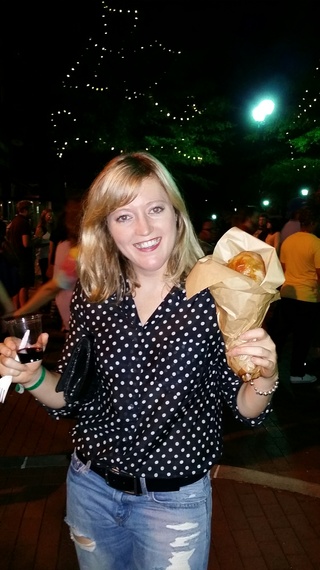 After making our way through curries, cheeseburgers, tacos, a very nice tortilla soup, pizza, cupcakes, and an entire smoked turkey leg, we stopped at Fitzpatrick's Irish Pub.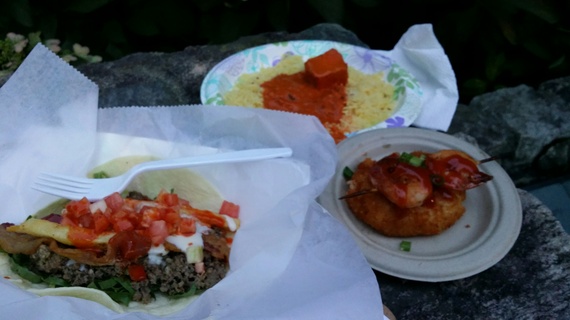 I looked at their menu board and chuckled. Frozen Banana Pudding Pop. Really?
"Is there any Irish whiskey or liquor in this?"
"Nope."
I expected something frozen solid, full of banana chunks, Nilla wafer crumbs and shards of ice. What we received was about the size of a fat marshmallow on the end of a heavy-duty straw. Silky smooth banana pudding, fortified with cream cheese, dipped in dark chocolate and covered with cookie crumbs. Although it was advertised as frozen, it was closer to very cold. The texture was closer to cheesecake than pudding, and the dark chocolate was sharp and crispy. A few bites and all we had left was a plastic straw. My wife, a former pastry chef, was delighted. It had the satisfaction of fine ice cream, without the mess.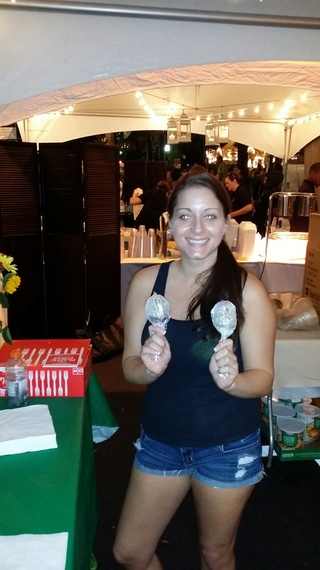 As we made our way down Main Street, it was apparent we weren't going to taste anything as clever, neatly packaged, or original. We did enjoy the red velvet cupcake, a brash Kim-Chee hotdog, and a funnel cake topped with maple syrup, bacon, and cheddar cheese, but none of these were as neatly packaged and as clever as the banana pudding pop.
"God is coming!" crowed a street preacher.
Probably because he wants a banana pudding pop.