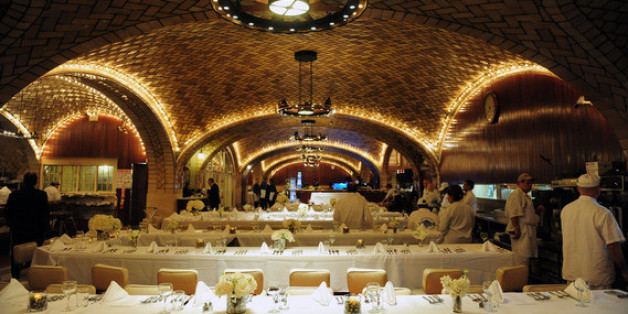 I can't entirely explain it, but it is a very rare thing when the seafood served in America's restaurants, even in New York City, rises to the level of quality found throughout Europe. Part of this has to do with the proximity of sources in Europe--the North Sea, Mediterranean, Aegean, Irish Sea, and so on. The U.S., while possessing a tremendous coastline, is largely landlocked, and all game fish sold in restaurants must by law be raised on a farm, which affects the flavor of trout, lake bass, salmon, catfish and shrimp.
Yet the demand for quality fish is higher than ever, making the availability of the very best problematic and at very expensive. There just isn't enough good product to go around, so when you see the list of fish on a menu that is printed only once a month, or even once a year, you can be sure that not all the seafood on it will be of a high quality. You might also question why a menu repeats the word "fresh" next to its seafood entries.

Since demand will always exceed supply, restaurateurs promise more quality sea bass, branzino, salmon, turbot and Dover sole than there ever actually is in the market. Indeed, I once asked an Italian restaurateur in NYC why he never opened a seafood restaurant of a kind that dots Italy's coastlines. His answer: "To buy the quality they get over there I would have to pay and charge a fortune that customers would never pay here."
Thus, I find few places in NYC that can guarantee the highest quality seafood. And the irony is that, because NYC restaurants pay the highest price for the best product, restaurants in other sea-bound cities, including Seattle, Miami, New Orleans, and San Francisco often get offered second-best seafood, while the best goes to New York.
Only a rare few restaurants like Le Bernardin in NYC, Bartolotta in Las Vegas, and certain sushi restaurants on the west coast serve a consistently high quality of seasonal seafood you can always bank on.
Another that most certainly does is the venerable Grand Central Oyster Bar & Restaurant, which has resided in the lower level of the great Terminal since opening in 1913. For decades it was the city's pre-eminent seafood house, as famous for its glorious tile work by Rafael Guastavino (who also tiled the Great Hall at Ellis Island) as for it array of oysters. By 1972, its columns painted aquamarine and its walls covered with a yellow laminate, the restaurant was in such bad condition that it was forced to close for two years.
Fortunately, the landmark space was then leased by veteran restaurateur Jerry Brody, who had worked on projects like The Forum of the Twelve Caesars, The Rainbow Room and The Four Seasons. Brody scraped off all the bad decisions in décor and management that had ruined the place and restored it to a glory it had not enjoyed since the 1930s. He also brought the menu into the late 20th century, fashioning a huge menu of scores of dishes, including at least a dozen oyster species daily.
The oyster counter became jammed again, the unstinting quality of the seafood was heralded by all, and the Grand Central Oyster Bar & Restaurant achieved a totemic stature it had not previously enjoyed, even in its heyday. Brody also built up one of the great seafood wine lists in the country, now with 70 wines by the glass, along with more than 30 beers. Turn the menu over and peruse the vast selection of spirits and cocktails, including two dozen Single Malt Scotches.
Now there are more than 400 seats, with a winding counter and a service window for hungry commuters on the run. And there is a banquet room--where I was ecstatic to hold my first book party, thanks to a publisher who blew the whole marketing budget on the event. At 11:45 each weekday morning, a crowd pushes through the doors of the restaurant (in sight of a line at the new Shake Shack just yards away) and by 12:30 every seat is taken; things calm down by 3 o'clock, but start again at 5 and it goes on for at least another turn. Executive Chef Sandy Ingber makes it all go, well, swimmingly.
The oysters are an enormous draw, of course, but there is so much to choose from on a menu with 14 categories, from Appetizers and Soups to Stews & Pan-Roasts and Shellfish Platters. There is even a section of "Today's Catch" along with another called "Today's Specials."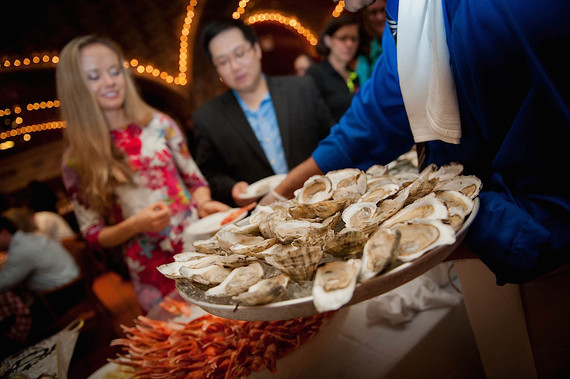 In each, there are numerous options--ten for the "Cold Buffet" alone, four smoked items, seven fried platters. And because of this extraordinary, nonpareil volume--in terms of customers and the amount of seafood purchased--that GCOB excels over all other restaurants of its kind anywhere. There's nothing like it in Seattle, New Orleans or San Francisco, nor in Marseilles, Tokyo or Singapore. No place has the access and the market pull of GCOB, so "fresh" is not a word you'll find anywhere on its menu; it goes without saying. And I could spend a great deal of time recommending this or that dish--the Ipswich clam pan-roast, the impeccably fried Bedford sea scallops, the soft-shell crabs, the Maine steamers, grilled shrimp with garlic butter, or any of the simply grilled fish, from sockeye salmon to shad roe in season.
Ironically, the more complex the preparation the less I find it of the same allure as the other dishes. A recent odd concoction of New Bedford sole with Stilton cheese butter and candied almonds seemed like a dish that had no business being on GCOB's menu. But such mistakes are easily avoided. Desserts are not a priority here, but they can be delicious, not least the Key lime pie and the New York cheesecake.
Add everything up and the GCOB is unique, not only for its architecture and grandeur but for the human bustle in the belly of the cavernous Terminal that seems as natural as the rumblings of the incoming and departing trains. Upgrades to the food service throughout Grand Central have been ongoing for a long time now, offering everything from Michael Jordan's Steakhouse and Café Centro to Cipriani Dolce and Junior's Bakery. It's hard to think of any ethnic food you can't find in the Terminal, but you won't find anything anywhere like the Grand Central Oyster Bar & Restaurant.
Grand Central Oyster Bar & Restaurant is open Mon.-Sat. from 11:30 AM to 9:30 PM. Prices run a long gamut, from oysters at $1.95-$3.65 and appetizers from $3.95-$21.95, fried seafood platters $21.95-$27.95 and daily specials $28.95-$35.95. On Sept. 27 the restaurant will hold its "12th Annual Oyster Frenzy," presented by Blue Island Oyster Co., featuring a pro shucking championship; chef demos; a "slurp off" open to the public, and the Beer Shucking Championship, with $3,750 in prizes. Noon-4 PM. Admission is free. Call 212-490-6650 for reservations.