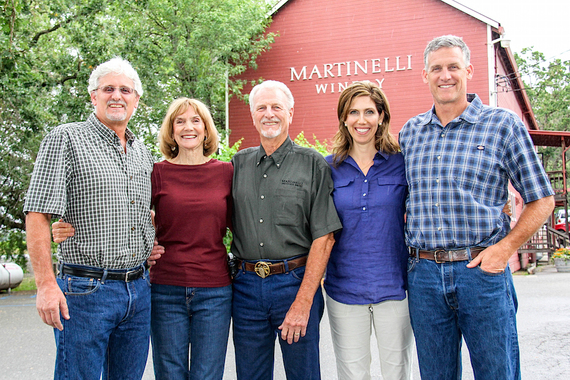 "Honest wines" is not a term you hear much in the arcana of winespeak, which deals more with words like "cigar box," "grippy," and "cat's urine" to describe what they taste. To say a wine is honest is to be vague, but I would most certainly apply it to the bottlings of the Martinelli Winery, whose family has been growing grapes in California's Russian River Valley since the 1880's.
I intend a double meaning: in an industry notorious for family feuds--Gallo, Mondavi, and others--the Martinellis are very tight knit and dedicated to the heritage and vision of their winery, which began when ancestors Giuseppe Martinelli and Luisa Vellutini emigrated from Tuscany to California looking for farmland and start a winery, at first planting Zinfandel and Muscat Alexandria vines on a steep, non-terraced hillside that was later called Jackass Hill because, said their son Leno, "only a jackass would farm a hill that steep."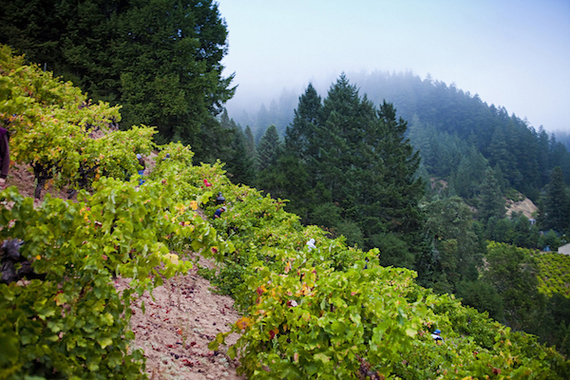 Leno retired at 89, leaving the vineyard to his son Lee, Sr., who in 1973 took over management of his Uncle Tony Bondi's apple orchards and, with his wife Carolyn, turned them into flourishing vineyards, so that to this day, the Martinellis still sell more grapes--about 90 percent--than are used to make their own wines. Today, Lee Sr. and his two sons, Lee Jr. and George, keep the faith of the Martinelli family, along with daughters Julianna and Regina, who wave the flag in sales and marketing.
The family's Russian River Valley vineyards in Sonoma County, with names like Zio Tony Ranch, Moonshine Ranch, Bondi Home Ranch, and Giuseppe & Luisa, Vellutini Ranch, some dating to the original plots.
"We really do handcraft our wines," Regina Martinelli told me over dinner in New York. "We hand-farm our grapes carefully from our favorite blocks, while seeking to have the vineyard's special terroir shine through, which not only makes for consistency but individuality. As much as possible we do as little as possible during the wine-making process, and with the longevity of our family on this land, we know them very intimately, and we pay attention to what the terroir tells us."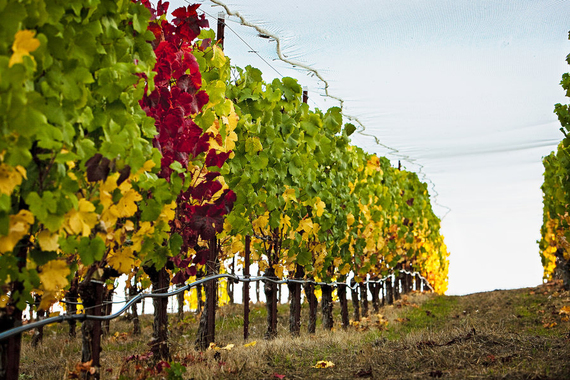 The Martinellis are certainly not the only ones in California to claim such commitment, though in many cases--even among illustrious names--grapes are often purchased from other growers. Also, in too many cases, there is a lot more manipulation of the grapes and wine process back at the winery, so that the resultant wines taste as if made to win awards rather than be expressive of their terroir.
"We use natural native yeasts in our fermentation, and the wines are unfiltered and unfined," said Regina, "which is a little risky, but it enhances the essential flavors and textures of the wines. We only clarify by racking just before bottling."
So when I say Martinelli's are honest wines, I mean that they have not been "designed" to taste a certain way by deliberately effecting higher alcohol levels or by using new oak barrels to imbue assertive flavors of sweetness and woodiness to their wines. Martinelli's wines taste like wine, not plum juice and they don't smell like cigar boxes.
The winery currently has 25 wines in release, under 15 labels, most named after the ranch vineyard they came from. That's a lot of labels, probably more than can be absorbed by the average wine drinker, though clearly there are fans of each. I was impressed by the Martinelli Chardonnays, which are rich without being cloying, very light in oak, and balanced throughout the time spent on the palate. Now three years in repose, they've gained intensity without losing vitality. They make three of the 2011 vintage--Bella Vigna, Charles Ranch, Lolita Ranch , Martinelli Road, and Zio Tony Ranch 2012. They are not inexpensive, with the Martinelli Road priced about $55.
Martinelli's Syrahs, with four in current release, differ from so many other Sonoma wineries' in having that spiciness of the Rhône varietal without the alcohol barrage. Pinot Noir has been a hard-won triumph in the Russian River Valley, but too many producers make this delicate varietal with far too much intensity so that it doesn't really taste like Pinot Noir any more. Martinelli's examples are far better balanced and nuanced, which makes them so much finer with red meats like lamb and pork, as well as grilled salmon this summer. They currently release five examples, with the Lolita Ranch 2011 especially appealing.
But of all Martinelli's wines I think I'm most impressed with their Zinfandels--the first varietal Giuseppe and Luisa planted back in the 19th century. Zinfandel became America's workhorse grape, robust enough in tannins to impress the wine drinker who buys wine in jug yet versatile enough to produce the white, sweet fizzy stuff called White Zinfandel. Martinelli's Zins, however, respect both the tradition of the family's efforts to make a good one and the technical know-how to show the varietal at its best. The Jackass Hill, Martinelli Road, Vellutini Ranch and Vigneto di Evo vineyards each produce good Zinfandel--full-bodied with enormous fruit but tannins tamed down just enough to underpin the dark notes of the wine. Some of their Zins, which can run upwards of $90, top 15 percent in alcohol, but that is to be expected with a grape that naturally bulks up with sugar. Like Veneto's Amarones, good California Zinfandels are not wines to sipped before dinner, though they are excellent with roasts, sausages, garlicky pastas, and delicious after dinner with cheese or roasted nuts.
The Martinellis have a long history on their side--many California vineyards do--but they also have a pride of family that translates to honesty always being the best policy when it comes to making wine.