Sluggish is not a word I would use to describe the restaurant economy in America. Indeed, having recently visited cities like Atlanta, Charleston, Baltimore, New Orleans and others, I find restaurants as jammed as airline flights (and often just as uncomfortable). Upscale dining has never been more popular, more new restaurants are opening than anyone can keep track of, and the food keeps getting better and better.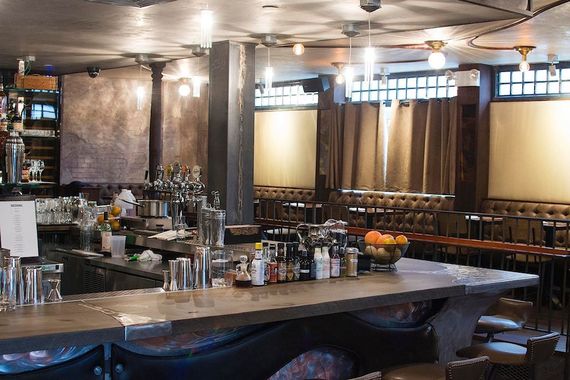 Nowhere is this truer than in New York, where, even if I ate out three times a week exclusively at new restaurants, I couldn't keep up. The crazy thing is that so many of them are very interesting restaurants, not just chain steakhouses, hamburger stands or ramen noodle joints. Of those I've visited most recently, Bacchanal (146 Bowery; 646-355-1840) is a stand-out, as I expected it to be, given its owners' pedigree: Peter Poulakakos and his father, Harry, have been veteran New York restaurateurs long enough to know that trends and egos always flare brightly then fade. The father-and-son duo operate Harry's Cafe & Steak, Adrienne's Pizzabar, Vintry Wine & Whiskey, The Dead Rabbit and Bathtub Gin, this last with Bacchanal partner Dave Oz.
Their new restaurant has no intention of breaking rules for their own sake, either decorously or by cuisine. In fact, the décor of Bacchanal, whose name suggests a room done up with friezes of cavorting Grecian nymphs and drunken gods, is not dissimilar to many in Lower Manhattan restaurants and bars, with lots of dark wood and bare tables, distressed concrete pillars and brick walls. The noise level is sadly high, increased by unnecessary pounding music.
It is in Chef Scott Bryan's cooking, however, that the distinguishing marks appear as simple ideas impeccably rendered to show the kind of precision such cuisine requires. Bryan had been the first chef at the much-missed Veritas, whose wine list, thanks to its wealthy connoisseur owner, had astounding depth. Bacchanal is still impressive, with 450 very well chosen selections at reasonable price points.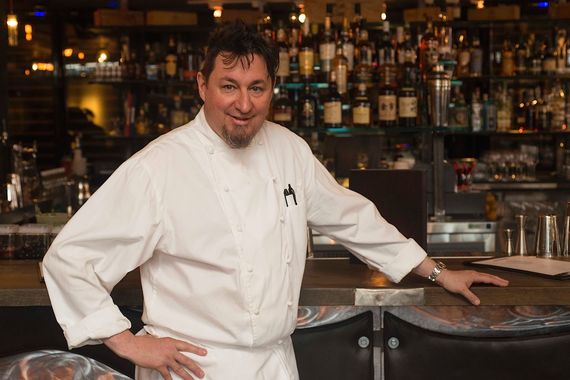 Reading Bryan's menu doesn't begin to tell you just how delicious everything will be--although I don't encourage any chef to spell out any more than necessary about his dishes. So when you read "hamachi crudo avocado, chili, chive, hearts of palm" you may think, well, how many times have I seen this? And you may have, often; but Bryan's version is everything this dish should be, starting with the lustrous, sweet raw yellowtail, enhanced by subtleties of seasonings.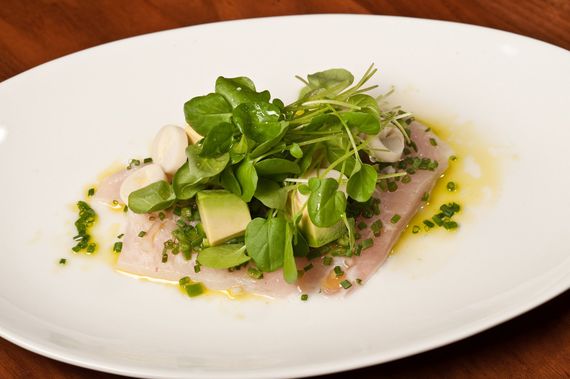 So, too, "grilled Spanish octopus eggplant caviar, paprika" ($14) isn't exactly novel these days, but Bryan manages to give the octopus exceptional creaminess within, while providing a lightly seared and very tender exterior that picks up the paprika note. You won't find a finer corn veloute, chilled, this summer, here with roasted poblanos, tomatoes and a touch of basil ($10). Then there are just thin slices of Iberico ham, which need nothing more than a crust of bread to be absolutely perfect.
There are three pastas among the main courses: chitarra cut strands are nicely dressed with green onions, a little lemon and mild bottarga--any stronger and the flavor would take over ($18). Swiss chard and ricotta-filled agnolotti ($17) are delicately light, with a Trentino-style dash of sesame seeds and rich brown butter and sage. Risotto ($18), impeccably al dente, is laced with an abundance of wild hen-o'-the-woods mushrooms, peas and a generous shot of Parmigiano.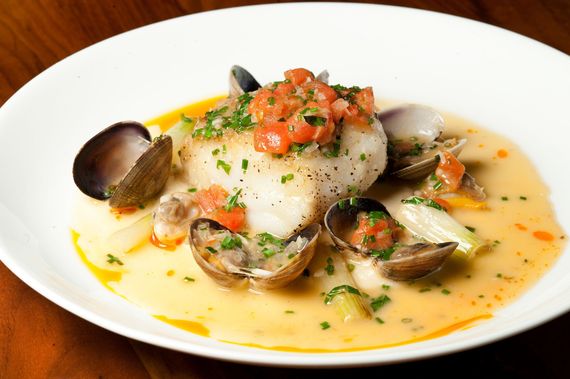 Atlantic codfish (above) is not easy to make interesting on its own, but Bacchanal's rendering ($26) with a white bean puree, Manila clams, roasted garlic and parsley soaks up all the flavors its needs to make the fish proud. And wild Scottish salmon (below), with pea shoots, ginger soy vinaigrette, and crunchy sesame seeds ($25), proves why I will never eat farm-raised salmon again.
Roasted farm chicken ($22), on the other hand, showed that carefully tending a bird can make all the difference in taste and texture, and Bryan's addition of creamy mascarpone polenta, chanterelles, tarragon and a touch of Madeira marries the succulence of the bird with honor.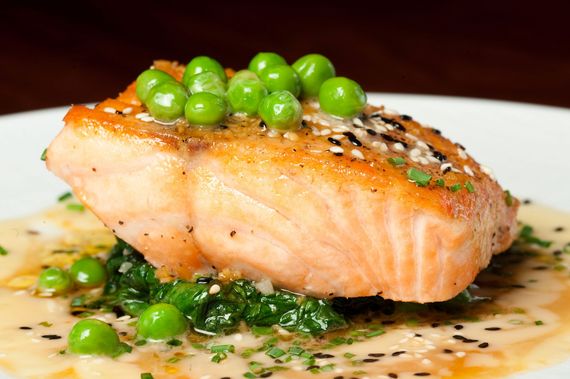 How simple the desserts (all $10) sound: peach tarte Tatin with crème fraiche ice cream and caramel; warm flourless chocolate cake with vanilla ice cream and cocoa nibs; and vanilla panna cotta in a pretty passionfruit soup. And they are simple: simply wonderful.
Bacchanal succeeds on sheer talent and focus, not by dazzle or unholy alliances of ingredients. It's one of those rare places where I feel safe sending anyone and expect to get back enthusiastic, hearty thank you's for doing so.
Photos courtesy of Maz Zagor