It has become pretty much the norm that when a celebrity chef/restaurateur builds an empire he pays little or no attention to the fifth, sixth, or twentieth unit he opens. More often than not, he and his lawyers merely sign management contracts with a clause requiring him to drop by once a year to see if he recognizes anyone in the kitchen. And, if the restaurant goes belly up, ah well, he didn't put any of his money into it anyway.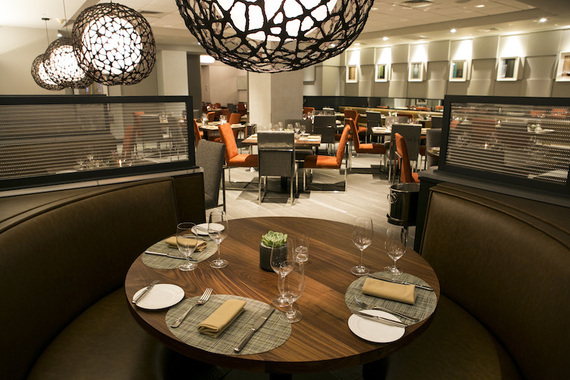 Most truly dedicated chefs will still spend as much time as possible in their original restaurant in order to maintain its signature luster. In that category I place Charlie Palmer, whose rise from a cook to a chef to a restaurateur and now even to a hotelier has been marked by consistent attention to his 26-year-old NYC flagship, Aureole, and to Dry Creek Kitchen in Healdsburg, CA, where he and his family live.
Palmer has not chosen to become a clown on television--that irresistible magnet for ego-mad chefs who spend far more time on location than in any of their far-flung kitchens. Palmer has opened a series of steakhouses in DC, Las Vegas and Reno, of a kind that don't really require the kind of constant, hands-on attention that a fine dining room like Aureole does.
Thus, Palmer's opening of a namesake steakhouse in NYC seems a safe bet for both him and his company; for the New Yorker who can go to any of a dozen of the finest steakhouses in America, "CPS" is now yet another option to compare one with the other. The night I dined there, Palmer had just gotten off a plane from California and rushed over to check in on his newest enterprise, located on East 54th Street, replacing Rothmann's Steakhouse.
The transformed 80-seat dining room is handsome and deliberately breaks from the clichés of old-school steakhouse design. There's good lighting, iridescent colors, artwork, textures of stainless steel mesh, glass, and tweed. Odd, though, that it is the only one of Palmer's steakhouses that eschews tablecloths, when tablecloths are ubiquitous in high-end competitors in NYC like Luger, Sparks, Palm, BLT, Smith & Wollensky, Porter House, Strip House, and newcomers like Davio's, NYY Steak, Il Mulino Prime, and Costata. By comparison, the (albeit pretty) wooden tables with placemats at CPS more resemble the look of a casual café.
Otherwise, this new Palmer entry has a service staff without a scintilla of the brashness of so many others, and there's a briskness--but never a rush--about how guests are taken care of.
Thanks to wine director Peter Bothwell, the wine list, as at all Palmer's restaurants, is first rate.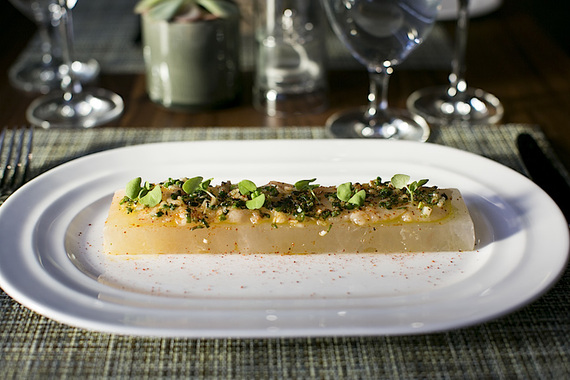 Brooklyn-born, Jersey-raised exec chef Matthew Zappoli breaks none of the traditions of steakhouse menus here, instead content to find the very finest ingredients possible and to treat them with respect by not altering their essential flavors. You don't find sea urchin butter on your sirloin here, or bottarga on your fried potatoes.
What you will find is one of the most generous shellfish platters, piled high with lobster, oysters, clams, shrimp, crab claws, and Alaskan King crab ($38 per person). The tuna tartare ($21) takes on dimensions from a citrus ponzu and pickled ginger with sesame crackers, while yellowtail sashimi ($20) at the right temperature comes atop a salt block (above) with piment d'espelette, lime and shallots. Foie gras is blended with chicken into a rich, creamy pâté ($19), served with sweet fig chutney and crostini.
Because of his clout, Palmer obtains the finest meats in the American market, and you won't easily find a better, juicier bone-in ribeye of Angus beef ($54). One section is devoted to "dry-aged 30 days" beef, including a porterhouse for two ($109) and a cut called "teres major" ($28), a thick rounded strip of beef from near the scapula of the steer. It is almost as tender as filet mignon but has much more flavor. It's not a cut you'll find often on menus, but one I hope more steakhouses will add. There are also three Kobe steaks--two American ($58 and $62), one Japanese ($162).
Thirty-days of dry aging is just on the cusp of that point where beef can become livery; beyond that it can get downright funky. (Those chefs--not Palmer--who pride themselves on 56-, 75-, and 128-day aging are doing it for the record book, not taste.) A bone-in New York strip ($56) did not have the sumptuous flavor I expect.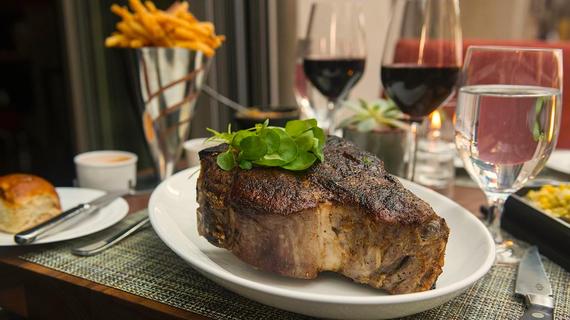 It is obvious when a master chef applies his knowledge beyond the grill to the side dishes, for CPS's are outstanding, including Yukon Gold mashed potatoes ($9) and creamed spinach ($9).
Same goes for desserts, like the chocolate cake with warm caramel and milk chocolate ice cream ($11), and the peach cobbler with cinnamon streusel ($11), though the cheesecake pudding ($11) needs a bit of re-thinking.
Prices at CPS are pretty much in line with its competition. What you get at CPS is the personalized style of one of NYC's finest chefs, as opposed to multi-unit corporate managers. It shows in the service, and, being brand new, CPS is eager to please.
3 East 54th Street (near Fifth Avenue)
646-559-8440
www.charliepalmer.com
Lunch: Mon.-Sat.; Dinner nightly
Photos by Georgina Richardson